Rare, Mutant Turtle Hatchling With Two Heads Found on South Carolina Beach
A rare, two-headed turtle hatchling has been found on a beach in South Carolina. The tiny turtle was found by volunteers working for the Sea Turtle Patrol Hilton Head Island, who were carrying out a nest inventory following a hatching on the shores of the beach.
The bicephalic turtle was subsequently named Squirt and Crush and it was released into the ocean along with the other hatchlings.
"We perform a nest inventory on every nest three days after it has hatched naturally," a spokesperson for the Sea Turtle Patrol told Newsweek. "This is part of our job as nest monitors and is done under our permit from the South Carolina Department of Natural Resources. This loggerhead turtle hatchling did not walk very well, and had a malformed carapace (shell)."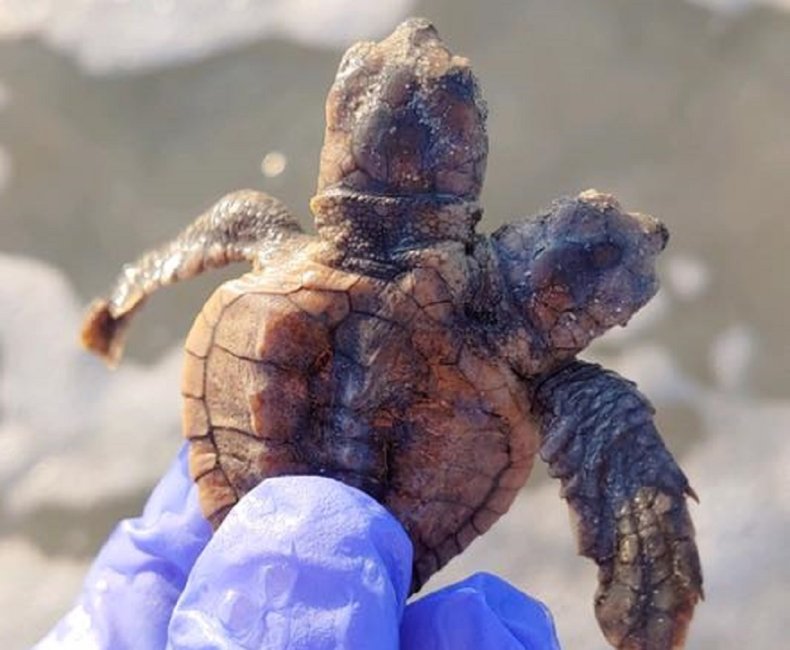 Animals with two heads are rare, although the mutation that leads to it is more common among reptiles. Turtles and snakes are the most commonly affected creatures—although there are also many reports of other animals being born this way. These include cats, pigs, cows and goats.
These animals form in the same way as human conjoined twins would, with an embryo partially splitting in the womb.
In a Facebook post, Jayme Davidson Lopko, who found the turtle, said this was only the second time she had found a hatchling with two heads in the 15 years that she had carried out inventories on sea turtle nests.
"Sea turtle patrol follows rules...which [call] for us to protect the nests and turtles but to also allow as natural a process as possible," she wrote. "We do not take hatchlings off the beach to raise or rehabilitate. This little guy is on his own just like his brothers and sisters that came from the nest and like they have been doing for millions of years. Good luck and safe travels special guy!"
The spokesperson said the turtle's chances of survival were "not good." They also said this was the first record of a two-headed hatchling on Hilton Head Island, but added: "Most hatchlings emerge during the night, so there are many many hatchlings that we do not see."
While most animals born with two heads are unlikely to survive for too long in the wild, one tortoise in captivity at the Natural History Museum of Geneva, Switzerland, celebrated its 20th birthday in 2017. The tortoise is named Janus after a Roman god normally depicted with two faces. According to the Daily Sabah, each head has its own brain and personality, with one being more dominant and the other more sedated.