#MuteRKelly Co-Founder: R. Kelly Conviction 'Doesn't Fix All of the Problems He's Created'
After decades of allegations involving R&B singer R. Kelly's treatment of women, his September 27 conviction on racketeering and sex trafficking charges was a "relief," according to #MuteRKelly co-founder Oronike Odeleye.
Odeleye founded #MuteRKelly in 2017 with social justice activist Kenyette Barnes. The grassroots movement's goal was to get Kelly's music removed from the airwaves and his concerts canceled as the number of women who accused Kelly of sexual abuse continued to rise.
Kelly was on trial once before in 2008, but was acquitted of the child pornography charges brought against him. This time around, dozens of witnesses testified in the New York trial that began in August.
The witness list included more than 10 victims, as well as individuals who were employed by Kelly and whom Odeleye said no longer had a "financial incentive" to protect him.
Given the circumstances of this year's trial, Odeleye said during a recent conversation with Newsweek she "wasn't really surprised" when the jury announced its verdict.
"I didn't see how he'd be able to get out of it," Odeleye said. "These women have been coming forward for over two decades, trying to get justice, and were being ignored and ridiculed and demeaned and insulted."
"To finally have their claims be listened to and vindicated, in a sense, was really a big sense of relief for me. I just felt so relieved for them," she added.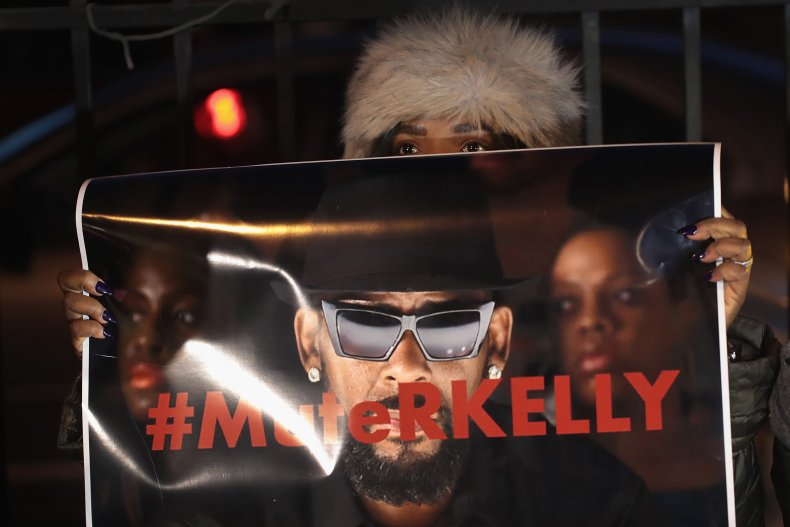 The latest charges were brought against Kelly in 2019, not long after the documentary series Surviving R. Kelly was broadcast on Lifetime. The first trial resulting from those charges began in Brooklyn in August.
Kelly is still facing additional charges in Illinois and Minnesota, although trials for those charges have not yet been scheduled.
The six-week trial in New York concluded last week with a federal jury convicting Kelly of racketeering and violations of the Mann Act—which criminalizes the transportation of any woman for the purposes of prostitution or another similar immoral act.
Kelly is expected to be sentenced in May 2022 and could face life behind bars for the New York charges alone.
Rumors of Kelly's behavior have circulated since the mid-1990s, when he married 15-year-old singer Aaliyah at age 27. After decades of allegations and multiple civil lawsuits filed by Kelly's alleged victims, the Atlanta-based Odeleye decided in 2017 to launch a petition to get local radio stations to stop playing Kelly's music.
Barnes soon joined her and together they expanded their efforts to convince local venues to cancel concerts at which Kelly was scheduled to appear.
Over the years, #MuteRKelly has also called upon Spotify and other streaming services to remove Kelly's music from their platforms. In the days following Kelly's conviction, his artist page remained accessible on Spotify, though users were able to manually block his music by implanting the "don't play this artist" function Spotify introduced in 2019.
Four days after Kelly's conviction, Barnes reiterated their calls for streaming platforms to remove Kelly's music in a Twitter thread that tagged Spotify, Apple Music, SiriusXM, Pandora, Google Play, YouTube, Tidal and Deezer.
"Streaming platforms literally have turned a blind eye to an artist who has maligned and raped vulnerable young people for over 30 years. They hide behind clauses & contracts : Simply to say black girls don't matter more than revenue from his music," Barnes wrote. "Monthly, streaming of R Kelly's music continues across all streaming platforms. Music that literally is a manifesto of a pedophile. Music that created revenue to pay for a legal defense of a man who raped vulnerable BLK GIRLS ( & a Latina, boys, young ppl) for 30 years!"
Odeleye told Newsweek that, moving forward, #MuteRKelly will continue pushing for streaming platforms to remove Kelly's music.
"I definitely think that all of the streaming networks that still have his music up really need to think about what it is that they're supporting, and make a stand or make a decision to side with the survivors and not with the artists," Odeleye said. "We don't want to normalize a lot of the music that he put out, because it was directly talking about the sexual molestation of children."
Odeleye referenced Aaliyah's song "Age Ain't Nothing but a Number" as an example. Kelly wrote and produced the song, which Aaliyah released as the title track of her debut album the year they were married.
"We're going to keep up that call for the Spotifys and the other streaming services to remove him from their playlists, because it's just damaging. We just know that he's put out too much damaging work out into the world, and it normalizes the criminal behavior that he was doing," Odeleye said. "We just don't need that."
With charges against Kelly still pending in two other states, Odeleye said #MuteRKelly will "keep an eye" on the process and work to "keep people involved and engaged."
On a personal level, Odeleye said she doesn't aspire to get involved with other social justice issues through #MuteRKelly, but does hope the movement can serve as a guide for other activists in the future.
"For me personally, I had not set out to be an activist," Odeleye said, adding that she has "a lot of respect" for activists after seeing "how hard and emotionally draining and isolating" their work can be.
"I'm hoping I can put this to bed and really kind of figure out a way to package this so that other people who want to start their own grassroots movements for different issues have a playbook to go by."
Odeleye said messages #MuteRKelly has received from music audiences make her hopeful listeners will pay closer attention to red flags when they come up with artists in the future.
"I don't think artists are going to have the leeway that someone like an R. Kelly had back in the day before social media, where everyone couldn't be their own detective and couldn't see this stuff for themselves," Odeleye said.
Despite the relief and joy Odeleye described feeling in the days after Kelly's conviction, she said it is important to keep in mind the many women who came forward to share their experiences.
She also pointed to the ongoing efforts of the Savage family to reunite with Joycelyn Savage, one of Kelly's girlfriends who was still separated from her family at the time of Kelly's conviction.
In a column for The Los Angeles Times published last week, Odeleye identified a 2017 press conference Joycelyn Savage's parents held in an attempt to raise awareness about the concerns they had for their daughter as one of the inspirations for the #MuteRKelly petition.
"It's a victory, absolutely, that he's finally been brought to justice and will have to be held accountable for his crimes. The fallout and the legacy of his crimes? It's still happening," Odeleye said. "His conviction doesn't fix all of the problems he's created."