A dead cat in a box left outside a family-run butcher shop in Sacramento, California, is being investigated by law enforcement as a possible hate crime.
The owners of the Mad Butcher Meat Company store, who are of Chinese descent, said they had been left "shaken" by the incident.
CCTV footage captured a man taking a box from his truck outside the store before putting it on the ground and driving off on February 22. It was later discovered to contain a mutilated cat.
Mad Butcher Meat Company is run by store founders Michael, Diana and daughter Kelly Shum. In a Facebook post, the family uploaded the video footage and said they had reported the incident as a hate crime.
"Last night, this man left a mangled, dead cat on our property. It is impossible for us to fully discuss this incident without feeling an overwhelming amount of emotion," they wrote.
"Especially with the rise of attacks on Asian-Americans recently, we are shaken and especially disappointed. We have reported this as a hate crime, and hope he will be prosecuted to the fullest extent of the law.
"If any of you can identify this man, please come forward and help us get justice."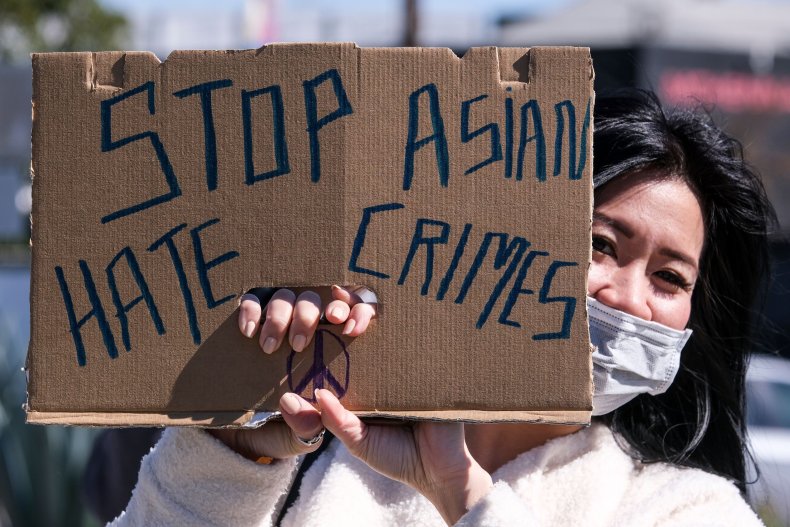 Sacramento City Council member Mai Vang said in a statement: "Attacks on Asian Americans are on the rise across the nation and, unfortunately, Sacramento must also confront this xenophobia. The crime committed against the owners of the Mad Butcher Meat Company on Monday night was horrific and this reprehensible act must be strongly condemned.
"Not only was an animal violently abused, but it was used to threaten and provoke fear at an Asian American owned business in Sacramento. Our city has committed to racial equity and justice – which means confronting the perpetrators of hate and acknowledging the trauma and suffering experienced by victims."
Vang added: "As a city and as a community, we must work collectively to recognize the humanity of all people and stand united against all acts of hatred and bigotry. Our residents must not live in fear for their safety. I look forward to working on community-led solutions to keep us safe."
Incidents of violence and discrimination against Asian Americans have risen sharply during the COVID-19 pandemic.
Stop AAPI Hate, which documents anti-Asian discrimination in the U.S., received 2,808 reports of racist and discriminatory acts nationwide between March and December 2020. About 7 percent of the attacks involved Asian Americans over 60 years old.
Anti-Asian rhetoric by elected officials has contributed to the spike in discrimination against Asian Americans, Stop AAPI Hate said in a report. The group cited former President Donald Trump's repeated use of language describing COVID-19 as the "China virus" or "the China Flu."
In January, President Joe Biden issued a memo condemning the "inflammatory and xenophobic rhetoric" against Asian American and Pacific Islander (AAPI) people.