'Muzzled' Fox Reporter Ivory Hecker Encourages 'Copycats' to Speak Out
Ivory Hecker, a local Fox television reporter, is encouraging other journalists to speak out after she accused her station's parent company of keeping reporters silent.
"I'm encouraging copycats," Hecker wrote in a Twitter post on Wednesday. "It's not okay to bully a reporter out of covering a newsworthy story. It's not okay to pressure a reporter out of asking the people's questions. I'm already hearing from several TV journalists wanting speak."
Hecker made headlines this week when she accused her corporate bosses of "muzzling" her. She also made an on-air announcement that she is sharing secret recordings at her own network with Project Veritas.
"I want to let you, the viewers, know that Fox Corp. has been muzzling me to keep certain information from you, the viewers," Hecker said Monday during a live broadcast. "And from what I'm gathering, I am not the only reporter being subjected to this. I am going to be releasing some recordings about what goes on behind the scenes at Fox because it applies to you, the viewers."
The next day, Heckler released recorded video she said proved that Fox 26 KRIV censored her on matters of race and stories about the use of hydroxychloroquine to treat COVID-19.
The recordings were aired by James O'Keefe, the founder of Project Veritas—a right-wing group meant to expose what they say is bias, corruption, fraud and "other misconduct in both public and private institutions." Twitter has banned O'Keefe for violating the Twitter Rules on platform manipulation and spam.
In the tapes, Lee Meier, an assistant news director at KRIV, can be heard saying he's passed on stories about Bitcoin. Meier said that Bitcoin for "poor African American audience at 5, it's probably not going to play."
Meier is also heard saying, "It's not just about the viewers; it's about what our CEO reads; it's about what our GM reads."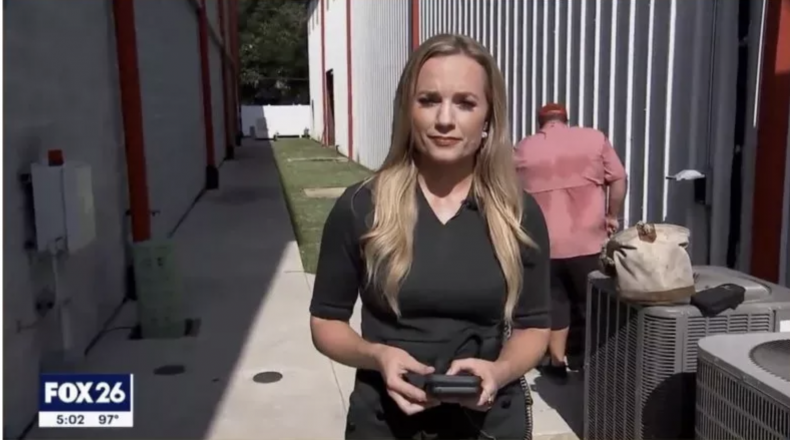 Hecker previously told Newsweek that her relationship with Fox "had taken a dark turn last August" after interviewing an unspecified person, and that she was later told to keep silent about opposing "censorship."
Hecker also told The Daily Beast that she was fired after her on-air stunt.
A KRIV spokesperson told Newsweek earlier this week that the situation is "nothing more than a disgruntled employee" seeking the spotlight.
"FOX 26 adheres to the highest editorial standards of accuracy and impartiality. This incident involves nothing more than a disgruntled former employee seeking publicity by promoting a false narrative produced through selective editing and misrepresentation," the spokesperson said.