'My 6-year-old Created a Kids Election That Predicted Biden Would Win'
My husband Matt and I had originally registered for mail-in voting for the 2020 Presidential election, but about a week after we received our ballots we began to discuss how we'd feel more comfortable submitting them in person. We're originally from New York but now we live in a nice, typical suburban neighborhood in Asheville, North Carolina, so we filled out our ballots at home, took them to the board of elections here and submitted them that way.
It wasn't the traditional voting method where you are in a booth, but our six-year-old son Mac has been with us when we have voted in person like that in the past.
After we submitted our ballets, Mac told us he thought it wasn't fair that only grown ups could vote. He's like that about a lot of things; he thinks it's not fair that only grown ups can go to space. He then explained to us that when he was older he was going to invent "kid voting."
I explained to him that this was a great idea except for the fact that he'd be a grown up himself by then. So Mac asked if he could create "kid voting" now. We talked him through the logistics required to do that, he gave us his vision and we helped him put it together.
It felt like his ideas were based on what he'd seen from in-person voting, with a table with the supplies they would have. But we helped him understand exactly what he would need; like a ballot box and ballots and pens. He came up with the idea of "clean" pens and "dirty" pens and using sanitizer on the "dirty" ones. Mac wanted to use his art table, but he realized there wasn't going to be space for people to complete their ballots. So we brought an entryway table to make the privacy booth. We put Joe Biden (Democrat), Donald Trump (Republican), Howie Hawkins (Green Party), Jo Jorgen (Libertarian) and a "write your own" option on each ballot. On October 16, when Mac first started the booth, he sat out there for hours in the rain, waiting for people to walk by. The first day was kind of sad, it was cold and wet so he sat with his hood up because he really wanted to be there in case people passed by. We were trying to explain that nobody really knew about the booth yet and that while we have a lot of walkers in the neighborhood, it's not a high traffic area in terms of pedestrians.
Mac didn't have a ton of participation to start with. I posted in a couple of Facebook groups for area parents and asked people to share, and then I contacted our local news station in the hopes that would drum up some voters for Mac. They did run a story, but not until November 2. But as time progressed Mac would play outside with kids from our neighborhood while keeping an eye out for voters. Or if Matt was mowing the lawn, Mac would ask him to say if any voters came by.
Of the voters we did have, we could see that there were parents who were excited to see more names on the ballot. I think they perhaps hadn't had the conversation with their kids about the presidential election being more than a two horse race between the Democrats and Republicans. When the kids saw more options, it got a conversation started.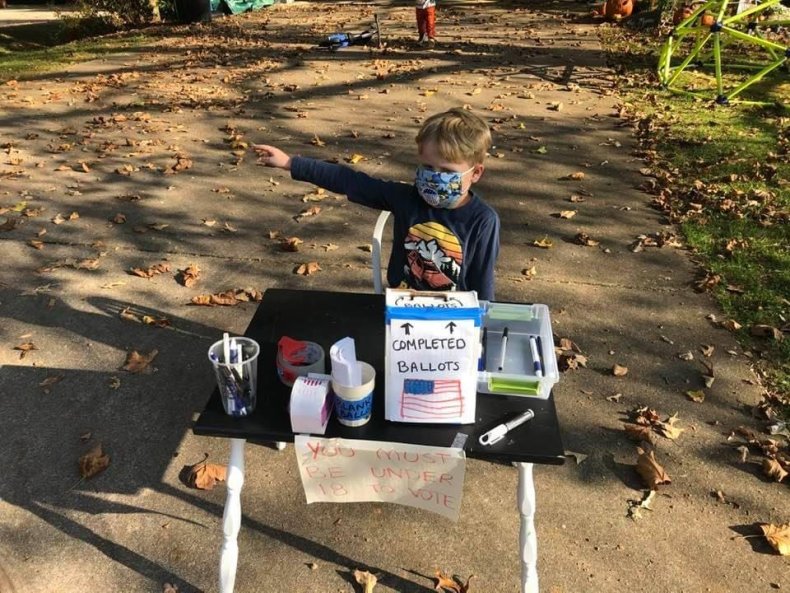 We were also proud that Mac stayed neutral while he oversaw the booth. He didn't do anything to sway people. He was very direct about how people needed to go through the voting process but he wasn't telling people who to vote for. The kids were just there chatting with each other openly, they had no qualms about sharing their political allegiances after they voted!
In the end we had 44 votes for Joe Biden and two "write your own" votes for Mickey Mouse.
But all the parents I heard were very open to the kids voting for who they wanted. I heard parents read the choices and explain to the kids how to cast their vote, but nobody came and said to their kids: "Here, fill it in for Biden." Like many things, when you have kids the age that most of the voters were, which was under 10, they tend to listen to what their parents say at home. You're probably not going to get a Trump supporter at the age of six in a household that supports Biden.
Matt and I actually had a discussion about Biden winning the "kids election", because Mac's results were obviously in quite quickly and well ahead of the national results. We have a Biden sign in our yard so there was no question who we were voting for in the real election. But it felt good because we were so unsure at that stage what the results for the national election were going to be in, so it gave us a bit of hope. For us, it felt good knowing that the people we were surrounded with were of the same persuasion as we are.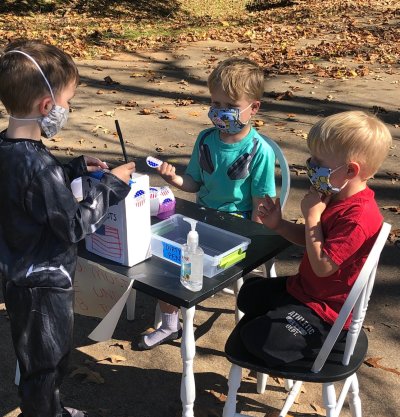 Although Mac's results did essentially predict who would win the county we live in, Buncombe County, we knew that his "kids election" results obviously couldn't accurately predict what would happen on a national scale. But we were pleased to see the results announcing President-elect Joe Biden as election winner on November 7.
Overall, we hope Mac learned the value of seeing an idea through and problem solving along the way. If he sees something he wants to do, within reason, we try to be supportive of him doing it. Obviously we can't help him go to space! But this is a small way that we can be supportive.
We would also be supportive if Mac wanted to go into politics. We live a vegan lifestyle now so he is already a big advocate for animals and change in that area. We wouldn't be surprised if at some point in his life he went into the political sector. But, he currently wants to be an archaeologist, paleontologist and an astronaut—at six it's hard to nail it down. But of course, we'd love to see him do whatever it is he wants to do, so long as it makes him happy.
We're very proud of him. It's inspiring to see the initiative he took and how he created something. He's like that in a lot of ways. Being our first born child, there has been an element of trial and error with parenting. When your kids do things like this, it feels a little gratifying and helps us feel that we did a few things right along the way.
We're inspired by Mac, he motivates us to do more.
Chelsea Mayer is a stay at home mom living with her husband and two boys, Mac and Sully, in Asheville, NC. She enjoys spending time outside with her family, fostering various animals, and reading novels whenever she can get some alone time!
All views expressed in this piece are the writer's own.
As told to Jenny Haward.