'My 600-Lb. Life' Spoilers 2019: Dr. Now Reveals Garrett is On Track To Become 'World's Heaviest Person'
In Wednesday's edition of My 600-Lb. Life, viewers will get to meet a family in Kansas who is ready to get their health under control. Robin McKinley used to be a teacher, but she's unable to move around because of her weight. At 648 pounds, she now uses a wheelchair because the cartilage in her knee has worn down because of her weight and it's painful when she walks.
Despite the pain she endures, 40-year-old Robin makes the decision to travel to Texas with her husband, James, and nephew, Garrett. Originally, she was supposed to make the journey with her brother, Chris, but he suffers a mini-stroke and is unable to travel. That's why Garrett, who is 20 years old and more than 600 pounds, decides to go in his stead.
"My brother Chris had decided to go with me to Houston to get Dr. Now's help. We were supposed to leave and go down there a couple of weeks ago but Chris had a heart attack while he was sleeping and he almost didn't make it. It was so scary and I'm thankful he's starting to recover but the doctors said he's not going to be well enough to travel for a while," Robin says in a preview for Wednesday's episode. "I really wanted Chris to go to Texas with me."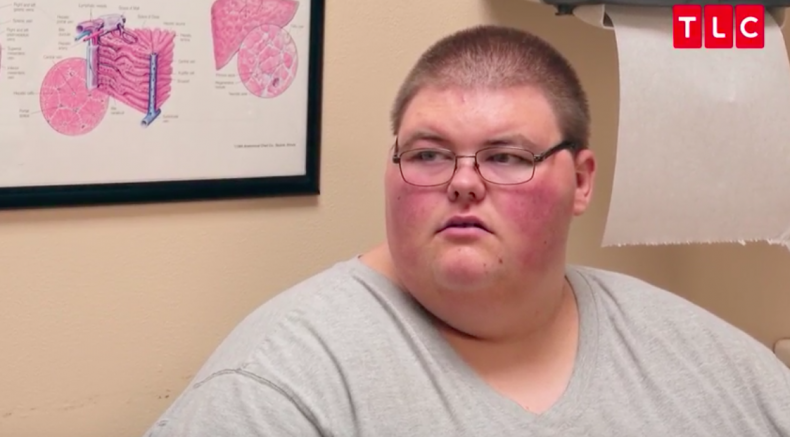 She adds: "I really wanted him to take this journey with me but at least Chris's heart attack was a wakeup call for Garrett and he said he may want to get help so he's coming over to talk about possibly going with us."
When Garrett meets up with Robin, his aunt encourages him to meet the bariatric surgeon. "You can meet Dr. Now and talk about a weight loss journey of your own and getting the help and tools that you need too. I think it would be a good experience for you," she says.
After his father's health scare, Garrett is open to the process. "I think I do need that," he says. "Honestly, I have been thinking about it a lot and if I were able to help better myself I might be able to help my dad—be able to be there for him."
When he meets renowned surgeon Dr. Younan Nowzaradan, the physician tells him he could have a serious problem in the near future. "That's a lot of weight gain in a short period of time at that age so you're on track to be the world's heaviest person if something doesn't change," Dr. Now says.
Robin says she is "very anxious, very excited because it's the first big step" but there's one vice standing in Robin's way: She's a smoker. If she's not able to quit cigarettes she might not be able to go through with the weight loss surgery.
To see what happened with Robin and Garrett's weight loss journeys, don't miss My 600-Lb. Life when it airs on Wednesday at 8 p.m. ET on TLC.