Where Are 'My 600-Lb. Life' Subjects Vianey and Allen Now? Update on Dr. Nowzaradan's Weight Loss Patients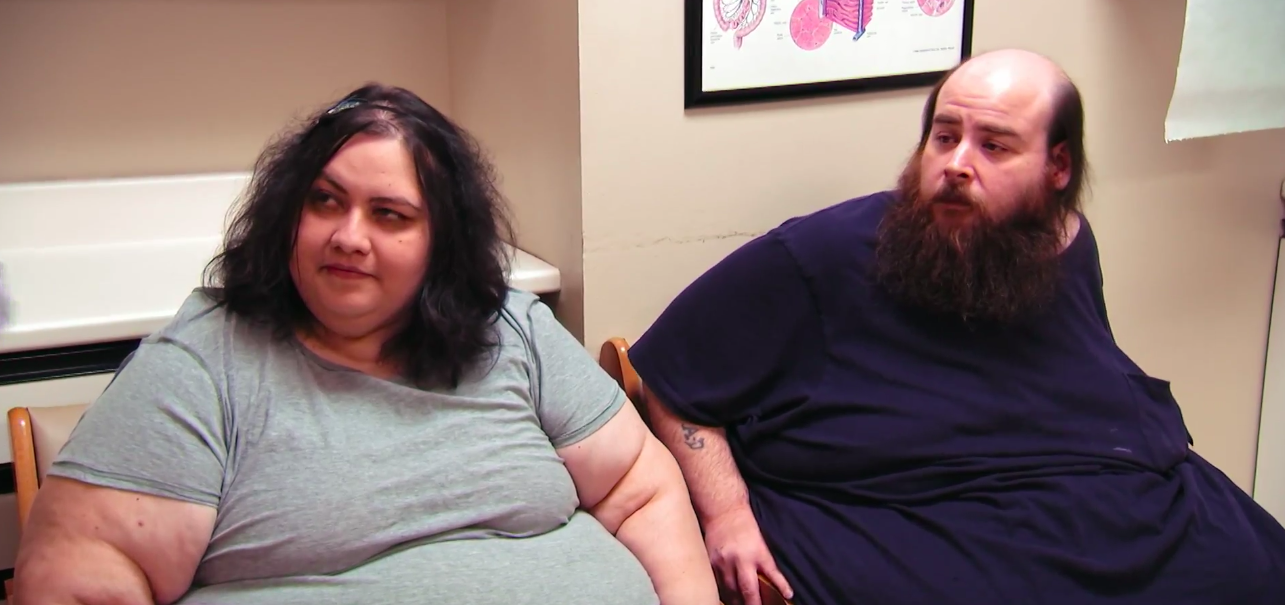 My 600-Lb. Life subjects Vianey and Allen bonded over their love of food, but it's also the thing that might tear them apart. The Chicago couple met online and felt an instant connection, but now their addictions are taking a toll on their health and stopping them from having a family. They both know they need to change if they want to live more fulfilling lives, but food is practically the only thing that brings them comfort and happiness. To help get them on the right track, Allen and Vianey sought the help of renowned bariatric surgeon Dr. Younan Nowzaradan.
The logline for Wednesday's episode reads: "Weighing over 600 lbs. each, Vianey and Allen are locked in a codependent relationship based on a shared love of food. As they head to Houston, they will soon find out if their relationship can handle the strain of growing healthy together."
So where are Vianey and Allen now?
Ultimately, Vianey was able to lose 226 pounds and Allen was down to 376 pounds, having lost a total of 272 pounds, at the end of the episode, but it wasn't easy.
Seven months into their journey, Vianey nearly lost her life. Dr. Now approved her for weight loss surgery after she stuck to his 1,200-calorie diet, which is low-carb and high protein. When the doctors put her under to perform the surgery, Vianey's heart stopped so they immediately stopped the procedure. "You didn't get the operation because your heart stopped," Dr. Now tells her after she learns the operation wasn't completed.
Vianey was heartbroken at first and worried she was destined to live her life as an overweight woman, but Allen never gave up on her. "I've been really proud of Vianey and it's my mission right now to make sure that she can get weight loss surgery as soon as she can... I love her so much and I can't wait for us to get to where we both need together," he tells the TLC cameras.
In month eight, Vianey and Allen return to Dr. Now's office for a weigh in. That's when they learn Vianey dropped 18 pounds and Allen lost more than 130 pounds. The Houston doctor approves Allen for surgery, on the condition he sticks with his diet for another month. For Vianey, after learning about her depression, he recommends she go to psychotherapy to help with her food addiction. In therapy, Vianey talks about her late mother and how her physical abuse impacted her childhood.
The episode ends with Vianey and Allen going on their first date, even though they've been together to 10 years. Both are now excited about their futures together and don't want to waste any more time. As for Vianey, she is approved for weight loss surgery as long as she gets under 350 pounds.
"I have no doubt that as long as we have each other and we're doing this together, we will be able to do anything and everything we need to make our goals and get that life we both have dreamed of all of our lives and I know we both absolutely can't wait for that and we're excited to see what the future holds for us."
Vianey and Allen's story airs on My 600-lb Life Wednesdays at 8 p.m. ET on TLC.