On My Block just entered the lit soundtrack club. The Netflix series, which released March 16, sits right next to Insecure, Atlanta and Black Lightning. On My Block makes precise and refreshing musical choices. A lot of the songs are far from mainstream, but consumed collectively, represent the sounds to come. While the series should be added to your Netflix watch list on narrative alone, here are 25 artists and songs that prove On My Block sounds as good as the competition. This article moves in chronological order.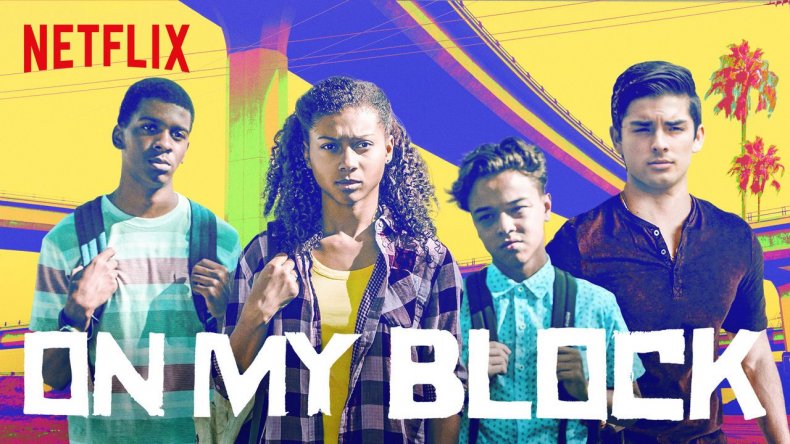 The series comes out strong with Daye Jack. "Finish Line" is only one of this Nigeria-born singer's irresistible records. It's conventionally groovy with a hint of N.E.R.D.
We're introduced to the Santos gang with an appropriate jam from Inglewood rapper and friend of Tyler The Creator, Rocket Da Goon. If you caught the chorus, "Pop a M30 it's a movie, sippin on drank it's a smoothie," that's a track called "Estupido" from the mixtape Ion Trust A Soul.
The next playlist worthy track is reminiscent of early Cudi. Sydney-based artist Blessed blessed us with "Sorrows" as the On My Block crew loses a friend.
You might be living under a rock if you haven't at least heard of Lil Pump. "Gucci Gang" anyone? Even if trap isn't your thing, "Boss" is the perfect to get some endorphins flowing. The 17-year old rapper delivers for a high stakes scene in On My Block.
Adding some indie-pop to the soundtrack, AM!R gives us a sultry love song to close out the second episode. The NYC artist's 2016 release, FUTUREPUNKSOUL is a treat, "Parachute" being the standout that makes its way to On My Block.
One of the most memorable songs of the series is "Bubble Up & Double Up. " If you play this for someone and they don't make the Funk Flex face, don't trust em. In fact, the whole Taking All Bets album by Jay 305 is real af.
"Come My Way" has a buoyancy that the 90's RnB it was inspired by doesn't have. JSPH feels childish and playful, a perfect tune for teen romance. You may have already heard the singer's addictive song, "Breathe," featured on Pharrell's OTHERtone podcast.
Phil JaXon might be the most obscure artist on this list. A google search does not yield much result except for an album released in August 2017, titled Minimum Wage. That project is home to the record we hear while the crew is getting lit during On My Block episode 3, "Me & My."
Blessed is back for another round. "One And Only" is more lively and catchy than the first. This group of experimenters from Vancouver clearly have a bomb summertime playlist.
Detroit songwriter Amir Obe is here for the serious moments in On My Block. "Naturally" is solid for a good cry, but if you are in a good mood try "Wish You Well." Look, Drake is a fan so you should be too.
Perhaps one of Raury's most versatile records, "Devil's Whisper," is the standout of episode 5. He proves his chops, impressively talk-rapping through multiple shifts in melody.
Getting lit at the club? Brenmar has you covered with "Don't Want It" feat. Sayyi. It's already been featured on both The Chi and Power.
Rappers can sing too. With "Cherry Hill," Russ delivers the 2018 version of "Creep." He gained popularity with the Soundcloud hit, "What They Want," in 2015.
Brent Faiyaz is a star on the rise. "Insecure" released on A.M. Paradox before his group, Sonder, gained popularity in 2017.
"Sweetest Life" is one of those songs you start over before it's finishes. Kwaye's vocals are bright and clean, but undoubtedly soul inspired.
Considering the music team's choices thus far, it comes as no surprise Sampha makes his way into episode 7. "Blood On Me" is one of the more well-known songs on the On My Block soundtrack.
The mystery behind California singer H.E.R. parallels the mystery that heats up at the end of On My Block. Don't sleep on "2," you'll fall in love as soon as the beat drops.
Insecure showed a lot of love to Kelela, and so does On My Block. " Frontline" is from her debut album, "Take Me Apart."
Kevin Abstract loans his climactic ballad, "Runner," to the eighth episode. This record is from the Brockhampton founder's last solo album American Boyfriend, but the band released two new albums in 2017, Saturation I and Saturation II.
It's hard to pin down BOSCO to one genre, but that's what makes her unique. Another Insecure vet, she's vocally precise yet produces laid back records like, "Cruel."
Detroit's own DeJ Loaf opens the finale with "Changes." While she did make the 2015 XXL Freshman Class, but her skills can't be put in a box. She can sing, rap, you name it.
Tattoo Money's website says, "I'm weird but I'm fuckin dope." I can't disagree. "Levels" is my first introduction and it's safe to say we should all be looking out for this Brooklyn born artist's next project.
Alina Baraz and Khalid, two of the hottest artists of 2017, collaborated for "Electric," which landed in the On My Block finale.
The final song of the series is an original and has not been released yet, but it's called "Bottle Rocket. " You can follow the artists, Domo Genesis and Kovas, on Twitter and stay tuned for updates. Did we miss any great songs? Let us know in the comments.