William and I went to college together in Atlanta, but we really didn't know each other too well. He graduated in 2013 and I graduated in 2014 and after that, we just grew apart and lost touch. Then, William reached back out in early July 2020 over Instagram.
He was really straightforward. His message said that he knew I hadn't heard from him in a while, but that life was short and he'd always had a thing for me. He asked if I wanted to give it a shot.
I was on vacation at the time, so I suggested that we meet up for lunch when I returned. We met up a few days later and talked for so long that the restaurant we were in eventually closed and had to kick us out. It was just so nice reconnecting and finding out what had happened with each other over the past six years.
It was tough dating during the pandemic. But we would meet up in a park, hike a trail or go to each other's homes for a movie night, so we were able to work around it. And, in a way, I think the pandemic helped us, too. We weren't as distracted by going out with friends or other social commitments. We were just spending time together and getting to know each other again.
I'd only been single for about a year when Will reached out, so at first I had my guard up because I really didn't want to jump into anything. I made that very clear to him and he respected that. He's very patient.
My birthday is September 3, and in 2020 I went to stay with my family in Pennsylvania to celebrate my 30th. I have a dog and so Will offered to stay at my house and take care of her. My mom ended up coming back to Atlanta with me, which was a little unexpected, so on the way I had to explain that I had somebody at my house I really liked, but it was someone she hadn't met before. Once my mom and Will met and talked, they really bonded and I was able to see how Will would be part of my family. I could see he really cared and that was so special.
So, we actually said "I love you" for the first time in September. It was really fast, but I think what helped was that there was a friendship from the past. It wasn't like getting to know a stranger.
Marriage had come up in the conversation quite early too, and we had shared pictures of rings we liked on social media, but Will had planted the idea that a proposal would happen later in the year, perhaps in the fall.
As the relationship was still quite new, in March, Will told me he wanted us to get dressed up for the Easter holiday and take pictures that we could send to our families. But I had no idea where we were actually going until the morning of April 4 when Will explained we were spending the day wine tasting. I knew that the vineyard was about an hour away so it threw me off when we only drove for 15 minutes before pulling into an airport. Will then said: "I didn't tell you how we were getting there!"
I was a little terrified in the helicopter, but we did an amazing aerial tour of Atlanta. At that stage I still thought it was part of the trip to the vineyard, until we started descending. The pilot explained it was a beautiful day and we were ahead of schedule so he suggested we stopped on a rooftop to take some pictures.
We started taking photos facing north on the west side of the roof, and without me realizing, two of our best friends and a videographer and photographer, who are also long time friends, had snuck up onto the roof. When I turned around and saw Will's best friend I was confused because this friend lives in California. Then I saw my best friend behind him and I suddenly realized: Oh my gosh, it's happening right now. The tears started running down my face, but I was laughing because Will had set it all up so well.
Then he got down on one knee, brought five rings out and proposed.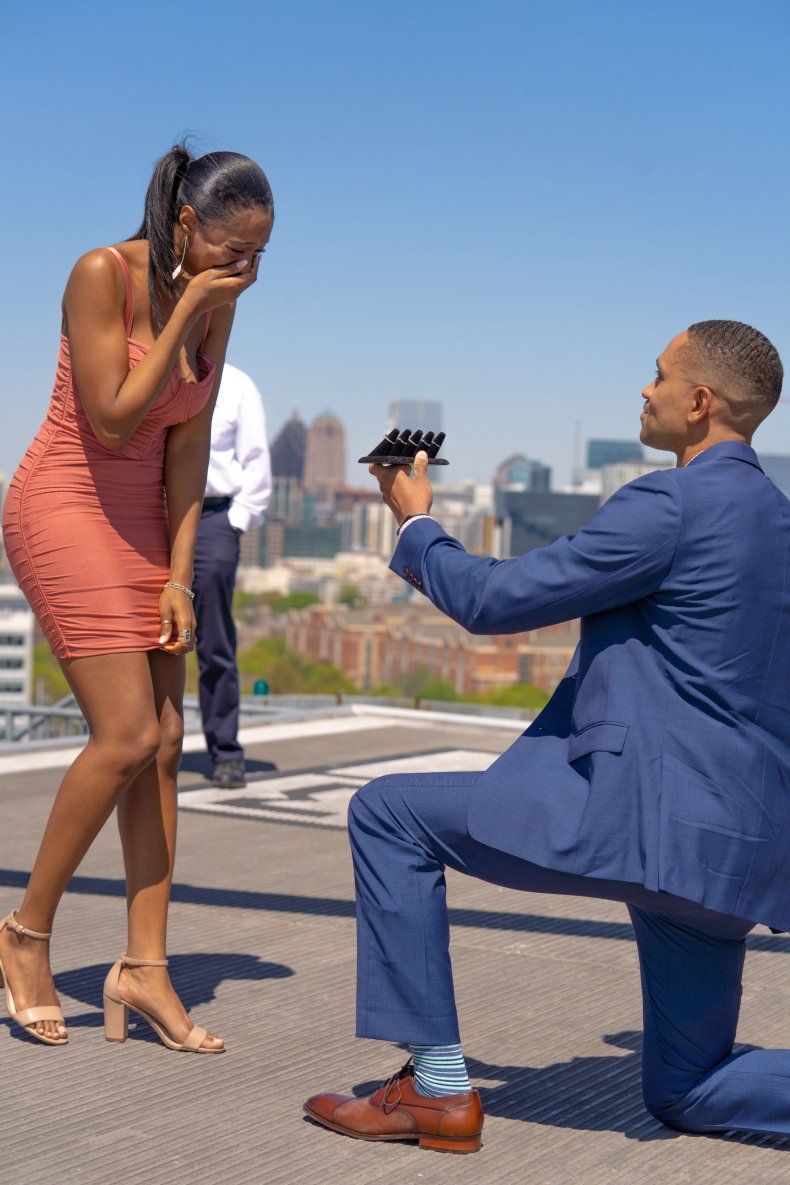 We had previously been ring shopping to see what was available, and at one jeweller we saw four rings I really liked in the store and one more online that I also loved. So, without me realizing, Will ended up working with the jeweler to get the fifth ring made. With the exception of one, I had seen the rings already. Will was not being lazy and trying to get out of choosing!
As he proposed, he told me I could try all five if I wanted, or go ahead and pick one. I wouldn't know what to do with five engagement rings anyway, so I picked one, and of course I said yes.
What made the day even more special was that Will chose to propose on April 4 for a reason. Whether it was my number when I was playing basketball in school, or even just always catching the clock at 4:44, the number four seems to have followed me. My dad was also born on April 4 and he passed in 2007, so that date can be an emotional day for me. Will knows that and how important my dad was to me. For him to propose on a day that can be very sad for me and turn it around to make it a memorable day in a positive way was amazing.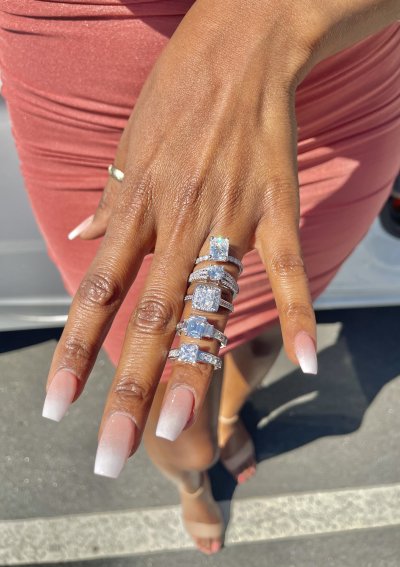 The surprises also didn't stop at the proposal. Will had reached out to my place of work and requested that I be able to take the rest of the week off, and so he told me the plan was to drop my dog off at my aunt's house, go out to eat and fly out for a holiday the following morning.
When we arrived at my aunt's house, my sister and her fiancé, my grandparents, my best friend, Will's parents and siblings and his best friend were all there. Will's parents came from Maryland and my family came from Pennsylvania. Sadly, my mom was exposed to someone who had COVID-19, so she wasn't able to make it.
We are currently living together and life is great, I feel like we're almost the same person. There's really not much we don't see eye to eye on—except perhaps food! But we're probably going to wait until August or September 2022 to get married as my sister and best friend are already getting married this summer. We both also want kids, though Will does want a few more than I do—he wants four!
If someone had told me that I would be engaged a year ago I wouldn't have believed it. Particularly if they told me I would be engaged to Will; just because we had lost touch.
But I'm so happy. We talk about how happy we are every day and show each other how thankful we are. If Will had reached out to me a year before I would have been in a relationship. The timing was just right.
Brittney Miller lives in Atlanta, Georgia, with her fiancé William Hunn. You can follow her on Instagram @mz_miller or check out Brittney and William's YouTube channel, The Hunnymooners.
All views expressed in this article are the author's own.
As told to Jenny Haward.