'My Brilliant Friend' Season 3: HBO Release Date, Cast & Plot Details Revealed
Based on Elena Ferrante's Neapolitan Novels, My Brilliant Friend was renewed by HBO for a third season back in 2020.
Not only is the Italian language television series a loyal adaptation of the beloved books, it has an impressive rating of 96 per cent from critics on Rotten Tomatoes, and 95 per cent from audiences.
Thankfully for fans, HBO has now begun teasing what's in store for the upcoming installment.
Here's all you need to know about My Brilliant Friend Season 3 - including potential release date, cast and plot details.
What is My Brilliant Friend about?
The show follows friends Elena "Lenu" Greco (Elisa del Genio) and Lila Cerullo (Ludovica Nasti) as they grow together and apart throughout their lives, set against the backdrop of post-war Italy.
Predominantly taking place in a poor neighborhood in Naples, Season 1 documents their childhood years, sticking closely to the narrative of the first novel in the book series of the same name.
In the second season, the child actresses were replaced with new stars (Margherita Mazzucco and Gaia Garace) to portray the young women as they enter early adulthood, dealing with love, heartache, marriage and children.
Just as the previous two installments, the third season will be based on book number three: Those Who Leave and Those Who Stay. The fourth novel, The Story of the Lost Child, is also expected to be adapted for the small screen.
Major Ferrante fans will also be celebrating after the news that her 2019 novel The Lying Life of Adults is currently in production in Naples for a Netflix TV series.
When is My Brilliant Friend Season 3 out on HBO?
While the third season was announced back in April 2020, as of yet the release date has not been confirmed.
In June 2021, a first-look image was revealed on the My Brilliant Friend Instagram account, showing Lenu and Lila in the third series.
It is not clear whether they have completed filming of the series, or if filming is still underway and the team at the show are keeping details under wraps at the moment.
Will there be a new cast for Season 3?
Both Mazzucco and Garace can be seen in the first look image, suggesting they will reprise their roles in the upcoming season.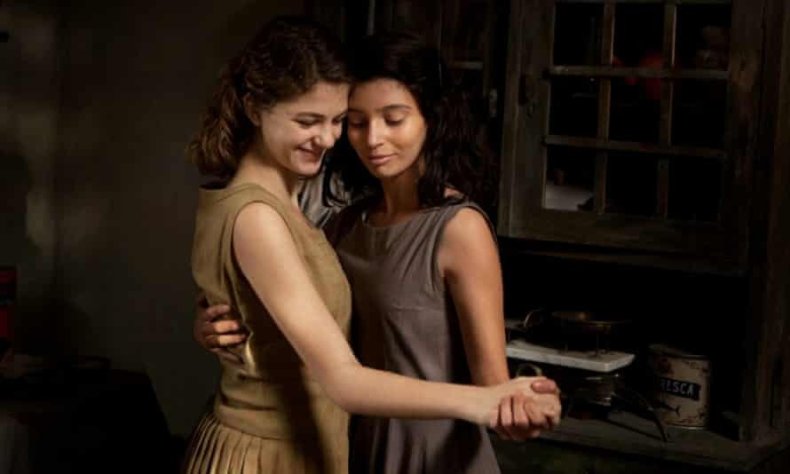 While the narrative in the third book shifts to when Lenu and Lila have grown up, the difference in age is not so significant that they would need to re-cast them.
In fact, as is the case between each book, the third book picks up from where the second left off, continuing the story fans will already be familiar with.
What happened in Season 2?
**Ahead are spoilers for Season 2 and the upcoming Season 3 of My Brilliant Friend.**
In the second season, Lila is married to Stefano Caracci (Giovanni Amura), but believes the marriage is now over after revelations about his involvement — along with her father (Antonio Buonanno) and brother (Gennaro De Stefano) — with the Solara family.
Wanting to subdue Lila, Stefano attacks her on their wedding night on the Amalfi Coast, and as their unhappy marriage continues to haunt her, her family pressures her about having a child.
Sent away on holiday on doctor's orders in the hope it may help her conceive a child, Lila goes to the island of Ischia and brings Lenu with her. Lenu has secret hopes she will run into her love, Nino Sarratore (Francesco Serpico), who is staying nearby.
Lila, her sister-in-law Pinuccia (Federica Sollazzo) and Lenu grow close to Nino and his friend Bruno (Francesco Russo) on their trip, and despite Lenu's love for Nino, he and Lila embark on a full-blown affair.
Heartbroken, Lenu buries herself in her studies in Pisa and finds herself a man, before Lila's mess forces her to return to their neighborhood.
Lila, now pregnant with what she believes to be Nino's baby, leaves her life with Stefano to embark on a new one with her lover. However, after a fight, Nino walks out and inexplicably goes missing (the truth is that Lenu's ex Antonio, played by Domenico Cuomo, beat him up and told him to stay away).
Returning to Stefano, things continue to worsen and eventually Lila discovers he has also been having an affair. He also takes his frustrations out on the little boy once he's born.
Lila leaves him once more, only this time she runs away with her friend Enzo (Giovanni Buselli).
Meanwhile, Lenu has published a successful book, and is engaged to be married.
In the third season, Lila will face more adversity, being subjected to more sexual harassment at her place of work. Elena, on the other hand, thrives in Pisa and makes a name for herself among scholarly circles.
Newsweek will update this story as more details come to light.