'My Daughter Found Her Siblings After 27 Million People Read My Viral Plea'
We had been living in China for two years by 2007 and had just moved to a city in the province of Guizhou. We had only been there for 10 days when the phone rang. It was a friend of mine who visited orphanages around the province, trying to help.
She had discovered a little girl at the orphanage who was dying—My friend had spoken to the orphanage director and asked if my husband Greg and I could take this girl home and make her last days more comfortable. The director trusted her recommendation and so she had called us.
Before we left Greg suggested we should pray. He then said, "well I know what Jesus would do, let's go get her". We got in the car and went to the orphanage and after we had signed all the official documents to become this baby's foster parents, we were handed a bundle. The orphanage said they thought Hosanna was about 13 months old but she weighed less than 8lbs. We couldn't believe it.
Once home, Hosanna had no desire to eat, even though we were giving her lots of food and formula. A week later, we went to the local market and a lady came out of the crowd and asked me in Mandarin: "Why is your baby yellow?" I hadn't noticed that change but Hosanna really hadn't improved, so I called a friend in another city who was a paediatric doctor and explained the situation. This doctor wanted to look Hosanna over, but when we arrived and Hosanna was examined, the doctor wasn't sure if Hosanna would make it through the night. We took her to the hospital and were told Hosanna's hemoglobin levels were so low that she needed an emergency blood transfusion.
It infused her with life. All of a sudden she was more smiley, looking around and engaging when you talked to her. Soon after, through a woman at our church in Canada, we were put in touch with a Dr. Man-Chiu Poon in Calgary, Canada who is a hematologist. He recommended another doctor in China, Dr. Sun. We travelled to meet Dr. Sun, who examined Hosanna and did extensive blood work. He told us that without question she had the most severe form of the blood disorder beta thalassemia you can have: beta-thalassemia major. It means Hosanna's body was not producing enough hemoglobin, which is needed to carry oxygen throughout the body.
I learned at that point this little girl would need blood transfusions for the rest of her life. We also had to give her nightly chelation therapy to keep her organs healthy. She has a needle injected each night through which she subcutaneously receives a special medicine through a pump that works for 11.5 hours as she sleeps, providing her with a drug that has to be infused slowly. The very best, most reliable cure for beta-thalassemia is to have a bone marrow transplant from a sibling. Dr. Poon told us that if we found a matched sibling donor, that would provide a cure for Hosanna. Otherwise she would have to live with the treatments and likely die younger.
Around that time, a documentary was actually made about us, so we could get the word out in China and try to find her family. But at the end of the day the documentary couldn't be aired. We adopted Hosanna in December 2009 and then flew home to Canada in 2010.
That year, a friend actually saw the documentary on Canadian TV, but I was unable to find it to share, so we continued with nightly chelation therapy and transfusions every two weeks. But it was still nagging at me, so seven years later in 2017 I wrote a letter to Omni Television in Canada.
An anchor for the Mandarin edition at the network, Bowen Zhang, didn't know anything about the documentary, but we struck up a friendship and along with a filmmaker in Beijing, Kevin Luang, he came up with the idea of sharing something about Hosanna on social media. I had a letter I was writing to my daughter's biological parents, so they read it, translated it and shared it on social media in China.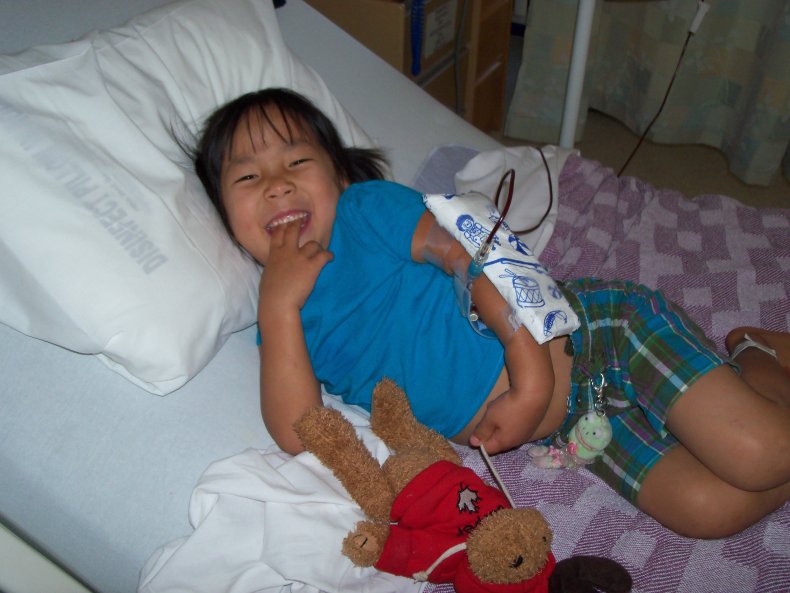 It went crazy. We heard that even after the first day several million people had seen the letter, and within a short time 27 million people in China had read it. Because we had shared that our daughter had been found in Guizhou, local people in that area really took to this story. They wanted to help Hosanna get this bone marrow transplant.
Flyers were created by Chinese locals and the police, because it had to be official. They put Hosanna's photo on them and sent them around. School children were approached and given flyers to hand out in their homes. I was told by Bowen that 50,000 flyers were sent out across Guizhou. The police even told us that if they could get Hosanna's DNA they would put it into their database and see if anybody came up. I was amazed by the kindness of strangers.
After my letter went viral, it was really crazy for four months; we got lots of phone calls and people writing us letters sharing their own stories. Then everything just stopped and I was so discouraged, because I really thought that amongst all those 27 million people who had read and shared my letter, somebody would somehow get the message to the family. I realised it was going to be a miracle if we found Hosanna's parents.
It was months later that I got a call from Bowen saying that somebody had come forward saying he was Hosanna's biological father. Bowen said he would text me the picture of this man, and as it came through to my phone, I just thought, "this is my daughter". It was quite remarkable. They were so similar. It was a very emotional moment and it renewed my hope.
Dr. Poon arranged for the family to go for DNA testing with a doctor in China. It was early 2018 we found out that the family were a DNA match. Then we had to do HLA typing and soon after got the results that one of Hosanna's siblings was a perfect bone marrow match.
We decided that we should go to China and meet the family, so in 2018 we met Hosanna's biological parents and siblings and hung out with them for five hours. They were watching Hosanna, their daughter who they probably thought was dead, and she was now alive. It was a beautiful moment.
Hosanna is a quiet girl and not super emotional but it was a really sweet meeting. One moment that really stood out to me was when her biological mom walked up behind Hosanna, put her arms around her and pulled her in. Then her biological dad did the same. I just knew they had probably longed to hold their baby. I always think about what a healing experience it must have been for them.
Babies with beta-thalassemia can be healthy for the first six to eight months and then they start to decline and that's what happened to Hosanna. You can tell they loved this baby, but she was failing to thrive and with their economic situation it would be impossible to give her the care she needed . So they decided to leave her at a police station where she was sure to be found and hopefully get the help she would need.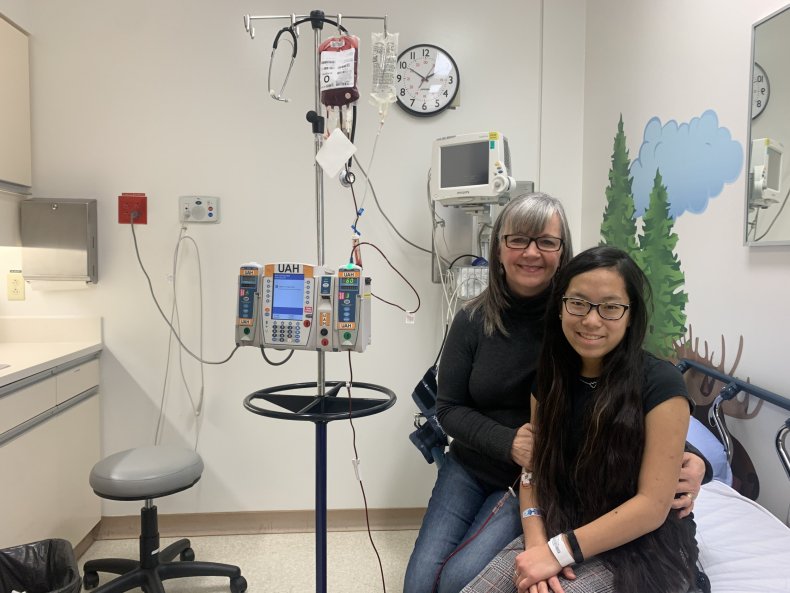 As of now, we're still working on the bone marrow transplant. Our hope is that it will happen in 2021. Originally, it was going to happen in May 2020, but the pandemic hit. We tried again for January 2021 but COVID-19 still made it impossible. Now we're now hoping it will happen before Christmas this year.
We're just grateful Hosanna's biological family are very committed to this daughter of theirs. Hosanna is very athletic, so after the transplant, she'll be able to do more and go to sleepovers without having to take her pump . We won't have to go to the hospital and she won't have to get other people's blood every two weeks. Right now she needs two units of blood a fortnight. To date, she's had 286 transfusions. When I wrote that letter she was at 192 transfusions, so I have felt apprehensive thinking about her going forward because the more transfusions you get, the harder it is on your body.
Being parents again has definitely been an adjustment because we're in our 60s, and Hosanna became legally ours when I was 50 and my husband was 52. But I think there is a richness there that is lasting, we had our adventure and lived in China for five years and it's a good way to be entering our golden years, helping our daughter become successful and be cured.
I think it's a miracle. I couldn't believe the enormity of what happened and that her family came forward. We've really encouraged her to stay in touch with them. She sends them pictures at Christmas and wishes them a happy Chinese New Year. She's still learning Mandarin but she's been able to text them. I'm all for that. I hope that after this transplant is over and she is well, we can make a journey to China and spend some significant days getting to know her family more.
I do feel old sometimes. Sometimes Hosanna will come up and say "I live with old people!" It's true, she does. She lives with grandparents really. So there have been challenges but we always dreamt that our retirement would look different. But I'm OK with how it looks. I think there have been way too many blessings in what we've done.
Right now, Hosanna is 14 but I hope she uses her life to do great things. There is so much to be thankful for. I'm so glad we lived our life the way we did because this amazing story wouldn't be here if we hadn't.
Cathy Crowell lives in Edmonton, Canada with her husband Greg and their daughter, Hosanna. Hosanna's brother-in-law has started a GoFundMe page to help with the costs involved with the transplant. You can donate here.
All views expressed in this article are the author's own.
As told to Jenny Haward.