'My Home Was Burned Down In The Oregon Fires'
I have lived in Talent, Oregon for the past five years. It's a small, beautiful town approximately 20 miles north of the California border. Our closest town is Ashland, which is much bigger. But both towns share the same beautiful views, and the cost of rent for my home has always been really reasonable.
Summer and fall are very arid here as we usually haven't experienced rain in many months. The ground becomes really parched and it's the time of year we typically see really destructive wildfires spreading through the area.
On September 8, when the Almeda Drive fire that originated Ashland spread through to Talent, we were experiencing really high winds of up to 45mph. It meant that the fires spread through the area incredibly fast, and it didn't take long for them to travel north-west to us in Talent.
I was at home that afternoon and I remember hearing an explosion, and then the power cut in my house. But no one in my neighborhood really had any idea what was going on until the fire department began driving through the streets with megaphones telling us to evacuate immediately.
That day my partner, Mickey, was working around eight miles away and she got stuck around two miles away from home as the streets were blocked. So I got on my motorcycle, rode down the sidewalks, picked her up and we rushed back to the house so we could get my truck, get our animals together and evacuate.
We have a chocolate Labrador, three cats and a snake, so the majority of the little time we had in the house was spent trying to corral our animals. One of the cats is a little more feral and she was hiding, so we spent about 20 or 30 minutes unsuccessfully looking before we found her. It got to the point where time was running out, so I doused the garage with water and turned on the hose to try and keep it damp, but the pressure was down to a trickle.
We were only then able to pack the absolute bare bones of our belongings; a couple of armfuls of clothes each, my partner's photo albums (but sadly not my own), my father's acoustic guitar and my partner's guitar—that was about it. We were trying to evacuate with no power, just using flashlights in the haze.
The huge tragedy is that we had to leave our snake behind, because we couldn't wrap our heads around how to evacuate her large cage, and in those panicked last moments in the house we had to get away from the smoke because it was choking us to breathe it in.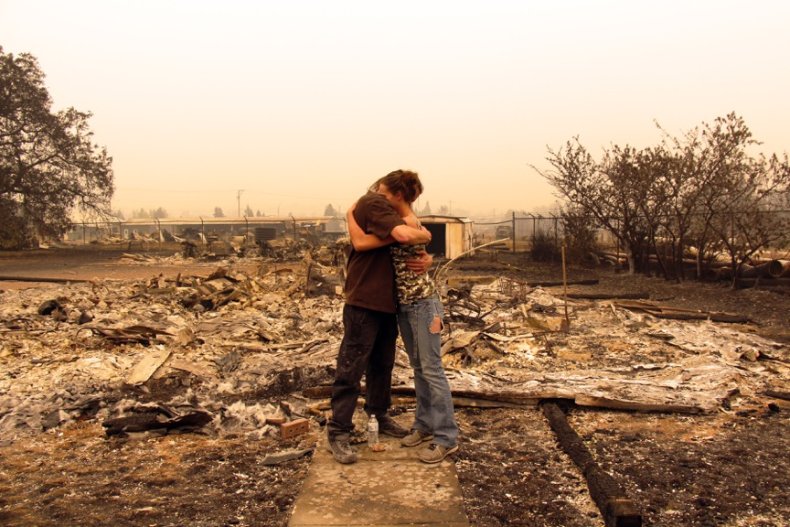 I have a truck with a big trailer attached to it and we left with the trailer maybe 10 percent full because we were being told to evacuate and the roads were clogged with people trying to get out of the area. There was traffic on the roads as far as the eye could see, and there was real tension in the air because a lot of people were trying to evacuate. There were a lot of horns honking and people yelling. It was terrifying.
My partner's mother had called to see if we were OK, and we knew she had space in her home in Rogue River, which is around 25 miles away. So we drove there that night and have been staying there ever since.
When my partner and I left the house, we put our hands on it and just said, "please be here when we come back." But Dan Goyette, a friend who ran a coffee shop across the street, sent me a video that first night of my home completely up in flames.
It's devastating because we lost things in the fire that are completely irreplaceable; my friend's ashes and my partner's brother's ashes. I'd been living in that home for a long time and I lost tons of instruments, one-of-a-kind records, a wood shop and all three of my motorcycles. We were hoping that because the house was built in 1895 and a historic property in the downtown area, it might have been saved by the fire department. But it completely burned to the ground in the fire.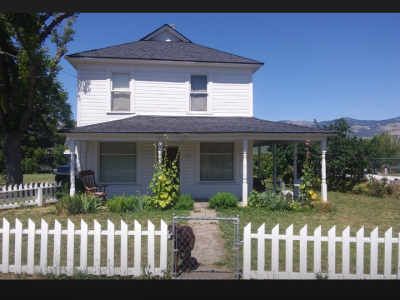 I still can't sleep at night knowing my snake perished in the fire. I didn't get my passport or social security card and my partner didn't get her birth certificate, but the snake was a life and I really feel at fault for that.
It's hard to find a place in your mind where you're comfortable with something like that. I find myself sitting in the cab of my truck on occasions, just trying to collect my thoughts. Mainly because that truck is one thing left in the world that is still mine.
It's amazing that we have a place to stay, but it's also like being on a vacation that you didn't want to go on, having no luggage and knowing you can never go home.
And it's not just us. The fire has impacted the communities here immensely. It destroyed around 2,300 homes in the area and that includes mobile homes and affordable properties that people on lower incomes were living in. There are thousands of people who are displaced, the hotels in the area are packed and many other people have no place to stay. So a lot of people have been letting the displaced camp on their properties, which is pretty amazing.
The community overall has been very nurturing and supportive. Those who didn't lose their homes are seeing what the rest of us are going through, and there have been so many donations of food and clothing, and offers of resources, which means so much. Compassion goes a really long way when people have lost everything and it's incredible to see the community coming together in that way. It brings tears to your eyes when you see people helping out at donation centers and you can see the amount of empathy and compassion they have.
But those of us who are displaced still have to try and work out where to live now, because there's nowhere to go back to. It's not been easy for many of us to reach out to one another because a lot of us are going through such personal pain. You just have to try and keep moving forward.
I feel it would be easy for me now to dive into a depression, but I'm fighting it every step of the way. I know our situation would be a lot worse if that happened, so I'm trying to stay optimistic.
But there are no rental properties available that we can afford. It currently looks like we will have to go from living in a two-storey home to living on a 33 foot school bus on someone else's property with most likely no power or running water.
We can apply for FEMA support, but there is a limit to what they cover. I did have rental insurance last year but COVID-19 impacted my wages dramatically. I work with children who have disabilities and special needs, and my working hours were cut back to one shift a week. I just couldn't afford to keep up the same insurance payments.
Mickey and I have been talking a lot about the future lately. We're actually both care workers, and she is currently caring for an elderly woman who is in her 80s. It's very important to her that we stay here so she can see that out, because she has known this woman for almost three years. Building a rapport with someone that late in their life is not something you just walk away from.
However, long term we are concerned about living on the West Coast. We just don't think we are going to be able to afford the rental costs of the homes that are rebuilt—the cost of rent has increased by 14 percent in recent years in Oregon. And these fires keep coming so we're not feeling very secure on the West Coast. Sadly, the Almeda Drive fire is now being investigated by police as an arson.
I've been sleeping six hours a night and not eating well. I am a person with anxiety and having a home with my music, instruments and tools was a sanctuary. So my personal levels of stress and anxiety have skyrocketed. But I try my best to not focus on it and stay optimistic. As a caregiver, I want to go back to work as soon as I am able to be there for my clients.
I'm even trying to be optimistic about the thought of living in a school bus, in that transient situation—going from having space and all these wonderful things to a completely different environment.
But at least it's something. At least it's ours. We can start to pick ourselves up and see what pieces of our life we can put back together. We can begin to work out what moving forward actually looks like.
J.R. "Alex" Gray and his partner Mickey were living in Talent, Oregon before their home was completely destroyed as the Almeda Drive fire spread through the town on September 8. The couple have set up a GoFundMe account to help raise money to rebuild their lives.
All views expressed in this piece are the writer's own.
As told to Jenny Haward.