'My Ex Saw Me On TV. Now We're Married'
Whenever people ask how I met my husband Kelly, I'm never really sure how to answer. Most people say that they met their partner in a bar, online or even a blind date. But I first met Kelly at summer camp in the U.K. in 1993. I was 15 and he was 17, and we had both been sent there for a week without our parents, which was quite exciting for me at the time.
I remember thinking he was good looking and realizing that at 17, he was old enough to drive—possibly the most attractive skill a teenage boy could have had at the time.
As we got to know each other, Kelly told me he was moving to my hometown to go to university. This seemed like a pretty crazy coincidence as, at the time, he lived in Scotland and I was living almost 500 miles away on the east coast of England.
Following camp, we spent the summer writing letters to each other. It sounds romantic, but this was the early 90s; well before Whatsapp existed or cell phones were commonly owned. In our letters, we agreed to meet up when Kelly started university in September, and when I was 16 we went on a few dates. Over the next couple of years we met up occasionally, but by 1995, Kelly was about to graduate university and I was studying for my A-Level exams, which students take at the age of 18 in the U.K. We were just at very different stages in our lives.
Kelly moved to London and we didn't see each other at all for the next five years. During that time, I went to university, graduated and landed my dream job working as a TV anchor. I appeared on a show called The Wright Stuff which aired on Britain's Channel 5 and I presented live on air every weekday morning.
I dated other people, but it was never anything particularly serious and I often thought about Kelly over the years. Unlike now, when you can track someone down with a few details, a little determination and willingness to plunge down an Instagram or Facebook rabbit hole, social media didn't exist. And I had no contact number for him, so I really had no way at all of getting in touch.
Then one morning in 2001, Kelly happened to be at home. He had, somewhat sneakily, taken a day off sick to celebrate his birthday and when he turned the TV on, he spotted me presenting on the show. As the credits rolled, he rang the switchboard in the city where I was based and managed to get through.
I still remember his words now: "Hello Hester, it's Kelly. I don't know if you remember me." I had only ever met one man named Kelly in my entire life, so of course I knew straight away who it was. It didn't take long for us to arrange a date in London.
As I was waiting for Kelly to arrive on the evening of our date, I remember wondering how he would look. Five years felt like a long time to not have seen someone, especially when we were so young. But as soon as Kelly walked around the corner, my heart began to race. He hadn't changed at all and he looked great in his suit—I was more than a little relieved.
We had dinner together that evening and then went on to a bar for some cocktails. But unfortunately, our date didn't quite go to plan. A glass broke at the bar, Kelly accidentally cut his hand on it and we ended up in the emergency room together so he could get stitches. It might have been a disaster in other circumstances, but as the taxi cab took us to the hospital, I remember looking at Kelly and thinking that I never wanted us to be apart. After being stitched up and sent on our way, we actually went out for a few more cocktails.
From that night, we saw each other as much as we could. But three weeks later Kelly told me he had been granted a working-holiday visa for Australia. I'm not really your typical backpacker, I prefer the luxuries of a hotel. But Kelly wanted me to go with him, and I knew that I couldn't miss such a huge adventure.
We travelled across Australia for six months before settling in Melbourne for a further six months to work. Kelly and I spent every single day of that year together, and we both loved it.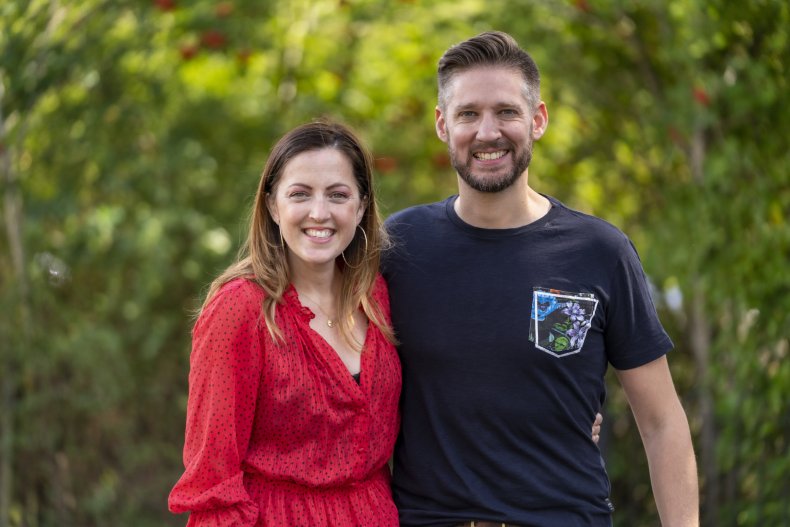 We actually looked at engagement rings in Brisbane at the beginning of our adventure, so I spent the entire year in Australia thinking Kelly would propose.
In the end, it took Kelly six years to ask me to marry him—which amounts to quite a few holidays spent wondering if your partner might pop the question.
It was actually on a trip to Turkey when, out of the blue during a candlelit dinner out on a jetty, Kelly asked me to marry him. I burst into tears of joy, partly because I couldn't believe he had finally done it. I was actually crying so much that I remember thinking that to anyone watching, it probably looked like Kelly had just broken up with me—not proposed!
Around nine months later, just after my 30th birthday, we got married. But before the wedding we discovered we had both kept the letters that we'd written to each other during that first summer we met, 15 years before. These were read out during the speeches, which made everyone laugh. Though I'm not sure anyone wants to be reminded of what they wrote to a boy they liked as a teenager, I'm glad we kept them.
Our daughter India, who is now 11, was born 18 months after our wedding. Two years after her birth, our son Hudson was born. Hudson is now eight, and Kelly and I are celebrating our 19-year anniversary in November. We decided our anniversary should be when we first met in London, not summer camp of 1993.
Thankfully we still laugh a lot and don't seem to have grown up much since we first met, despite having two children and running our own business together. We have dreamt of working together ever since we cleaned shoes together at the Melbourne Boat Show in the 90s. It's taken 18 years, but we've finally done it and we run a social media, PR and web design business together from our home county of Berkshire. I love that I get to work with Kelly every day.
Whenever I share the story of how we met again after so many years had passed, people are always amazed at how much of it was based on chance. And I do often wonder: what if Kelly hadn't taken that day off work? What if he hadn't turned the TV on? What if I hadn't answered the phone?
Recently our daughter was watching a movie and asked me if I believed in soul mates. I explained to her that I do, and I told her that her dad, Kelly, is my soulmate. I really do believe that there is someone out there for everyone, whether they know it or not.
Hester and Kelly Grainger run Hudia, a consultancy helping businesses grow through PR and web design. When they aren't working, they are hanging out with their two children, who the business is named after. You can find out more hudia.co.uk or follow us on Instagram @teamhudia and @hesterwrites.
All views expressed in this piece are the writer's own.