My Face Mask Has a First Name; It's O-S-C-A-R: Oscar Mayer Introduces Beauty Product
An unlikely company is jumping on the beauty face mask bandwagon: Oscar Mayer, known primarily for its packaged meat products.
In a press release, the Kraft Heinz Company, which owns the Oscar Mayer brand, stated that it would be releasing "bologna-inspired" moisturizing face masks for sale on Amazon for $5.
"As a nod to what makes Oscar Mayer iconic, the brand is releasing the real deal: a bologna-inspired face mask that rejuvenates your skin while recapturing that childhood joy," the company stated.
Oscar Mayer added that it was releasing the face masks as part of a celebration to ring in 2022.
"For many, the New Year brings renewed energy, excitement, and commitment to self-care," the press release continued. "While resolutions and refreshed routines can be daunting and unattainable, Oscar Mayer is bringing a playful spin on the often serious "New Year, New You" trope with its meaty take on the self-care space."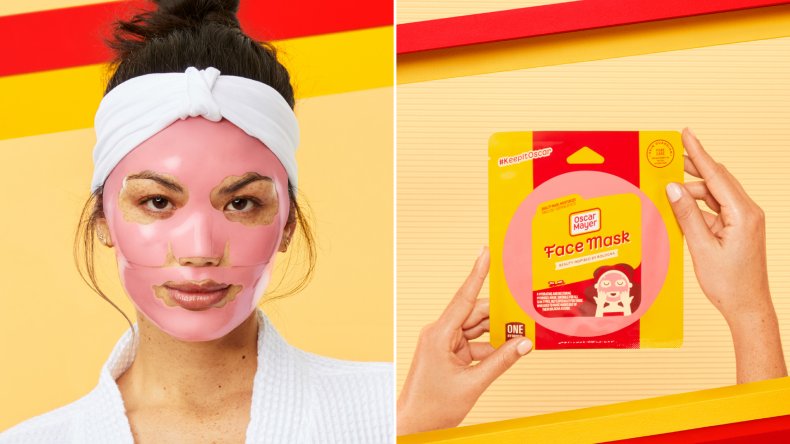 These face masks are not just pieces of plastic, however. Oscar Mayer is designing the masks in collaboration with Seoul Mamas, a South Korean-based beauty company that manufactures products for a variety of hotels and retailers.
However, the company made it clear that these masks do not actually contain any bologna and are not edible. The masks are a "hydrating and restoring hydrogel that promote skin elasticity, improve hydration and moisture retention, offer anti-inflammatory benefits, and provide protection for the skin," according to Kraft.
WCHM-TV reported that the masks were made of a combination of seaweed ingredients and witch hazel.
The face mask may seem like a gag gift, but according to the company, is part of a long history of playfulness that is used in its advertising.
"Oscar Mayer has a legacy of bringing levity to things that have gotten too serious, and beauty is a ripe territory to playfully subvert," said Lindsay Ressler, a senior marketing analyst for Oscar Mayer. "Inspired by those who used to playfully make masks out of their bologna as kids, this product was born as a modern-day way to spark smiles for fans of Oscar Mayer and beauty enthusiasts alike."
The brand, which is known for its hot dogs, bacon and prepackaged cold cuts, has become famous across the United States for its wacky approach to marketing. The Oscar Mayer jingle became known to a generation of Americans in the mid-20th century, with the young singer proclaiming that his "bologna has a first name."
Perhaps most iconic, though, was the Oscar Mayer Wienermobile, a hot dog-shaped vehicle used by the brand to promote its frankfurters. Drivers of the Wienermobile often travel around the country to participate in promotional events.
Oscar Mayer stated that the face masks would be available "while supplies last," but it is unknown how much inventory the company has on hand. It is unclear if the company will be ordering additional rounds of the product.
Newsweek has reached out to the Kraft Heinz Company for comment.