'My Family Is Homeless After Hurricane Laura, Our City Has Been Devastated'
Like many other doctors, nurses and healthcare staff, I had to be at the hospital where I work on the night that Hurricane Laura hit Lake Charles, Louisiana. I'm a doctor at the Center for Orthopaedics in Lake Charles, and at Christus Ochsner St Patrick and Christus Oschner Lake Area hospitals, and though there had been a mandatory evacuation order for residents of Lake Charles, the St Patrick's hospital I was working at on the night of the hurricane still had certain patients that couldn't be transferred.
We were watching the news on that night of August 26 and the early morning hours of August 27, which was saying the hurricane was going to cause catastrophic damage. When you're seeing other areas being affected and the news anchors are using terms like "unsurvivable storm surge" over and over again, and you're in the hurricane's path, it really puts things into perspective.
I work on a higher floor so we weren't worried so much about flooding other than being trapped, but the winds were going to be horrific, so we were concerned about how the hospital would hold up structurally. Before the hurricane hit, staff here had to tell our friends, family and loved ones that we didn't know when we would be able to talk to them next. It kind of felt like we were saying our last goodbyes.
As the hurricane force winds hit, we were trying to calm the patients down, because they could hear the rumbling outside and the wind whipping against the windows. But as the storm really picked up, and windows started smashing, they were naturally getting scared.
Staff were trying to stay calm but, of course, we were frightened too. We started wheeling patients into the hallways, trying to stick to COVID-19 distancing precautions and trying to close the doors to the patient rooms because that's where the windows were smashing. I've never seen Mother Nature behave quite like that, and I've been through hurricanes before. It went on for at least three hours as both walls of the hurricane and its eye passed over us.
The next morning I was able to leave in my truck to assess the damage to the hospital and Lake Charles in general—it was catastrophic. I saw impassable roads and complete destruction of our electrical grid and water treatment facilities. Then there were the structures that had been destroyed and the roads that were filled with debris from miles away. It looked like a warzone.
My house is further south near the Gulf Coast, but many of my friends and colleagues at work live closer to the hospital, so the first thing I did was try and assess what I could about their homes and let them know. Normally cell service is bad in these situations but luckily I was able to get some texts and calls through, and let my wife and kids know that I was ok.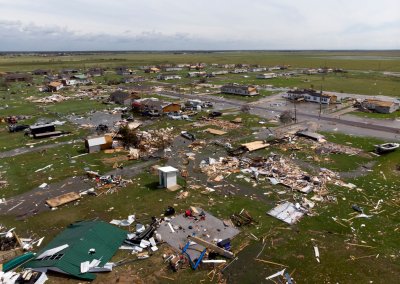 Driving around town seeing complete destruction, I knew there was probably no way that my house had survived. I'm normally around 15 minutes drive from the St Patrick hospital, but that day it took me around 1 hour 15 minutes to get to my house, because of the debris and having to take different routes. When I pulled up, the whole east side of my house, where the hurricane had really been hitting, was completely gone. Inside the house, it was just a total mess.
When I was in sixth grade my childhood home burned down, so I had been through something similar as a kid. I remember watching my parents cry and just have no idea of what to do. So I had that in my head as I pulled up, and I was wondering if I'd lost all the pictures and mementos I had of my four kids. I didn't want my kids to go through what I did as a kid—that's what made me emotional when I drove up. Luckily, unlike a fire, things can get wet and dry out, so we were able to salvage quite a bit. But it was so sobering to drive up to a place that you have put so much into, that your kids have called home since they were babies, and see it destroyed.
After the initial shock, the first thing that popped into my head was that we were now homeless. I've got a room at the hospital, and I thought that I'd live there for a while. But although my wife and kids had evacuated to Austin, Texas, they needed somewhere to live, too.
Because I was in town at the time of the hurricane, I was able to rent a place in the city that had minimal damage, and move some of our belongings there temporarily. My wife and kids have gone to stay with extended family outside of Baton Rouge, which didn't get affected. But that's two hours drive away from me here in Lake Charles and three weeks on from the hurricane, they are still living there. So many of the schools here cannot be used, so my kids, and many others, have had to enroll in schools in other cities for now.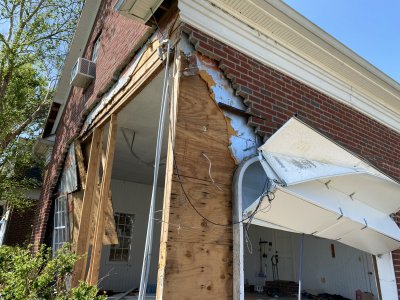 But I consider myself one of the lucky ones, because so many apartments in Lake Charles were either quickly rented or had been demolished by the hurricane. We have people in the city who are renting places two hours away and driving in to work. Much of the city is still without power, and there are people who don't have funds to work on their house until insurance companies pay them, so they are homeless with no means. There are people who are living in tents. We have people staying with neighbors and people they don't know, because that is all they have. We urgently need Federal Emergency Management Agency (FEMA) trailers for those who are still homeless, these are the mobile housing trailers that have been available for residents after other hurricanes and storms.
Christus Ochsner Lake Area and Christus Ochsner Lake Area St Patrick hospitals are open, but most of our patients are here for emergencies only. We have everything from yard injuries to heat exhaustion to people who are having issues from not taking their medicine. All those things that you wouldn't think of as challenges if you had access to normal resources.
We're also not able to practice social distancing effectively, because you have to help, it's a crisis. Lake Charles was actually a hotspot for COVID-19 in the state. We had a pretty big spike of cases and we felt we were just starting to get a handle on it, and then Hurricane Laura hit. At this stage, we just need to help each other out and get through this crisis, but it's still very much an active problem and I'm sure we'll have a spike of COVID cases after this.
I've stayed in Lake Charles because I feel it's almost a duty to help as much as I can. But there are so many people in the city doing amazing things and coming together in a way we have never seen before. Initially, the biggest challenge at first was getting people access to food. We had a lot of people coming in from out of town as part of a huge relief effort, bringing water bottles and different food to feed mass amounts of people. We have also had a tremendous response from power companies from multiple states completely rebuilding a city's electrical grid. But still, three weeks on, much of the city is without power. Which just tells you a lot about how much has been demolished.
One thing that has really struck me has been the commitment of nurses and healthcare workers. My hospitals had to open back up immediately, because we had to serve the community. The nurses and the healthcare workers who lost their homes had to go to their next shift, when many of them didn't have a home, shower, or electricity.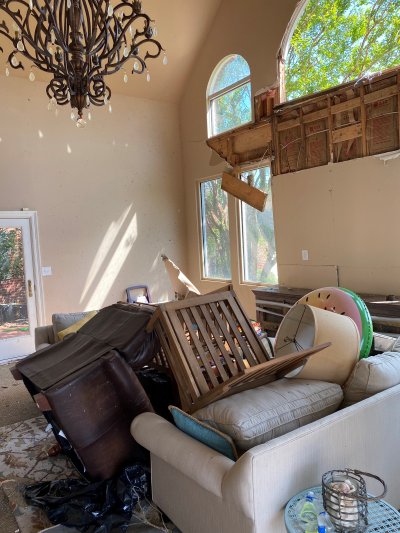 My hospital set up mobile showering trailers outside, so those nurses and healthcare workers can come in, shower and go take care of their patients. But afterwards, they have to go and try to take care of their own home situation. So, I have started a GoFundMe page for nurses and other hospital staff affected in South West Louisiana.
I am concerned that after the dust settles and the initial relief leaves, who is going to support these staff with everything they need to pay for? These people are selflessly taking care of the community, contributing to the clean-up process and they need our support in return.
It worries me that the term "dodged the bullet" has been thrown around in relation to Lake Charles. If people think we dodged a bullet just because we didn't get the "unsurvivable" storm surge that was predicted, I can tell them to look around Lake Charles. Nobody dodged a bullet. We got demolished.
I think once that "dodged a bullet" term was used, the rest of the nation may have felt that we were ok, that we had damage but we would be fine. We're not fine. It's bad. This has been the worst hurricane and destruction I've ever seen in my life, and there are people who are much older than me here in Lake Charles who are saying the same thing.
I know there are other things going on in the U.S., like the wildfires in California and the West Coast and my prayers go out to them. But when you don't see anything in the news about Hurricane Laura anymore, it's upsetting. Because I think it will be several months before the city is actually functioning on a semi-normal level. But really, how long does it take to rebuild an entire city? We just don't know at this stage.
My wish is that the rest of the U.S. doesn't forget about us. We're not anywhere near ready to reopen right now. More than three weeks on, people are still evacuated and many people are still homeless. It looks terrifying when the hurricane is hitting, but the after effects have been much, much worse.
Dr. Tyson Green is a doctor and podiatric specialist at the Center for Orthopaedics in Lake Charles, Louisiana. He is married with four children. Dr. Green is currently living and working in Lake Charles, while his family lives in nearby Denham Springs, Louisiana, after their family home was destroyed by Hurricane Laura in August 2020.
All views expressed in this piece are the writer's own.
As told to Jenny Haward.