'My Fiancé and I Started Camming—People Pay to Watch Us Have Sex'
My fiancé James and I have been together for seven years. We're happily in love and I truly feel that I've met my soulmate; we've grown together, travelled the world and currently enjoy a somewhat unconventional lifestyle.
We've lived together in a camper van since December 2016 and over the past few months, as we've travelled through the U.S., we have begun to "cam" together online. Many people might be unfamiliar with the term "camming". It means that James and I enjoy having sex with each other on a webcam for viewers from across the world.
Despite our openness now, James and I actually both grew up in California
in very traditional households where attitudes towards sex were old-fashioned, and sexual openness and expression were generally repressed. So, when we met, I think we were excited to be able explore our sexuality together.
After a few years together, we decided in 2016 that we wanted to travel around the U.S. We're open to everything and we didn't want to be held back by living in one place—we were desperate to witness America's wonderful quirks and beautiful geography firsthand.
Of course, we were nervous and apprehensive about the prospect of living in a camper van, but we made every effort to prepare ourselves. James read countless books on living in vehicles and we purchased all of the essentials for life on the road, like cooking equipment, mobile and off grid electricity, shower equipment and storage systems.
Truthfully, not every day has been glamorous; we've survived scorching nights without fans or air conditioning, spent nights in the desert without phone signal and most of the time we only have each other for company. However, we wouldn't have it any other way. This nomadic lifestyle has allowed us to focus on what's really important to us and our relationship is stronger than it's ever been.
We were happily driving our van around America when we first discovered camming. We had watched a few models giving webcam performances and read articles detailing the industry and it definitely sparked our interest.
The ability to earn money directly while performing intimate acts was like nothing we'd ever seen before, and after a while we decided that we wanted to give it a try. James and I are both rock climbers so we're very aware of the power of fear; we try to welcome it and find excitement in venturing outside of our comfort zones. So we started, got hooked and have never looked back.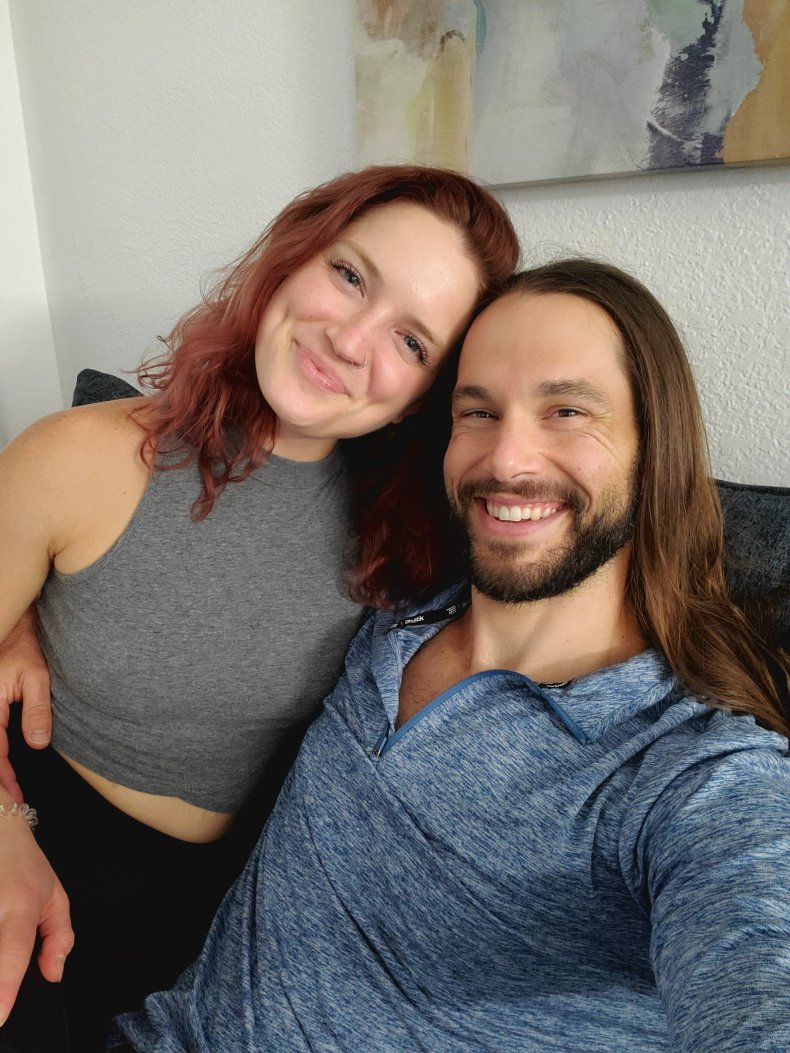 Our camming routine usually starts a few hours before we actually go live. I put on make-up and James sets up our webcam chat room on Chaturbate, an adult website where viewers can watch webcam performances. People can join our chat room and we have a tip menu that viewers can use as a pricing chart for specific acts.
For example, if someone wants to see my feet, we charge 37 tokens which costs $1.85 in "real" money. More explicit acts are priced at a higher tip rate, and people will pay accordingly depending on what they want to see. We have regulars in our chat room who
are really engaged, some even moderate it for us so that we can keep performing! Since we began camming full time around two months ago, we have earned around $5,000 from camming alone, and our audience is growing rapidly.
Even though we are sharing our sex life with others who may be coming to watch just one of us, we rarely get jealous. And if we ever do feel small amounts of jealousy, we make time to talk about it and give each other reassurance. Communication is key. However, camming, like any job, can lead to stress and cause disagreements. We experience friction like any other couple who work together. What's important to us is addressing any emotional swings with curiosity and trying to remain open minded.
The fact we cam together also makes a big difference; we're a partnership and everything we do is discussed and agreed upon. If we've bickered, our strategy is to take a day off and cuddle. We both really enjoy this lifestyle so when our moods are down it's usually our bodies telling us to take a break. I'm now 26 and James is 32, and if anything, camming has helped us to better understand one another and what we both like, discovering new elements of our sexuality, like submissive/dominant play, that we can enjoy together.
We are aware that people may not like us or our choice to cam, but it often feels that their attitudes are shaped by misplaced stereotypes about adult performers. However, we understand that everyone is entitled to their opinion. We accept those who don't approve of what we do as part of the beauty of diversity; we find it important to remember that without different perspectives, our learning and growth would become stagnant.
Our future plans are vague and open to change—but that's what makes for great adventures. We got engaged in August 2020, but a wedding seems a little far fetched during a global pandemic. So, our current plan is to learn as much as we can whilst we stabilize our lifestyle, settle down and continue to grow.
We have agreed on one thing; we won't be stopping camming any time soon.
Misty Snow and James Caldwell are an engaged couple from the U.S. who cam together professionally online. Using Chaturbate, the pair perform sexual acts on webcam for viewers from across the world whilst living in a camper van as they travel the U.S.
All views expressed in this piece are the writer's own.