'My Formerly Hot Life: Dispatches From Just the Other Side of Young'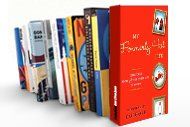 Stephanie Dolgoff
213 pages | Buy This Book
A few years ago, all-around hot chick Stephanie Dolgoff started to notice that salespeople in trendy boutiques—the ones who "used to swirl around me like bees over a puddle of orange soda"—no longer bothered to pitch her their skinny jeans and spiky heels. What's worse, guys on the subway—the very ones who had been hitting on her so relentlessly for the past two decades—barely glanced in her direction. Life was otherwise swell—good job, great husband, beautiful kids, loving friends—but she'd become, in her own estimation, "Formerly Hot."
What's the Big Deal?
It's not like Dolgoff and her age-mates are the first people ever to hit 40—but for them, the Formerly transition is new and strange, the source of revelations both frustrating ("my upper arms have recently begun to flap in the breeze like Grand Opening flags") and sublime ("When you're younger, you feel so alienated, you try so hard to fit into a group ... now my friendships give me community, but I don't need them to give me my identity.") Dolgoff soon finds that her pals are going through all sorts of Formerly shifts of their own—Formerly Wild, Formerly Arrogant, Formerly Fat, Formerly the Prodigy—and these inevitable changes might just be leading to new identities even more meaningful than the ones they left behind.
Buzz Rating: Hum
Dolgoff's book is excerpted in the current issue of Self—and, given her media connections (not to mention her eminently readable style), more coverage is sure to come.
One-Breath Author Bio:
A magazine-industry veteran, Dolgoff has been a contributing editor at Real Simple, the features director at Self, and the executive editor at Glamour. She's also written for The New York Times and O: The Oprah Magazine, among other publications, and she currently blogs for More.com as well as her own site, Formerlyhot.com.
The Book, in Her Words:
"It's a tremendous time of life, weird limbo transition between young and old notwithstanding. I'm even coming to terms with leaving the hot girl behind. Except when I'm not."
Don't Miss These Bits:
1. Sweat the subtle stuff. It's not the big milestones—wedding, kids, divorce—that make the transition to being a Formerly so unmooring. It's the small ones. Physical: "My ass ... was all of a sudden crying out for a bra." Social: "Setting up a date with friends ... now it involves a series of high-level negotiations, painful compromises, expenditure of precious marital capital and backroom dealings." And, particularly, cultural: at a work party, Dolgoff starts shimmying to "the inevitable '80s and '90s oldies medley—Cameo, Bel Biv Devoe, Salt-n-Pepa" with her younger colleagues. Then a terrible thought hits her, what if they are dancing those early-Madonna moves ironically and she's dancing them sincerely?
2. Despair not, all ye Formerlies (and soon-to-be Formerlies), "it's kind of terrific over here on the other side of young." Gone are the days of teen-and-twenty-something trauma-drama, betrayals, dating disasters, and wrenching insecurities. "I'd much rather turn on the radio and feel a wee bit left out than still be living the kind of life people write songs about," Dolgoff writes. "Drama and upheaval are not constants in my life as they were when I was younger, and the relative stillness has let me revel in what I've built instead of constantly sweeping up after it's been blown to bits."
3. Immutable laws of the universe are transformed. You get new perspectives on what you need out of a relationship: affection and stability, say, rather than that "deep-seated f@#$ed-upness in a lover that can be mistaken for depth when you're young and figuring it out." On what you need from friendships: "the major trend is from quantity to quality." On what you need from your clothes: "I just don't want to look like I'm dressing up like a teenager for Halloween." And most of all, on what you need from yourself.
Zeitgeist Check:
Remember all those deep and important life transitions going on amongst a group of smart, beautiful women that the last, tepid Sex in the City movie tried—and failed—to capture? Skip the film; Dolgoff's got it all in her book, and in a far more genuine way.
Gradebook:
Prose: Dolgoff's style is energetic, funny, highly engaging, and self-aware.

Anecdotes: Dolgoff isn't afraid to use a personally revealing anecdote to drive her larger point home—for example, using her pumpkin-carving-hand injury to jump-start a list of the way Formerlies rack up doctors (16 and counting).

Bottom Line: Whether you're going through the Formerly transition yourself or looking back on it (or catching hints of it down the road), Dolgoff's book is a wonderful take on the early 40s.