'My Heart Told Me to Go': 81-Year-Old Italian Man Serenades His Hospital-Bound Wife With His Accordion
Love has no limits, even in times of the coronavirus. Stefan Bozzini, an 81-year-old man in Italy, couldn't see his wife, Carla Sacchi, in the hospital recently because of COVID-19 restrictions that are in place. On Sunday, he decided to express his love in a special way—by playing the accordion outside her window.
Sacchi, his wife of 47 years, was in a hospital in Castel San Giovanni, a village in the northern Emilia-Romagna region, receiving tests for suspected cancer. The hospital did not treat the coronavirus, but it is not allowing patients to have visitors, to prevent any possible spread of the coronavirus.
Bozzini headed to the courtyard to serenade her from her hospital room's window. As per CNN, he tapped his foot while he performed, and even waved up at her and others who watched from above (all of whom were wearing face masks as well).
"I did it for Carla—to show her how much I love her and to thank her for all she has given me," Bozzini said, via The Irish Post, adding: "I wasn't able to see her in hospital and so went to the courtyard with the accordion—my heart told me to go. After she heard the music she looked out of the window, so at least I got to see her."
CNN reported that Bozzini sat on a stool wearing a feathered cap, red sweater, navy pants and, of course, a mask.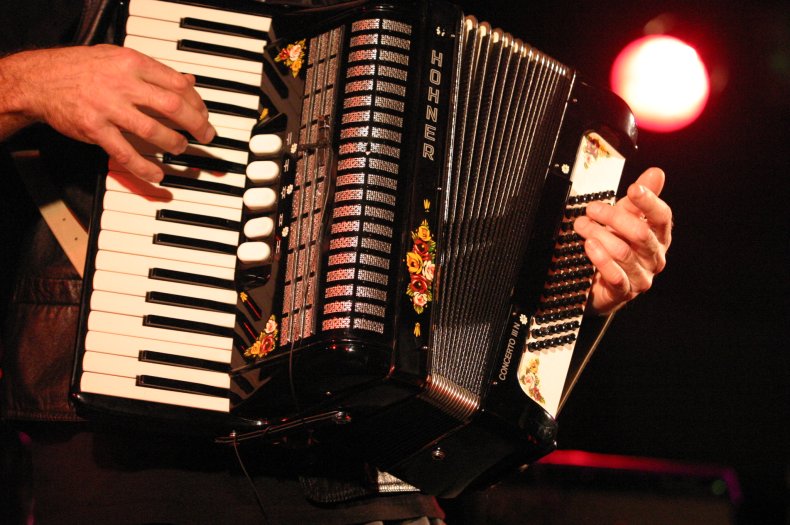 Bozzini serenaded his wife with Engelbert Humperdinck's "Spanish Eyes."
He told The Irish Post that Carla was "so in love with that song," and that he played it all the time at home for her. "I played others that everyone knows, one song after the other, I didn't stop. A lot of the sick people in the hospital were looking out of their windows."
Sacchi, 74, was in the hospital for 10 days. She underwent tests for what doctors believed was cancer. She was discharged from the hospital on Monday, the day after her husband gave her a personal concert.
"They offered to bring her home in an ambulance. I said no, I'm coming to get her straightaway," Bozzini continued. "We're by each other's side all the time. The illness she has is very serious and will now need treatment in a specialist hospital."
He also said that music is a great outlet for folks to stay positive. "I love music, and when I play the accordion it brings fun and happiness everywhere," Bozzini gushed, as per The Guardian. "What is happening in the world right now is so horrible we need music to help lift the spirits."