'My Hero Academia' Season 4 Premiering At Anime Expo, Watch New Trailer
My Hero Academia Season 4 will premiere on Saturday, July 6 at Anime Expo 2019 in Los Angeles. Funimation also debuted a trailer for the upcoming season of My Hero Academia, which suggests both All-Might and Izuku Midoriya will have new rivals in the coming episodes, expected to debut this fall (October 12 in Japan, according to a fan translation).
The My Hero Academia event at 10:00 a.m. at the Los Angeles Convention Center will feature My Hero voice actors, including the Japanese voice of invisible student Toru Hagakure, Kaori Nazuka. English voice actors include David Matranga (Shoto Todoroki), Patrick Seitz (Endeavor) and Ricco Fajardo, who voices third-year student Mirio Togata, who looks to be either mentor or rival to Deku/Midoriya in the upcoming season.
My Hero Academia Season 4 Trailer
My Hero Academia is set in a world where the majority of the population develops superpowers in adolescence, but poor Izuku Midoriya is Quirkless after years of dreaming of becoming a hero. The world's number one hero, All Might, sees promise in the boy and reveals that his Quirk is unique, because it can be passed on, growing more powerful with each generation. My Hero Academia follows Midoriya as he navigates a prestigious superhero high school and his own burgeoning powers, which are sometimes too strong for his own body, shattering his bones.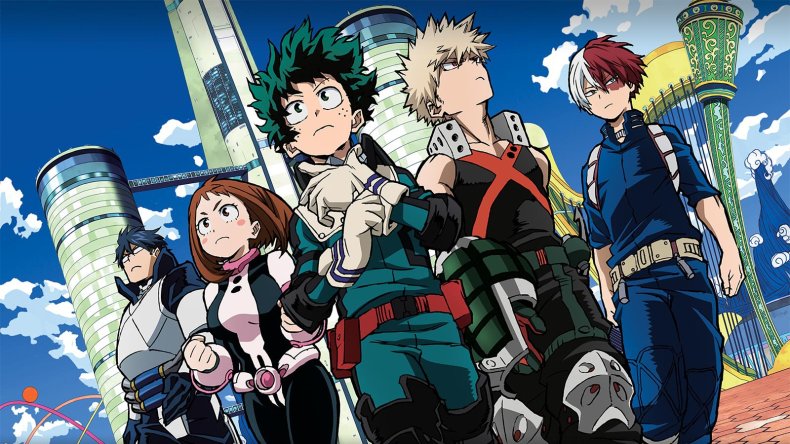 The last episode of My Hero Academia Season 3 introduced Class 1-A to Mirio Togata, Nejire Hado and Tamaki Amajiki, "The Big Three" heroes at U.A. High School, which makes them the three most promising young heroes in all of Japan. In the finale, Miro, the most powerful of the three, schools Deku's entire class with his Permeation Quirk, which allows him to travel through solid walls and appear anywhere, or let enemy blows pass right through him. Unfortunately, he also passes through his clothes.
My Hero Academia Season 4 will also pit UA's Class 1-A against the hand-covered Tomura Shigaraki and his decay Quirk, who seems to have a new crew of villains following him. The most dangerous, who will be familiar to readers of the My Hero Academia manga by Kōhei Horikoshi, is likely Kai Chisaki, who appears briefly in the trailer, next to Shigaraki. His powers are very disturbing.
After the July 6 premiere of My Hero Academia at Anime Expo, the series will be more widely available in the fall. For previous seasons, the English dub streamed on Funimation, while the Japanese version with English subtitles streamed on Hulu and Crunchyroll. Exact release date details haven't yet been released for My Hero Academia Season 4.