'My Hero Academia' Season 4 Release Date Confirmed for Fall 2019
My Hero Academia fans were not treated to special holiday news, as it's been revealed that the fourth season of the popular anime won't return until October 2019.
The official My Hero Academia website released a new visual for the upcoming fourth season showing Deku and Mirio Togata, one of the new heroes that will play a huge role in upcoming episodes. On the bottom of the image, the release date window was revealed as 10. 2019.
Check out the My Hero Academia Season 4 visual below.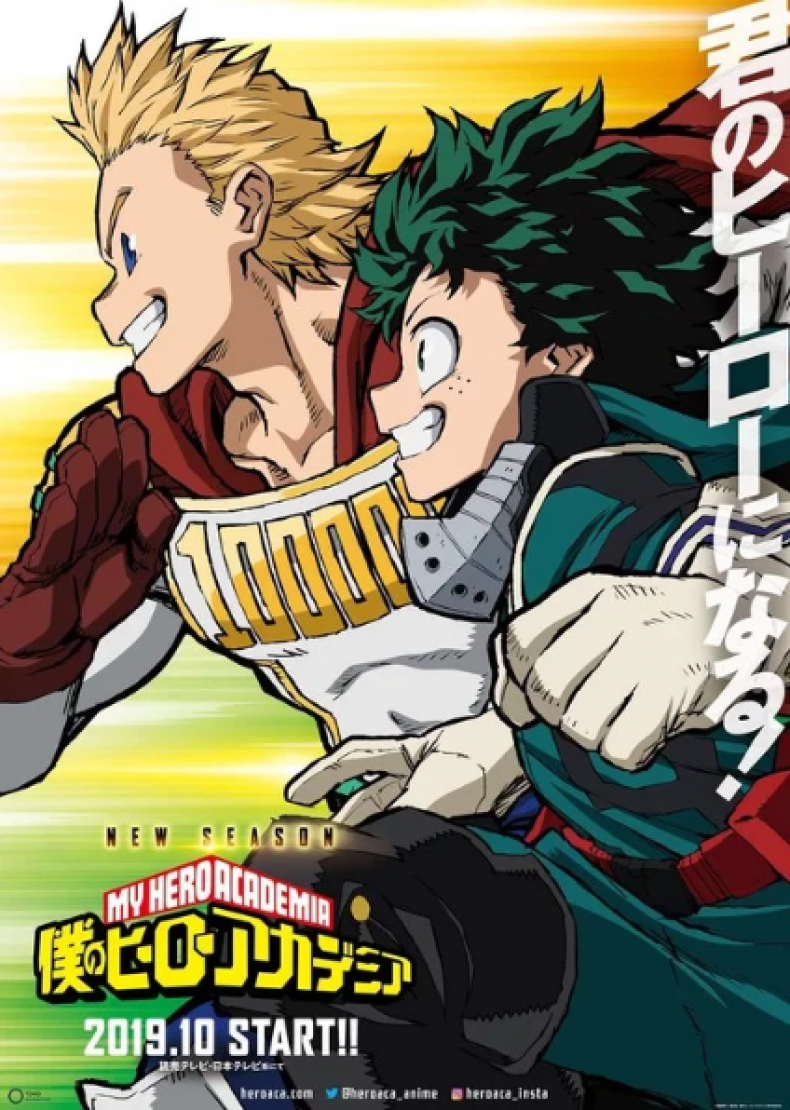 The timing of the upcoming new season of My Hero Academia is an adjustment for fans who saw the first three released during the Spring season, specifically in April. Season one, which ran for 13 episodes, began in April 2016. A 25-episode second season followed in April 2017 with the third season beginning April 7 of this year, and also running for 25 episodes.
My Hero Academia Season 4 was announced at the conclusion of the Season 3 finale titled, "Unrivaled." That final episode introduced Deku, Bakugo and the rest of UA's Class A to "The Big Three," Togta, Nejire Hado and Tamaki Amajiki. These three are the top students of the entire school and all have powerful quirks.
Based on the manga series, My Hero Academia Season 4 will delve deeper into their characters and their powers. The Season 3 finale featured the top dawg of the Big Three, Mirio, defeating the entire UA first-year class in open sparring. It also teased that Deku might partner with All-Might's former sidekick as part of his upcoming Work Study.
Fans of the My Hero Academia manga series will also find the villain of Season 4 is none other than Kai Chisaki a.k.a. Overhaul. Chisaki's introductory arc in the manga is complete and his abilities, and schemes, will take the spotlight for at least a portion of My Hero Academia Season 4.
The English dub of My Hero Academia Season 3 was streamed by Funimation while the Japanese with English subtitles were streamed by Crunchyroll and Hulu.
What do you think of My Hero Academia having a Fall release date? What do you hope to see in the upcoming season? Let us know in the comments section below.