'My Husband And I Adopted 5 Siblings'
My husband Thomas and I had kind of a whirlwind romance, we met in 2005 and got married within four months—he was just this amazing guy who swept me off my feet. When we first got married I was 33 and we wanted to have children right away.
We talked about eventually adopting but we spent about four years struggling with fertility. When we finally got pregnant, we lost my first baby in a miscarriage and then about six months later we found out we were pregnant with twins. We were ecstatic and everything was going great, then we had a routine appointment and the doctors realized I was dilated at 25 weeks.
Eli and Joey were born in 2009 and we spent a gruelling five months in the Neonatal Intensive Care Unit (NICU). Sadly Eli passed away and Joey has quite a few disabilities—he's blind and he has cerebral palsy and epilepsy. He doesn't speak or walk but he "army crawls" everywhere and knows sign language. He has a lot of love and full-time nurses who love him.
After Eli passed away doctors told us we couldn't have any more children, but then we found out we were pregnant with my first daughter Sadie, and right after she was born in 2010 I got pregnant again with my second daughter, Daphne. They were both premature, so the doctors suggested we shouldn't try and have more biological children.
So, we started preparing for fostering and adoption and we were licensed to foster in 2017. I have always been interested in the idea of adoption and my husband and I both always wanted a big family. We first fostered two precious babies who then left us—each time it was so sad.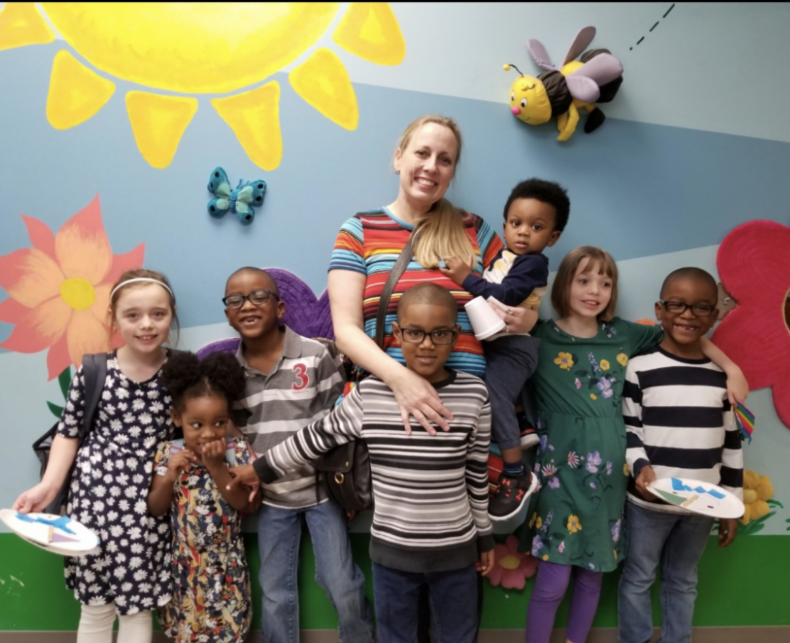 Then our agency called one day and said they had a newborn baby boy in the NICU. We immediately drove and got him, and found out pretty quickly that he had four siblings all in different places here in the Houston area.
So we called our agency and asked if we could be approved to get at least two more of the siblings here in our home, and David and Gabi moved in right before Easter in 2017. It was challenging because they had lived in different places and hadn't had security or trust. We just had to buckle down and be unconditionally loving and nurture them through the healing process with the help of therapy.
My eldest son Joey has been very aware of the increase in the number of kids at home, and he's been very sweet and patient with the kids playing with his toys. And my girls have been amazing. My eldest girl Sadie is the leader of the house, she's kind and loves all of them. And my younger daughter Daphne loves babies, she wanted to hold them and help.
As we found out there were more kids, we would sit down and talk to our biological kids and they would tell us that these kids needed a family and needed us. Not that everything has been perfect, they're children and there will be times they argue, but we really try hard to make sure every child gets the attention they need.
While David and Gabi were settling in, we were still having visitations with their two older brothers Carter and Thomas. They would come to our home for visits and say that they wanted to live here, which we wanted too.
But there were rules in Texas at that point that said families couldn't have more than six kids in their home if they are foster parents, and we had six at this point. Then fall 2017 an amendment passed, that said you could have more than six children if you're fostering siblings.
It took us about two months to get approved by the state, with the help of our agency, and the two older boys moved in around Thanksgiving in 2017—we were all so excited. Once again it was very challenging as these were older boys, they really had been through a lot. It was a lot of therapy and patience, but they're just incredible boys.
The kids had to live with us for six months before we could adopt them, but the whole adoption process took us two and a half years in total. This year COVID-19 hit, and the courts shut down and we thought it wouldn't happen this year. One day our agency called us and said we had a date and we were going to fo it on Zoom. We were all jumping up and down and screaming because we were so excited.
The actual Zoom adoption took just 15 minutes on May 6. We went outside and took pictures, and then our neighbour had planned a big car parade for us. All our friends and family and neighbours drove by. We were just crying and laughing, it was so great.
All my children are wonderful. I don't know how I was picked to be the mom of all these children. Because even through all the struggles it's been so rewarding. We've got a routine—though I'm not going to say it was easy to get this routine—and when my husband gets home from work around dinner time, they're always so excited to see him because he's just the greatest dad ever.
I would say that now having African American kids, my eyes have been opened. I can never understand or even relate to anyone who has grown up and had to experience racism of any sort. But when George Floyd's death happened and during the protests that followed, my stomach hurt and I was crying all the time.
I have a lot of African American friends who are moms and I was asking what I could do. I can never truly understand, so I have been speaking to other people and trying to learn how to address this with my kids. I'm very blessed that my mom friends are so wonderful.
I have started talking to my kids slowly about racism, to their age level. We've talked about slavery and why these protests are happening and why they are so meaningful. They're still so young that they don't notice it and I think it is going to be a challenge for us.
One time we were walking out of a store. I had my arms around Thomas and Carter and they were holding the bags. I saw a member of staff at the door as we were leaving, just saying goodbye to people. When she saw us she stopped and turned and said she needed to check our receipt. I just thought, "this is really happening."
It was surreal and sickening. My boys are just these little sweet kids, and they look like big boys already. And so we're telling them they're not allowed to go out and about by themselves right now—I feel like I'm going to have to drive round and tell everyone that these are my boys.
I'm not going to be able to understand it directly, but I'm going to have to teach my kids to live through it. We're going to do the best we can and we just want them so be safe.
I just want all my kids to feel like they can pursue their own happiness and feel safe in the world. I want them to go out and be productive people who are kind and helpful and bring love and kindness to others.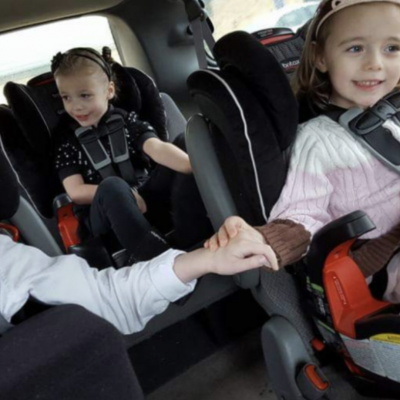 When we went into this we did not expect we were going to adopt five kids, we knew we wanted to foster and adopt and that God would put the kids in our home that He wanted us to have.
There is such a need for fostering and adoption, and there's such a community to support people out there—you can ask questions and ask for help.
It is challenging and overwhelming but it's the most fulfilling joy I have ever felt. I wake up every morning and can't believe I get to be their mom. Because it took me a long time to be a mom.
I think back to that that first summer in 2017— when I was crying because of all the stuff we were dealing with in terms of the kids healing—to where we are now. These kids are amazing and they're so resilient. Showing them acceptance in all of their hardest times and moments is just the most bonding you can have with a child. And it's not without its stress, but it's the most meaningful thing I've ever done. Where we are now as a family, it's just heaven, it really is.
Andi Bonura is a former teacher for 13 years, now a stay at home mother of 8 children, and wife to husband Thomas Bonura who is a healthcare attorney. The couple fostered and adopted through DePelchin Children's Center in Texas.
All views expressed in this piece are the writer's own.
As told to Jenny Haward.