My day job is a quantity surveyor, but 10 years ago around Halloween, I saw an advert in my local paper looking for actors to work at a scare event in the north east of England. I went along to the audition, which was a bit hair-raising, with lots of improvisation, but I got the job. The first year we were out in the woods and I was dressed as a zombie hillbilly with scabs all over my face. I was based up a tree and I had to jump out and scare people.
One gentleman came along with his wife and son. When I scared them, he pushed them into a ditch opposite me, set off back down the path and left them. His wife was furious with him, but it was funny. I think I knew then it was the job for me, I was hooked after that scare. I've had thousands of scares since then; it's just really good fun to spend a few weeks around Halloween scaring people and then making them laugh afterwards.
In 2017, I was a zombie. I had become a team leader and one day I was showing this guy—who I know now was Darren—how to do his role. So he was walking behind me in a ghillie suit; dressed like a giant tree or bush. I had a false eye stuck to my cheek and we were just chatting away. I remember thinking, I have no idea who you are or what you look like. We worked together for about four nights and Darren was flirting with me, but mostly we were talking about things we liked to do and how to scare people. At one point, he was rolling around on the floor, pretending to be James Bond, but dressed as a big bush, which made me giggle. He was quite a character, but I never saw him out of costume.
The following year, I clocked Darren in the boot camp before the event. I thought he was such a funny guy, and we were flirting a bit, and then he confessed he was the ghilli from the year before. When he admitted that, I liked him even more. We realized we didn't live too far away from each other, so Darren suggested we carpool with a couple of others. I explained to him during one car trip that I was the only person who was permanently outside in all weather, so I had to wear waterproof clothing and take a warm drink to keep my throat lubricated while I was growling and screaming. I liked hot chocolate for energy and warmth.
One evening, I came in and by chance I knocked over my hot chocolate. I was mopping it up when Darren came over and handed me his flask of coffee. He said I needed it outside and he could get water. Up until that point we'd been having flirty banter and I wasn't sure it was going anywhere, but that was the moment I knew I was going to fall in love with this guy. I just thought he was a hero. He even went to get me some sugar. I had to look at the floor because I had a tear in my eye.
After the event he said he liked me and wanted to get to know me more, but I was working full time and working on a Christmas train as an elf on the weekends. So I suggested he also got a job on the train, and he actually did, just so he could get to know me. He didn't want to be an elf, but when he came to the audition he was cast as a naughty elf! We had a really good run up to Christmas and Darren said afterwards that we had something special and he wanted to make a go of it.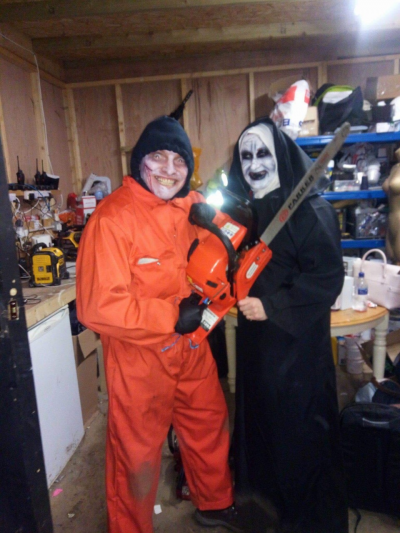 Before we had gotten together, we'd had a meal where Darren told me he wasn't the marrying kind and he didn't want children. He's ten years older than me, and we both have kids already so that was fine. He also said he probably wouldn't move in with me. I remember thinking that at least I knew where I stood.
In May 2019, we went to a wedding and I caught the bouquet. Darren saw and set off running across the parking lot as a joke. Then, in August that year, we were on a special holiday for Darren's 50th that ended in Hawaii. We were on Waikiki beach on our second to last night and we'd gone for a swim at about 9.30pm. All the stars were out and we were up to our waist in water when Darren said: "Shall we get married?" He said he couldn't get down on one knee because he'd drown, which made me laugh. Then he asked me properly and I said yes, and burst into tears. There were a bunch of teenagers on the beach watching us, so Darren then ran towards them shouting: "Shark!"
We're both relaxed people and I had always planned to have a fun wedding day. We got married in a local church that both my grandparents and parents were married in, on the same date as both—September 4. We then hired a field in a farm and had three giant teepees linked together. We had a mobile food unit that served a fantastic three course meal, a mobile bar shaped like a horse cart, a wedding band and DJ, a wedding bouncy castle and a photo booth. I did a lot of it myself with my family, so we managed to get the cost down to around $35,000 (£26,000) altogether.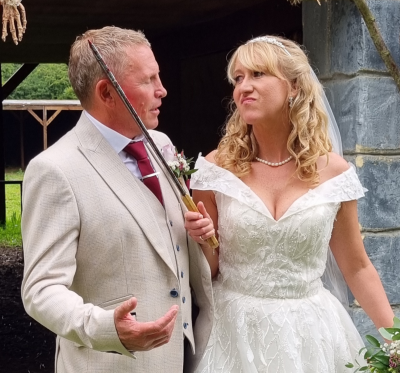 We've both been actors in a tongue-in-cheek, adult valentine event together since, and we've done a few more Christmas events but everything stopped during the pandemic, which was a bummer. We are back doing a scare event this year for Halloween, Darren is a man with a chainsaw and I am a character called Mrs Pitch's daughter—a cannibal butcher.
I love Darren's sense of humor. He's so funny and is always making me laugh. That's what first attracted me to him; he could really make me giggle. And I love his caring nature, he's got the biggest heart. He comes across as a hard man but he's actually a big softie. Every morning he makes me a cup of tea and makes me breakfast on the weekends. He's really thoughtful.
Even though I do fancy the pants off Darren, I've learned that first impressions always last and that it's not always about looks. It's about personality and how the person makes you feel. Darren makes me feel fantastic. That, to me, is what it's all about.
I was 39 when I met Darren. I thought it was never going to happen for me as I had been alone for quite a while. I was happy in my life; I had a beautiful son, a lovely home and a gorgeous family. Then I found love in the most unusual place, at the most unexpected time.
Claire Byron-Stonehouse lives in Marske By Sea with her husband, Darren Stonehouse. You can follow her on Facebook at Claire's Christmas and Celebration Crafts.
All views expressed in this article are the author's own.
As told to Jenny Haward.