My In-Laws Died in a Nursing Home. I Took on Cuomo in Their Names | Opinion
A 25-year career in broadcasting and meteorology has given me plenty of opportunities to cover major weather events. There have been category five hurricanes, blizzards that have buried towns and cities, devastating flash floods, ice storms that took out power for weeks and tornadoes carving paths of destruction for hundreds of miles.
Never in my life did I ever predict that I would find myself in the middle of a raging storm involving one of the most powerful leaders in America. But after New York Governor Andrew Cuomo effectively issued a death warrant that helped kill thousands of elderly, including my husband's parents, I felt it was important to use my voice to speak out for those that no longer had one.
Born and bred in Brooklyn, New York, Mickey and Dee Newman were married 60 years ago this month. We lost them both to COVID last spring as the virus ravaged their long term care facilities. Little did we know that before they died, Governor Cuomo signed an executive order to admit over 9,000 COVID-positive patients into nursing homes. It was in place for 46 days until it was reversed, then scrubbed from the health department website.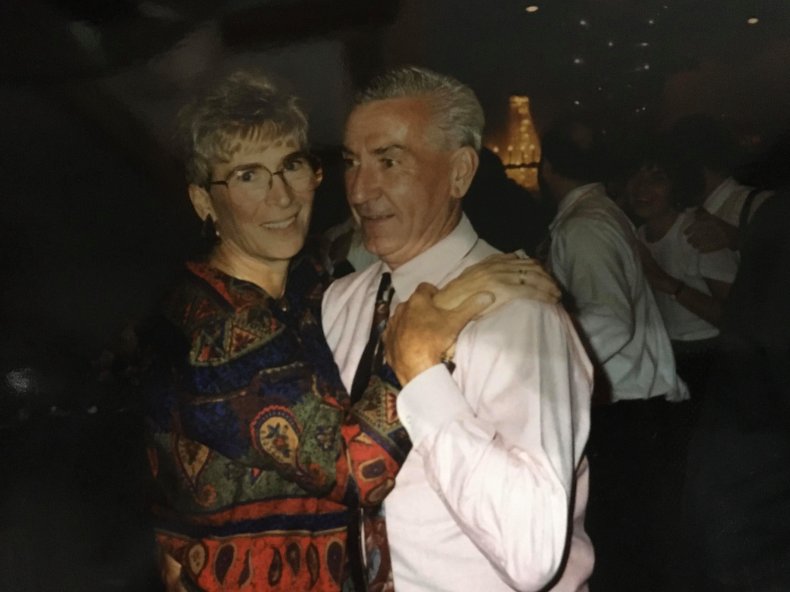 We still don't know why he did it, but we saw him blame everything and everyone else instead of the person that signed the order.
New York State lost more seniors to COVID than America lost to 9/11 and Hurricane Katrina combined and doubled. But while we were grieving, heartbroken and coming to grips with the fact that our loved ones died alone, the mainstream media all but crowned Cuomo the go-to pandemic politician.
It was bad enough seeing him on all the national news channels being asked about his love life instead of his lethal policy. But the day my anger and grief turned to rage was when I saw the governor and his anchorman brother Chris Cuomo laughing and joking around on CNN primetime about giant cotton swabs and arguing about who their mother's favorite son was.
As body bags piled up in storage trucks outside of long-term care facilities and morgues, Cuomo did the rounds on the other friendly news networks, never being asked the nursing home questions that we so desperately wanted answers to.
Cuomo's daily power point presentations were given top billing, where he frequently revealed his morbid collection of coronavirus artwork, including the giant plastic mountain he stood beside like a game show host and the poster he sold for $14.99 featuring pictures all of the things he loved about himself.
Then, October brought the unveiling of the latest Cuomo achievement: a New York Times best-selling memoir, American Crisis: Leadership Lessons from the COVID-19 Pandemic. While thousands of families tried to find ways to bury their parents and grandparents, Cuomo somehow found time to write and promote his "leadership lessons," profiting off the deaths of over 40,000 New Yorkers.
Our families were horrified. He just kept celebrating himself, first with books and then with an Emmy award, while we stayed quarantined, watching lives and livelihoods in New York being crushed to death.
Frustrated by the lack of nursing home coverage, especially on a national level, I chose to keep speaking out, writing opinion and reported pieces while attending rallies with other grieving families.
It didn't take long for me to realize I was up against a machine—a brutal, vindictive and bullying one at that.
Many refer to Cuomo as the "terminator." He was feared and revered. No one could cross him, he was indestructible. Many, I was told, had tried and failed.
They tried to brush me off as just the "weather girl." I wasn't a credible source on anything. But even though he had the Cuomo name, the Democrats and power on his side, I knew I had something more powerful. The angels were on our side.
Now, after all of these months of darkness and death, the sunlight is beginning to peak through, a glimmer of hope that this leader who, instead of helping others, helped himself, might finally see his day in front of a judge and jury.
New York Attorney General Letitia James released a report last month on the nursing home tragedy and concluded that it "severely" undercounted virus deaths. Then, in a stunning conversation leaked to the New York Post, Cuomo's top aide, Melissa DeRosa, admitted that their administration was purposely hiding the nursing home data so the federal government wouldn't find out.
Now, the FBI and federal prosecutors in Brooklyn announced they are investigating Cuomo's coronavirus task force with a focus on his administration's handling of nursing homes early in the pandemic. The stories of bullying and abuse are finally seeing the light of day in newspapers, on social media and even on the Cuomo-friendly cable channels.
You might say the tide is finally turning against this governor.
People are realizing that because of his deadly decisions, we were unable to provide shelter to our most vulnerable population. The places they lived, that were supposed to be taking care of them, were caught unprepared and unprotected. A devastating flood was unleashed that could have been forecast ahead of time. The elderly could've been brought to safety before the height of the storm took the lives of thousands.
Now that the floodwaters have receded and the death and damage has been revealed, it's time to do a full and through investigation into this 100 year storm so that it never happens again, to prove that despite all the warnings and the science to guide his way, our governor failed to pay attention, ignored the evidence and made tragic, irreversible decisions, ones that could have been avoided.
A different kind of storm is now on the horizon, the trajectory of which is zeroing in on this governor, his health department and administration. These floodgates are opening up after the years of lies, corruption and cover-ups.
Andrew Cuomo will have nowhere left to hide or take cover from this force of nature, from the forces for good and justice. He'll have no one else to blame. Except, maybe finally, himself.
Janice Dean is a senior meteorologist at FOX News.
The views in this article are the writer's own.