My Name Is Brandon | Opinion
My name is Brandon. Brandon Brown, to be specific. Yes, that Brandon.
I am Brandon, the NASCAR driver and unlikely meme. A 28-year-old who now finds himself in the middle of the American political conversation. As a pro driver, I never expected to be in the passenger seat of my own viral moment.
On October 2, I won the NASCAR Xfinity Series race at Talladega—my first major win. It was a hell of a moment for me, my family, my team and my sponsors. It's cliché, but it is a moment I had dreamt about my entire life.
In a post-race interview after the win, I accidentally became one of the most famous drivers in NASCAR. Thousands of fans could be heard chanting what the reporter (incorrectly) said was "Let's Go Brandon!," and a meme was born. Since that race, my name has been chanted in literally hundreds of stadiums across the country, spanning nearly every conceivable sport (and then some). I've heard my name chanted in bars, at events, in the course of everyday life and even in the chambers of Congress.
I am fully aware that the millions of Americans chanting my name know little about me or about my winning the Talladega race that day. But I have spent the last few weeks getting to know more about them, and I'd like to share a little more about myself.
All the advice I got from those around my racing career was to stay quiet after that now-famous interview. No one knew how my sponsors would react and, in my world, there is no car to drive without the sponsors.
So, I kept quiet. I turned down more press requests than I imagined someone could ever get—especially someone just starting his NASCAR career. I was afraid of being canceled by my sponsors, or by the media, for being caught up in something that has little to do with me.
Those who thought this would all go away appear not to understand why millions of people are chanting my name.
Racing at 200 miles per hour doesn't give me a lot of time to think about politics. And even if it did, I have always preferred the roar of the engine to the roar of my voice.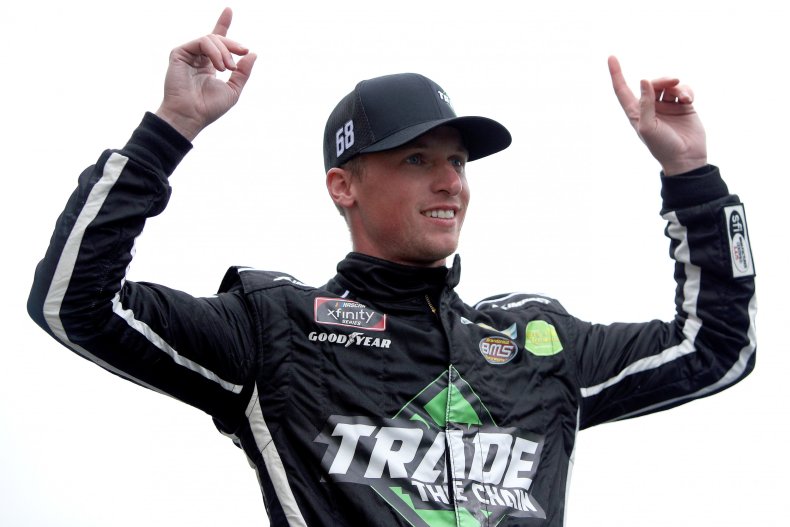 My job is to run the next lap faster than the last one. Politics has never been that interesting to me. Though, like most, I have always had the impression that politicians were likely the cause of more problems than they were the solutions.
These last few weeks, I have spent a lot of time trying to understand why millions of people are chanting my name (I mean, besides my mom, my dad and my late grandfather, who have cheered me on my entire life). "Let's Go Brandon!" is something I've always heard from them, but now it is something about more than just me. I think I understand.
I understand that millions of people are struggling right now and are frustrated. Struggling to get by and struggling to build a solid life for themselves and their families, and wondering why their government only seems to make it worse. People have a right to frustration—even anger.
Listen, I buy more gas than most. I don't like that $4 per gallon has become the norm. I know the cost of everything is rising and I know first-hand that making ends meet can be a struggle for middle-class folks like me.
I have no interest in leading some political fight. I race cars. I am not going to endorse anyone, and I am certainly not going to tell anyone how to vote.
But I'm also no longer going to be silent about the situation I find myself in, and why millions of Americans are chanting my name. I hear them, even if Washington does not.
Ninety-nine percent of my time this upcoming NASCAR season will be spent trying to take the next lap a little faster. But, when I have the opportunity and the time, I am not going to hesitate to speak about issues I am passionate about, or the problems we face together as Americans.
How you vote is none of my business. Instead, I will use what free time I have to highlight the struggle we all feel and share, as Americans.
To my fans, to NASCAR fans and to everyone who has chanted my name: I dedicate myself this upcoming season to compete hard on the racetrack and to spotlight issues that are important to me and to millions of Americans across the country.
"Let's Go America."
Brandon Brown is a professional NASCAR driver and races car number 68 in the NASCAR Xfinity Series.
The views expressed in this article are the writer's own.