My struggles with food and body image started at the age of 11, when I was told I'd be trapped in a back brace 23 hours a day, seven days a week to treat my scoliosis. This was to continue indefinitely.
I began to feel ashamed of my body; like I was taking up too much space in the world. Squeezed in this big, clunky contraption, I just wanted to be smaller so I wouldn't feel so different when I compared myself to other children. If I was, I reasoned I wouldn't feel like a problem that needed to be fixed.
Food, and consuming less of it as a method of shrinking myself, started to take up all the space in my mind. I told myself these thoughts were "healthy," but what I was eating and how I felt in my body started to become my focus.
It didn't help that I'd been hearing adults say there was something "wrong" with me since the age of seven, when I first started being assessed by doctors for my genetic disorder. The echoes of those voices were always in the back of my mind as I grew up. They were such a huge part of how I'd learned to view and value myself.
My undiagnosed ADHD didn't help. I was in a constant state of chaos and battling unfiltered emotions during my adolescence. Though my disordered eating took on many forms, food restriction was one way I could punish myself and also feel in control. For years, food took up almost all the space in my mind. Yet what I had learned from health class and reading books told me that I didn't have an eating disorder, so I wrongly thought I didn't deserve help.
After I graduated from college, I was diagnosed with ADHD and started untangling what I'd been through, both in therapy and in my writing. I began to confront my pain, my disordered eating, and my self-worth. I stuck with the work for more than a decade before I got married and began thinking about pregnancy. I was in a healthy place, but I knew pregnancy would be hard.
Even before I got pregnant, I was overwhelmed by the restrictions on what I could and couldn't eat. Freeing myself of diet culture "rules" had been an important key to my recovery. But I wanted to be a mother more than anything and I knew I had access to mental health support. I was so grateful when I got pregnant, knowing how challenging this process can be for so many people.
Pregnancy was worse than I could have ever imagined.
Instead of being consumed by the so-called "pregnancy bliss", I found myself spiralling toward relapse into disordered eating. The slow and steady physical changes triggered my deepest pain—I became fixated on how I saw myself growing up: as someone who wasn't worthy of food or love.
I wanted nothing more than to be a mom, but my inability to nourish my body appropriately made me feel unworthy of motherhood before my child even arrived.
It seemed as if I was reliving my adolescent trauma all over again, every day. When I tried to seek support, outside of therapy, I was bombarded with judgments from friends, and even doctors, about how I was supposed to feel:
"Really? No way. You should be happy. You're pregnant!"
"Don't be ridiculous. You've gained like no weight."
"Just wait until the third trimester."
"Take advantage of your freedom now, because once the baby comes, your life is going to change forever."
Only I didn't feel free. I felt trapped and uncomfortable inside myself and sinking deeper into an endless loop of loneliness.
Throughout the first trimester, my self-esteem plummeted. Food started to take up all the space in my mind, again. And combined with the fact that I couldn't take my ADHD medication during pregnancy, my hyper-focus went into overdrive. I couldn't think about anything other than food and my body. My disordered eating was out of control. Fuelled by negative self-talk, I was restricting and binging and afraid every time I had to decide what to eat.
On top of that, I was ashamed that I couldn't love myself enough to stop controlling my food. I was ashamed that I was already a horrible mother. Mostly, I was ashamed that I didn't feel happy during my pregnancy. Instead, I was in constant pain, shamed into doing battle silently, and alone.
I was also reminded constantly of how much I had to be thankful for—an amazing family, resources for prenatal care, and mental health support, and no morning sickness or complications with the baby. I knew I was extremely fortunate, but it felt like there was no space for what I was actually struggling with.
I know I'm not the only one who has felt dismissed and overlooked, especially by doctors. I wish mine had said, "That sounds hard. I'm sorry you're going through that. Are you in therapy? Can I recommend support groups?"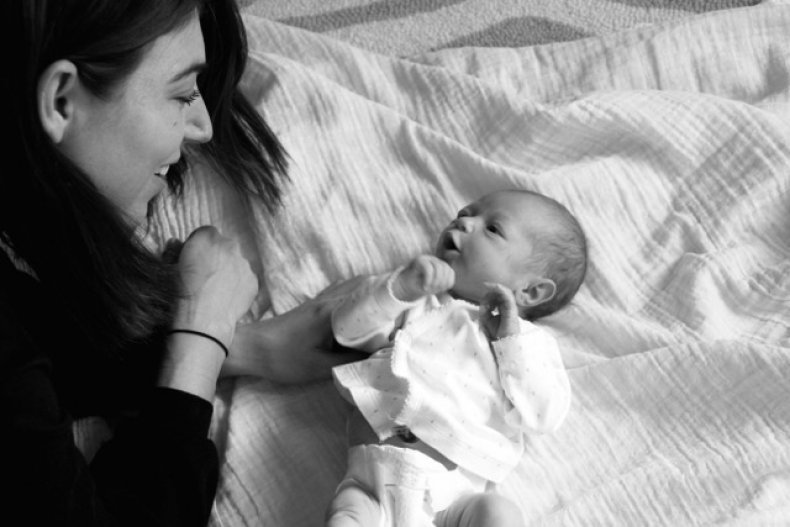 Truthfully, I would have welcomed anything other than, "That's normal. It's not a big deal." I wish I'd found the strength to really let my feelings out—to be as upset and afraid and traumatized on the outside as I felt inside.
I also know that I am not alone in my disordered relationship with food. A 2008 study found that 75 percent of women have disordered eating behaviors, meaning that they may be eating according to external food and exercise "rules" rather than listening to their bodies in a way that impacts their life. Many without even knowing it. COVID-19 restrictions and lockdowns have meant that the risk of disordered eating is likely to increase.
Three and a half years postpartum, my relationship with food is now better. I have worked hard to address and overcome my struggles with food, body image, and self-worth in order to stop the cycle for my daughter and for myself.
Whenever anyone brings up my pregnancy and mentions how "amazing" I looked and how I "barely gained any weight," I'm in a place to tell the truth and say the thing I couldn't before: I was not healthy.
My disordered eating and the effects of my adolescent trauma made pregnancy excruciating for me. I was scared and counting and tracking and weighing and measuring myself up against expectations I didn't feel I could match. Any glorification of my perceived "health" at that time is a lie that I can no longer live with.
The pandemic has also pushed me to openly take ownership over my experience with disordered eating and speak my truth. Now, more than ever, it feels important to give a voice to struggles with food, body image, and self-worth. It's brave to ask for help. I want everyone who is struggling in big and small ways to know that they are not alone. They matter.
If you are concerned about disordered eating or an eating disorder help is available by call or text from the National Eating Disorders Association (NEDA) helpline at (800) 931-2237. For more information, visit nationaleatingdisorders.org.
Alyson Gerber is the author of the critically acclaimed, own-voices novels Braced and Focused published by Scholastic. Her third novel Taking Up Space is out now. She lives in New York City with her family. Follow her on Twitter and Instagram @alysongerber and on Facebook @AlysonGerberBooks. Visit her at alysongerber.com.
All views expressed in this article are the author's own.