'My Small Family Business Failed To Get PPP Money, Yet Big Companies Received Millions'
In the early hours of April 4 my phone alarm sounded every 80 minutes until—around 4 a.m.—I received the anticipated email from PNC Bank. Their website was live for customers to apply for COVID-19 money through the federal government's original $349 billion Paycheck Protection Program (PPP).
I should have stayed in bed. In retrospect, given the favoritism big banks were always going to give their larger customers and the absurdity of the Small Business Administration's (SBA) definition of "small business"—companies with as many as 500 employees— our meaningless little bakery hardly stood a chance.
These PPP loans were supposed to help companies like my family's bagel manufacturing wholesaler, Bagels Etc, in Dania Beach, Florida. Because the terms state that if companies rehire people by a certain date, PPP loans may be forgiven, and if not, it's a 1 percent bridge loan to cover rent and utilities for a little while.
This would help us keep as many of our eight employees on the payroll as possible while we wait for the "Great COVID-19 Shut-In" to release its death grip on our sales.
So, I spent seven non-stop hours—some with our 5-month-old son writhing and babbling in my arms—navigating a glitchy, overwhelmed PNC site. When it loaded at all, it would repeatedly bounce me out during the process, or it would allow the upload of some documents and but not others, then make me start over anyway.
Around 11 a.m., I got to the end having uploaded everything required except one single document. When the site allowed me click "submit," I crossed my fingers that I would be contacted if there was any missing information.
Spoiler alert: We didn't get any money.
Nor, for that matter, did any of several small companies whose owners I "met" on Twitter while we all were furiously tweeting complaints about the PNC website to a stone-silent PNC's customer service handle. We'd all find out weeks later that the well ran dry long before PNC got to us.
But guess who did receive funds? You might have heard about Shake Shack and the $10 million in PPP loans they returned. Well, Forbes says 70 other publicly traded companies got theirs, too, because they don't have 500 employees working in any one location. Those companies chose to apply in the first place, knowing whatever they received would starve and maybe kill some actual mom-and-pop businesses like mine.
Despite my exhaustion, I was optimistic on that April 4 morning for the first time since COVID-19 hit. March and early April are usually great for Bagels Etc, thanks to the influx of travelers for Spring Break and snowbirds enjoying one last month of Florida sun before returning north for Easter or Passover. When those college drunkards on Miami Beach were being roasted online for telling CBS News they refused to let "corona" cancel their party, all I could think was, "Gosh, I hope they eat lots of bagels."
But thanks to restaurant and hotel closures, our nightly "bake"—usually between 800 and 1,000 dozen at that time of year—had dropped below 300 dozen. We need at least 500 dozen per night to break even at our normal staff level. As of mid-April, we had laid off five people and cut back to five-day-a-week operations to hold it all together.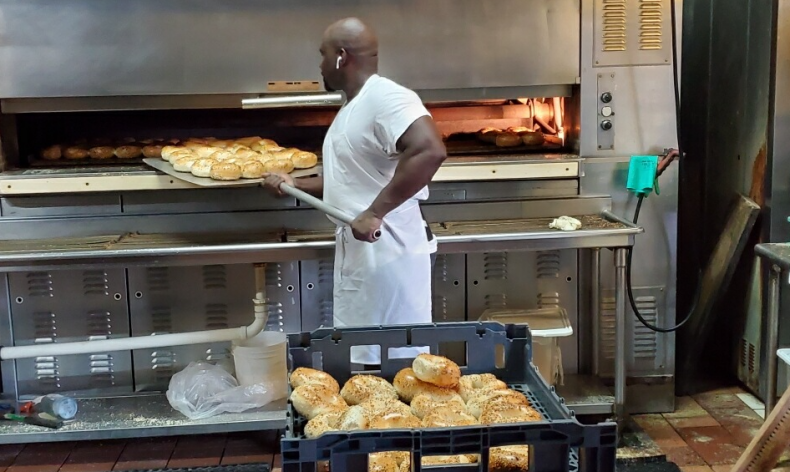 I have served as CEO of Bagels Etc—alongside my main career as a journalist—since my father died unexpectedly in 2016. I took over to ensure an income for my widowed mother and keep our workers employed, not to expand or make money for myself. Until this pandemic, I earned a whopping $175 a week as CEO. My real compensation has been the weekly money mom gets so my sisters and I don't have to support her.
Dad was once a wealthy man, but after retiring to Florida he got caught up in the day trading craze of the aughts and lost everything. At 68, he borrowed money from his sister and plunked down the last of mom's inheritance from my grandmother to buy an existing wholesale bagel company in South Florida. "It'll be great," he told me. "People down here love bagels! It's just like New York!"
Though he underestimated the challenge, by the time Dad died at age 75, he had worked every day and night and missed many family events—my wedding, my nephew's college graduation, countless holidays—to build one of the region's largest wholesale manufacturers of fresh bagels. Still, that's about all he left mom; just a small puddle of life insurance, his Social Security and this labor-intensive, low-margin company.
His work proved durable, though. A few years before he died, he gave our head baker, whose recipe we use, a 20 percent stake to keep him from being lured away by a competitor.
Rony Nelson is a 43-year-old Haitian immigrant who learned the bagel-making craft as an apprentice in high school in Broward County. He took over the vast majority of on-site responsibilities and hired several of his own family members, which helped invest him even further in the company's success.
Now COVID-19 threatens to wipe away all of that stability in a blink. Congress laid out this enormous safety net, but the PPP program put the same banking sector whose greed crashed the economy a decade ago in charge of taking in applications and sending them on to the SBA for funding. And the Coronavirus Aid, Relief, and Economic Security Act (CARES) incentivizes bankers to help their biggest customers via commissions based on the size of the loans.
At Bagels Etc, we needed about $40,000, a drop in a $349 billion pot. Based on the application number we received, we were the 2,448th to make it through PNC's flimsy system that morning.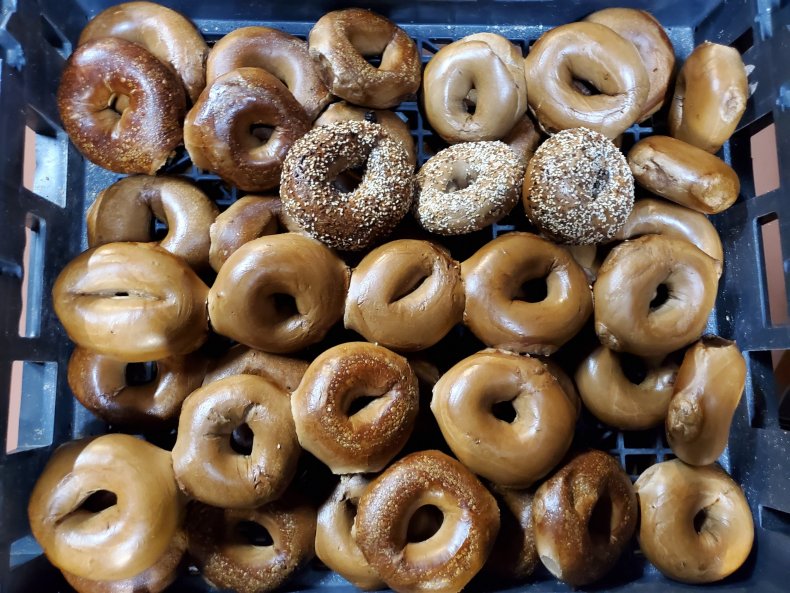 On April 22, a PNC spokeswoman bragged to me that they had facilitated "billions of dollars in loans" to "tens of thousands of companies." If that's true, most of those companies were definitely in line behind us.
When I made that same comment to Rep. Debbie Wasserman-Schultz —the Democrat who represents the district where our company is based—on April 21, her reaction was to snark, "Oh, ya think?"
Wasserman-Schultz went on to say that, "the big banks essentially allowed their best customers to cut the line." She told me that large banks would initially only handle applications from customers who also had existing lines of credit with the bank, and explained that this crowded out small businesses like restaurants and bakers and other independent shops. Businesses like mine. "This program was intended for truly small businesses, but the Republicans were insistent on defining small business as 500 employees or less," Wasserman-Schultz told me.
My PNC application actually didn't require an existing line of credit, but something went awry anyway. On April 12, eight days after our application was submitted, we got an email asking for the document I couldn't upload and informing us certain boxes hadn't been electronically initialed. PNC offered no clear way to fix that.
What followed was a further eight days of confusing back-and-forth—PNC wrote again to say they couldn't open the file I sent and, also, the SBA was out of money anyway. Emails arrived requesting "attached forms" be filled in and returned, yet there were no attachments. I wrote an email begging to talk to someone who could explain what to do.
On April 21, a PNC banking center manager wrote to me offering her assistance and providing her phone and email contacts. Had a real person received my S.O.S? Haha. No.
Alas, the phone number was actually for a PNC branch in Brownsburg, Indiana, and the email address yielded an out-of-office reply.
Would Shake Shack have put up with this? Would PNC would allow any customer with millions in assets to flounder and struggle as they allowed us small fry? No they wouldn't—and that's not an opinion.
After I began working on this essay for Newsweek and contacted PNC's public relations office for comment, an upper-level PNC executive reviewed our case, figured out why it got stuck and called to tell me how to fix it.
When I asked whether I'd been contacted because of my emails as a customer or because I had made a media request, she answered me honestly, "because you contacted us through the media office, we support customer inquiries that come through that line."
Disclosing that exchange may jeopardize the help I've received from PNC and that, in turn, may jeopardize our company. I hope not, but that's just the point: It shouldn't be this way.
Perhaps if PNC had been taking these applications in the order they were received and promptly troubleshooting ones with real or imagined issues, the conversation I had on April 21 would have taken place two weeks ago.
Our application is now good to go now, whenever Congress completes the approval of new PPP funding—some $310 billion in a $484 billion package, with $60 billion set aside for independent banks and credit unions, the sort of local institutions that handle a lot of small, local businesses—and the SBA re-opens the floodgates for applications.
There are no guarantees we'll get anything, but if we do it still won't be because the process or system was fair or actually bent toward saving real small businesses. The GOP has so far refused to lower the threshold for applications from that absurd 500-employee ceiling.
We may never really know who got this money and why. This time, reporters were able to see loans in the S.E.C. filings of publicly traded companies and shame those companies into giving a lot of it back. But lots of huge companies don't have to disclose such information, and the Trump administration is not exactly heralded for its transparency.
I'm pretty sure our company will survive either way now that I've seen how we can operate in this environment. Rony is now our only baker and handling half of the deliveries. Normally we employ three bakers and three delivery drivers. And I've been exploring some straight-to-consumer sales options that I've seen other wholesalers adopt for the crisis, although I'm unsure about the logistical and regulatory issues that surround such a move.
This is what the scrappy underbelly of American business does. We'd rather take care of and keep our employees, of course. But we do what we can, against all the obstacles that are tossed in our way by the same politicians and financiers all over TV pretending to care about the actual engine of the economy.
Steve Friess is the CEO of Bagels Etc and a Newsweek contributor. He is based in Ann Arbor, Michigan. Follow him on Twitter at @SteveFriess.
The views expressed in this article are the writer's own.