It was 10 p.m. on a Saturday night, and my toddler son's pediatrician, whom I'd never known to make a house call, was in our living room. He had examined Paul very gingerly, as Paul sat on my lap, leaning listlessly against me. Then the doctor sat back, silently, just looking at him. Then he spoke to my husband and me. "I don't know what's wrong with Paul," he said. "Let's get him to the hospital so I can have his throat x-rayed."
Paul had no fever, no cough. It was just that at bedtime two hours earlier, he'd suddenly begun whispering and had refused his bottle.
What to do? Calling the doctor on a Saturday night because my toddler was whispering seemed absurd. I didn't want to be one of those mothers.
Paul at 2 ½ was a sound sleeper, but within the hour, he was awake and crying, and that's when I did call the doctor, who, after ruling out croup (no, no cough at all) was puzzled enough to head over.
This was four days after Paul and his friend Eric made their first foray into the world, joining a neighborhood play group, though the connection never occurred to me. Ahead lay a terrifying night for Paul who ended up in a pediatric ICU with a disease that almost killed him. We didn't know till later that Eric, too, was sick with the same bacteria, though not seriously. It was many years ago, and I don't often revisit that night or the week that followed if I can avoid it, but I don't want anyone else's child to go through what my child went through.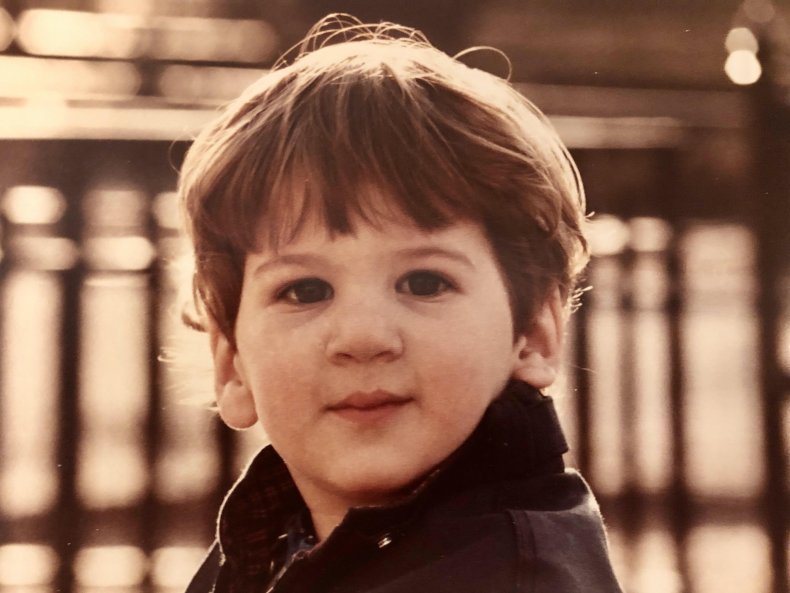 There was no vaccine back then in the mid-1980s that could have protected him from that disease. Today the Hib vaccine, which would have protected him, is one among sixteen routinely-given vaccines that protect babies from life-threatening diseases. But due to the pandemic, half of all babies fell behind in their vaccinations, according to a recent tabulation by the Centers for Disease Control and Prevention. And now, as families begin to think about inching back to living more socially, an unvaccinated child will be especially at risk for many diseases.
At the hospital—by now it was after 11 pm—the radiologist said Paul's x-ray was normal, Then, while my husband and I were still sitting with Paul's pediatrician, Paul gagged, throwing up a single raisin, part of his dinner.
At this Dr. Mike seemed relieved, thinking that the raisin had somehow gone done Paul's windpipe and it might explain his symptoms. With an x-ray that showed nothing, and the absence of fever, there was no reason for Paul to be hospitalized. We agreed. "Go home," said the doctor, "and call if you need to."
By an hour later, though, Paul had developed a fever, and after calling his doctor, we headed back to the hospital. When Dr. Mike saw Paul, at last he knew what was wrong—Paul was leaning his head forward and craning his neck.
This was a symptom of epiglottitis, he told us, a swelling of the epiglottis now severe enough so that Paul was extending his neck in order to keep his airway as open as possible so he could breathe. If he was not treated in time, Paul could suffocate.
It was serious but not an emergency, at least not yet, the doctor said, because the x-ray he'd taken not five hours ago had shown nothing, suggesting the disease was still in the early stages. He asked the radiologist on duty to take another look at Paul's x-ray. This radiologist was a pediatric radiologist, who knew that the architecture of a child's throat was different from an adult's, and he saw right away what the other radiologist had missed. "This is epiglottitis," he agreed, confirming Dr. Mike's diagnosis.
Now at 3 o'clock in the morning, suddenly it was serious and an emergency. The solution, though, would be quick and medically simple: in the OR a breathing tube could readily be inserted.
But there was no OR available, and at this point it was too risky to try to even think of taking Paul to another hospital. "You have to keep him calm," Dr. Mike warned me, as calmly as he could. "If he gets agitated, his throat could spasm, and he won't be able to breathe."
So I sang to Paul, as I swayed back and forth with him, terrified but keeping my voice and movements as normal as I possibly could. Like most mothers, I carried my child on my left side, and I was acutely aware that the one thing I couldn't control at all was my pounding heart which I feared he could feel.
The next 45 minutes waiting for an OR were interminable.
When we next saw Paul, he was in a crib in the hospital's pediatric ICU, on a ventilator with a breathing tube down his throat. He was also heavily sedated. For extra measure, someone had tethered his wrists to the sides of the crib so he could not pull out the breathing tube. Every few hours, the tube had to be cleared, so the doctor squirted liquid into the tube and quickly suctioned it out, an intervention today's medical texts describe as akin to waterboarding.
For the next three days, round the clock, my husband and I alternated caring for Paul. By day, my husband slept in a chair at the side of Paul's crib while I sat at the foot of his crib, his legs in my lap as I stroked them and sang to him. At night, my husband and I switched places. Later, Dr. Mike said that our presence and our touch, so familiar to Paul, was essential to his recovery.
By the fourth day, the swelling subsided, Paul came off the ventilator, and three days after that, we were home. Medically, Paul recovered quickly, but hospitalization is often traumatic for children, and it was for Paul. For months, he was clingy, with chronic stomach aches and sleeping problems. He went back to diapers and the comfort of his bottle. Shampoos terrified him. So did haircuts, with the barber waving those snapping silver instruments around his face.
What happened to my son need never happen again to any child, not in America. Three years after Paul's illness, Hib vaccine arrived and was added to the roster of baby vaccinations, preventing all the bacterial diseases caused by Haemophilus Influenzae type B, including meningitis, pericarditis, encephalitis, and cellulitis, which Paul's friend Eric got. All are diseases that especially target children under five. The vaccine reduced the illness rate by 99 percent.
Many dangerous illnesses, like smallpox and polio, have been eliminated thanks to childhood vaccination. Possibly—and ironically—the decline in the number of children getting vaccinated may have occurred because parents are trying to keep their children away from dangerous spaces—like doctors' offices. But with large numbers of babies missing their vaccines, herd immunity is threatened and dangerous illnesses will have a chance to resurface.
Many pediatricians are addressing parents' concerns by separating their well child care from their sick child care. There are also mobile units giving vaccinations in some cities, and the CDC has spelled out a new plan for what it calls "Catch Up Guidance." With it, parents who so vigilantly kept their children safe from COVID-19 can now safely provide them with protection—especially when the much-anticipated paediatric COVID-19 vaccine comes along, later this year.
Elizabeth Stone is a professor of English at Fordham University.
The views expressed in this article are the author's own.
Newsweek, in partnership with NewsGuard, is dedicated to providing accurate and verifiable vaccine and health information. With NewsGuard's HealthGuard browser extension, users can verify if a website is a trustworthy source of health information. Visit the Newsweek VaxFacts website to learn more and to download the HealthGuard browser extension.