'I Painted The Queen—She Was Surprising In So Many Ways'
Queen Elizabeth II was late and I soon realized that she doesn't like to be late. The first words Her Majesty The Queen spoke at the first sitting of our portrait painting sessions in the autumn of 2011 was an apology—of sorts—not to me directly of course. Goodness, I couldn't possibly even imagine the thought of the Queen apologizing to me.
But she made a comment about being annoyed by her late arrival for reasons which I frankly cannot remember because I was too busy being in a state of shock that I was standing there in the very presence of living history—the monarch who, now 96, marks her Platinum Jubilee this weekend.
Much of my sittings with the Queen for the three portrait paintings I'd done of her are a bit of a blur, as it was one of those astonishing moments of sheer disbelief in life where you think: "Did that just happen?"
But what I do remember first and foremost about the Queen is the directness of her gaze. The portraits I'd done of her are not the most characterful pictures. But I knew I wanted that unforgettable gaze in her gray blue eyes to be captured in my paintings.
She can go from looking quite serious to having this incredibly beautiful, radiant smile. We've all heard the Queen's voice before in public. It's quite high-pitched, but she's also got this shrill, infectious laugh that makes you feel as if the sun's come out.
I think her laughter is one of the most ordinary things about this extraordinary woman. She laughed a lot while telling me all sorts of random stories, which were mostly to keep herself awake, really, at these sittings. She recalled sitting with Philip de László, the late portrait painter and one of my great inspirations, who painted the Queen as a child back in the early part of the 20th century.
As she was so young at the time, she remembered she didn't enjoy the sitting because he kept on saying things like: "Get back into your chair" and "stop wriggling." But little did the future queen know that portrait sittings would be one of the many aspects of her role later in life as the head of the Royal family.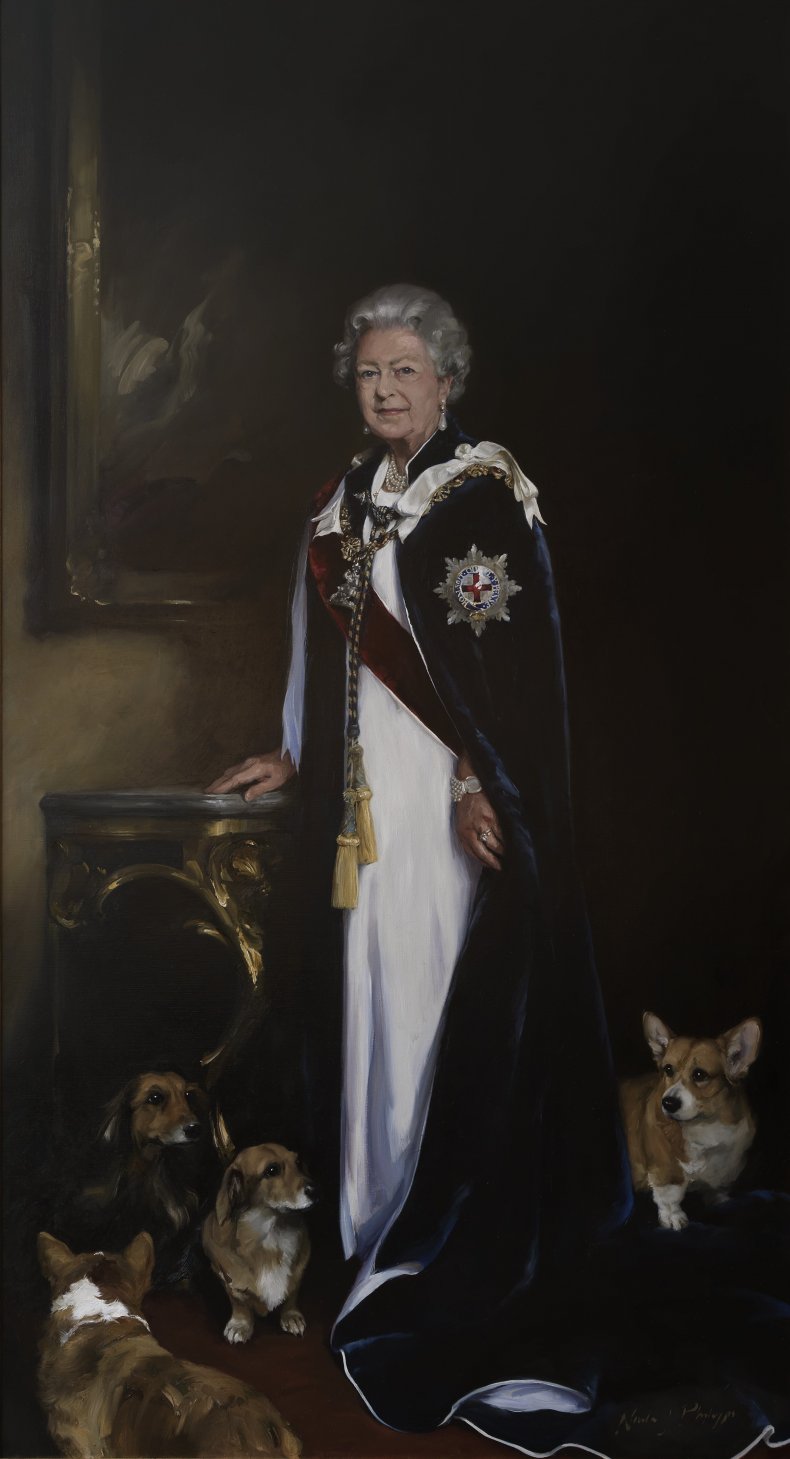 Even if she arrived late, you damn well knew she was in the room. I can still remember how fast my heart was beating out of my chest and my hands were sweaty when she first arrived for the first portrait wearing the glorious robes of the Order of the Garter—thank goodness she was wearing gloves when I shook her hand. But thankfully adrenaline soon took over and once I had my brushes in my hand, I was more in my element and I realized there is a job at hand.
Surprisingly, my sittings with the Queen were rather low-key, with just a handful of staff with her. Once the photographer had finished taking various snaps of her, I was left in the drawing room with the Queen, her diary secretary and her dresser. I wasn't given any special briefing about what to do or not to do in her presence but I knew I wasn't going to go arrange the jewelry around her neck anytime soon.
And the Queen could be direct and abrupt when she needed to be. During the sitting for my second portrait of her in the spring of 2016, which was for the Royal Company of Archers and saw her wearing the robes of the Order of the Thistle, I managed to ask the Queen: "Ma'am would you be able to put your shoulders to the door and turn to face me," in a bid to get more of her neck in the portrait, as it's more flattering, to which she replied: "I can face the door or I can face the window but I can't do both."
If her dresser would take too long to adjust her robe at the sitting, she wouldn't hesitate to say: "Stop fiddling with that now."
But she was very obliging to me at the sittings, even though it would have been easy for her to get impatient and just say even from the first sitting: "You know what, I'm 85 and past all this and don't fancy doing this." She wanted to be obliging as she knew I was under pressure to finish the pieces.
The one thing she absolutely did not like was being thought of as frail or incapable in some way and she is neither of those things. For all of our sittings, which were each about an hour long, the Queen remained standing the whole time. Yet when her secretary would come around with a chair, she'd decline the offer without a second thought, as if to say: "Stop putting 10 years on me, I'm actually fine."
It's hard to know whether I truly gathered anything about the Queen's personality in the short time we spent together. But what I can say is she was entertaining herself as much as us in the room. She tried to make the experience interesting and honestly—she's just good fun to spend time with.
A renowned mimic, the Queen actually did an impression during one of the sittings—which I really cannot reveal and will have to take with me to the grave—and had me in stitches. I remember how her face would light up when she talked about her horses and dogs, as she loves animals. It's part of the reason why I decided to work her four dogs into an additional version of her first portrait, even though they were not at the sitting, as they're such a huge part of her life.
At one point during a sitting for the first portrait in the drawing room of Buckingham Palace, which faces Green Park, the Queen stared out the window and said: "Oh look, here he comes again," referring to a man in a green tracksuit who was obviously running laps around the park for his usual morning run but had no idea that the Queen had been watching him.
Much of our conversations revolved around the traditions and duties that come with her role—she loved explaining things and I was taken aback by her encyclopedic knowledge, talking me through the insignia on her robes and what they meant. She knew her stuff—down to the smallest details—and it just showed all the more how important her role is to her.
What struck me most was that, as much as being committed to the monarchy, she genuinely finds merit in all the traditions and customs she's having to partake in, such as these countless portrait sittings.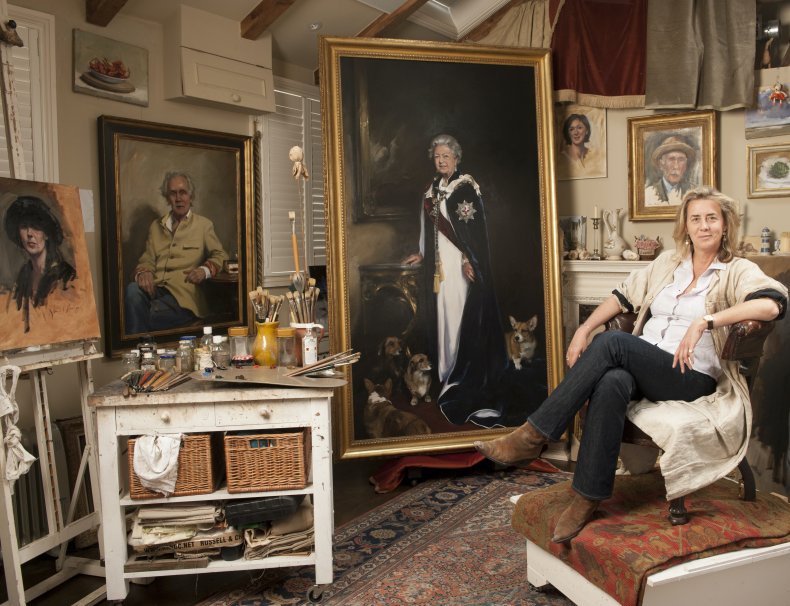 She's got such a lively sense of humor and I think it's what allows her to embrace and rather enjoy the eccentricities of her role and what makes the monarchy, both behind closed doors and in the public eye.
She's so observant and has a great sense of the absurd in her role, including sitting for a portrait painting, which in the modern age of photography could come across as outdated in some ways. But she would never think to criticize or make fun of it in a way that was disrespectful to the institution that is the monarchy.
At the end of the third sitting for the first portrait, she asked: "May I have a look?" and came around to have a peek. So what did the Queen think of it? Perhaps unsurprisingly, she remained mostly poker-faced, being very polite and perfectly pleasant, as I think there is a general unspoken policy for the Queen to not say anything one way or another about her portraits to avoid upsetting anyone.
But I have to assume she must have at least not hated the final result because when Royal Mail, who commissioned the piece, couldn't accommodate the version of the portrait that included her four dogs, they gave it to the Royal Collection. So that piece is currently hanging in the Throne Room at Buckingham Palace.
I wasn't looking at the Queen like a grandmother figure or a friend—I was looking at her as my monarch and the portraits reflect how she felt to me at the time we'd met—which was simply majestic.
The Queen is dedicated, steadfast and the embodiment of stability to her country and I hoped to convey that in my paintings of her. She has been through so much and met so many interesting people around the world and been part of so many different events that have happened over the years. It's extraordinary, what's embodied in this one person.
If I were given another chance to paint a portrait of the Queen, I'd love to paint her in a headscarf on a horse. I think there's something marvelous about her going horse riding, one of the more dangerous sports in life, wearing merely a headscarf. That probably says even more about her than anything else—that nobody can tell the Queen what to do—not even to wear a protective gear for her own safety.
Looking back over the 70 years of her reign, what stands out most to me is her consistency. She's come to the forefront at poignant moments in life and breathed some wise words based on her huge amount of life experience and I think she should say them more often.
We have the benefit of her wisdom and a little snippet from her goes a long way, because it's got gravitas. You can't live for 96 years and not be wise, really. So I hope she goes on to say more for many more years to come.
Nicky Philipps is an accomplished British painter whose various works can be found in public and private collections worldwide. She lives in the U.K. For more information, see nickyphilipps.com. You can follow her on Instagram @nickyphilipps .
All views expressed in this article are the author's own.
As told to Soo Kim