My Turn: When the Taliban Took Me Hostage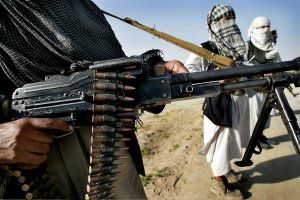 Since the terror attacks of 2001, no Western reporter has crossed into the tribal areas that line the Pakistan-Afghanistan divide. I thought I could be the one. Now in my 60s, I had spent my adult life working and traveling in the region, catching my first glimpse from the front seat of an old Volkswagen on a cross-country trip through the borderlands in the 1970s. After the Soviets invaded Afghanistan, I hiked into the mountains and lived with the mujahedin as they fought for their independence. I wrote a book about my experiences and, after 9/11, I returned several times on assignment for CBS News.
The region attracts quixotic types—in mid-June, a Colorado construction worker was arrested for hunting -Osama bin Laden with a 40-inch sword—but my goals were more pragmatic. I wanted to find out what the American and Pakistani governments either couldn't know or weren't telling us. I wanted to learn the truth about the Taliban, Al Qaeda—and maybe bin Laden, too. And I was on contract to write a book based on my findings.
When I arrived in Kabul in August 2007, I began to disguise myself as Pashtun—the largest ethnic group in the region—and find my old mujahedin friends in the mountains. I avoided Westerners, fasted for Ramadan, and grew my beard. Since I knew the local customs for how to dress, how to eat, and how to look (and look away) at a man, I almost never attracted a second glance. Aside from an old pair of Timberland boots, mostly hidden by my robe, language was the only thing that could give me away.
During the next five months, I made three successful trips into the tribal -areas, crisscrossing the rust-colored land and accomplishing one of my goals. I connected with the Taliban four times, and traveled once to Chitral, where many feel bin Laden is hiding. I didn't want to be anywhere else in the world, but I was also afraid. After each foray, I returned to Kabul worrying more and more about who might be following me. Through one of my old friends, a former mujahedin commander who was now a member of the Afghan Parliament, I arranged for a more ambitious trip with a Taliban leader who could take me into the strongholds of Waziristan and Bajaur. The leader wanted to win favor with the lawmaker, and helping me was his path to doing so. For this reason, I believed he wouldn't kill me.
To this day, I don't know if he tried. After a series of handoffs, I found myself hiking through a narrow valley with three guides. It was almost nightfall when I saw something move behind a high rock. I froze. Oh, my God. Oh no. It's not possible. A dozen men swarmed down the mountain, including a lanky character with a black turban and a rocket launcher slung over his shoulder. These were Taliban—but clearly they were not about to welcome us.
I spent many of the next 44 days locked in a 12- by 12-foot cell expecting to die. Lying on the rope cot, as other prisoners slept around me, I stared at the straw roof and imagined how I would feel when the bullets ripped into me. Would they burn holes? I thought about my neck: once they started to cut, how long would it take to finish the job? I started to cry. One night early in my captivity, I was asked to kneel before four men wearing sunglasses while a fifth person videotaped me. I waited for the knife. Instead, I got an ultimatum: convert to Islam or die.
I didn't do either—I got released. I don't know for certain who or what made this happen, whether ransom was paid or prisoners exchanged. One day I was led out of the mountains to a tribal chief who brought me to Jalalabad Air Force Base. I was given an all-American breakfast—pancakes, bacon, eggs—clean clothes, and the chance to shower. Part of me wasn't ready to rejoin civilization—not while I still had work to do—but I took a bite of the -bacon. And I looked forward to home.
Van Dyk is the author of Captive, a memoir of his time with the Taliban.