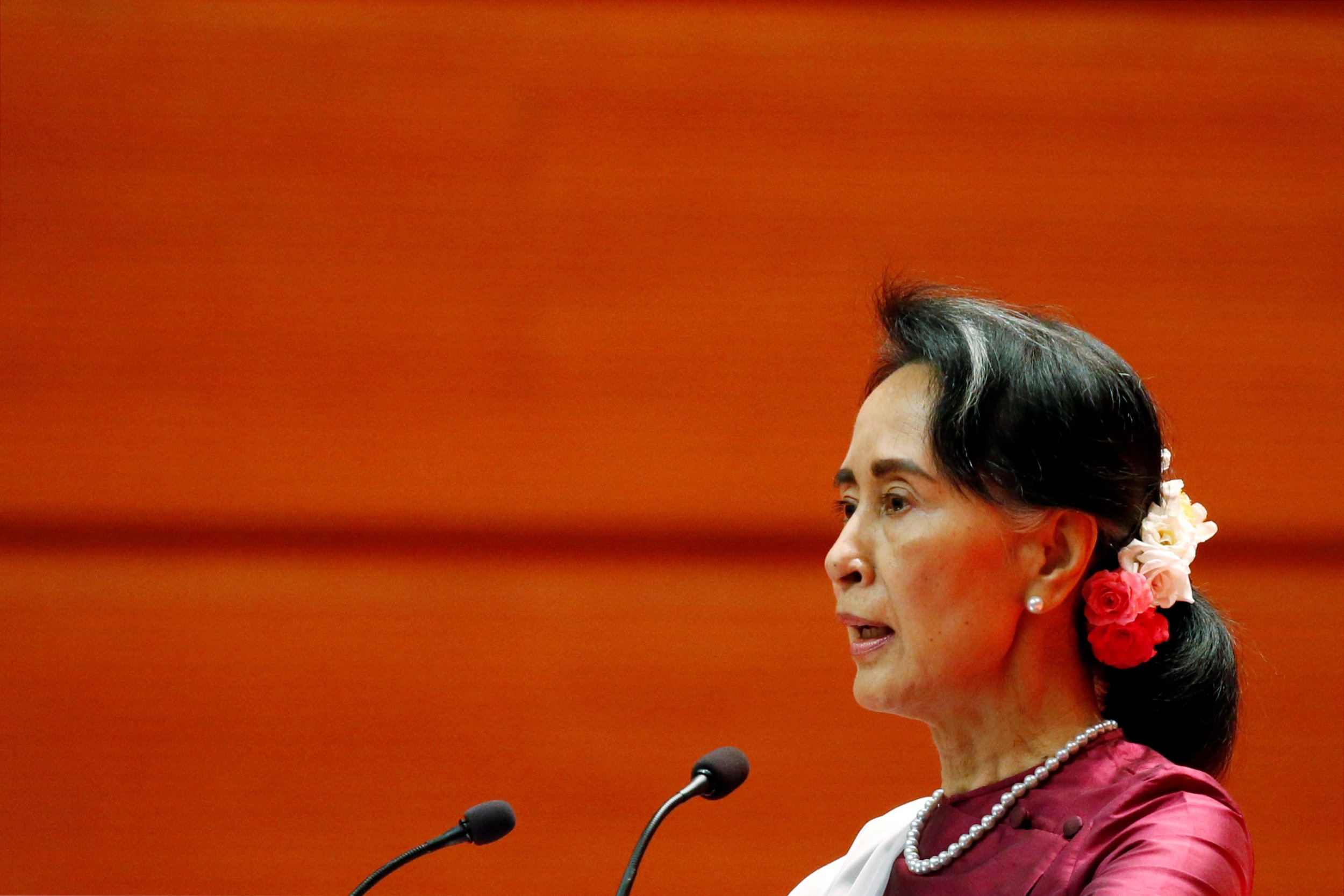 As Myanmar's Rohingya Muslims continue to face what the United Nations has called a "textbook example" of ethnic cleansing, it looks like another day of big words and little action.
More than 400,000 members of the Rohingya minority have fled to Bangladesh amid a harsh crackdown by the country's military. Aung San Suu Kyi, the nobel peace prize laureate and Myanmar's de facto leader, had been criticized for failing to condemn the violence. Her only comment on the situation saw her lash out at a "huge iceberg of misinformation" that she said was leading to a distorted view on the crisis in the rest of the world.
But on Tuesday afternoon local time, Aung San Suu Kyi, who holds the title of State Counselor, addressed the nation with her first substantive words on the situation.
She said that she and her government "condemn all human rights violations and unlawful violence" and insisted she felt "deeply" about the suffering of "all people" involved, pledging to find "a sustainable solution…for all communities in this state."
But she failed to directly address the bulk of allegations against the military, adding only that there had been "no armed clashes or clearance operations" since September 5. She played down reports of displaced people, suggesting the crisis may be less significant than has been reported.
Her government needed to find out "what the real problems are," the State Counselor added, referring to "allegations and counter-allegations," but claimed that her nation "does not fear international scrutiny."
James Gomez, Amnesty International's Regional Director for Southeast Asia and the Pacific, said that "Aung San Suu Kyi today demonstrated that she and her government are still burying their heads in the sand over the horrors unfolding in Rakhine State. At times, her speech amounted to little more than a mix of untruths and victim blaming."
A note from Human Rights Watch's Myanmar researcher, posted on Twitter yesterday before Aung San Suu Kyi spoke, painted a very different picture. "Today I watched six locations burn from the Bangladesh border and hundreds arrive, completely destitute, begging for food, shelter, and clothing," it read.
Meanwhile, while British Foreign Secretary Boris Johnson hosted a meeting to discuss the crisis at the U.N. yesterday, he did not call for punitive sanctions on the country, the New York Times reported. The U.N. Security Council has the power to impose such a punishment, but Myanmar has said it is working with council members Russia and China to prevent that from happening.
World leaders gathered in New York were urged by Human Rights Watch to heed the reports in its note, which ended: "this is a crisis of the highest order, and it's just beginning."