Myanmar Refugees Who Fled to Texas Fight for Democracy From Afar
At the age of 4, Sang Thang had to rely on his aunt's dress to shield him from mosquitoes as he slept during a perilous journey to flee Myanmar's military junta.
Fifteen years later, he is a member of a Burmese community in the U.S. that would welcome a similar cloak of protection for their homeland as it faces another onslaught from the armed forces.
Deposed leader Aung San Suu Kyi appeared in court in the capital Naypyidaw this week—highlighting the grip the military still has on this land, just as it did when Thang left his village Aive in 2006.
He and his family faced persecution as members of a Christian minority living in the western Chin state, so a life-changing trip beckoned. "The U.S. at that time was labeled as a second heaven for us and our community," said Thang, who is now 19. "It was freedom and was where we could do anything."
His parents had been in Malaysia for two years, saving money for the family's escape. To join them, the boy had to make a journey on foot across Thailand. Rivers had to be traversed, fears overcome and, most importantly, law enforcement avoided.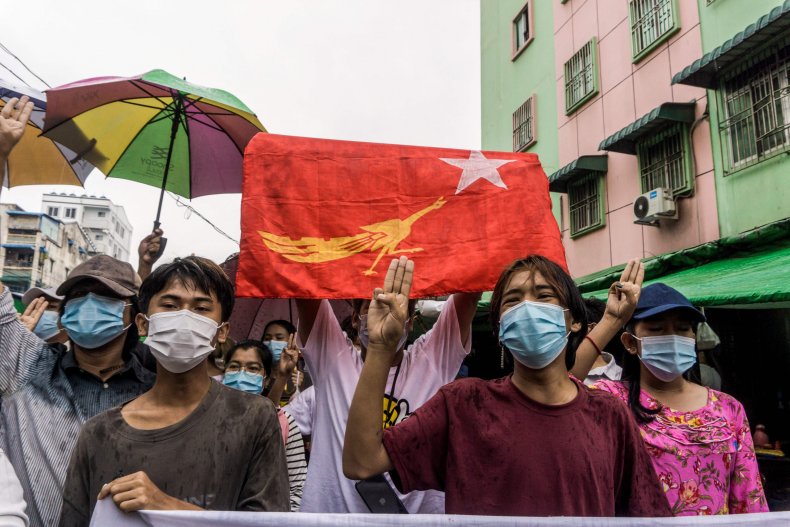 Traveling with his sister and aunt, aided by locals who knew the best route, he made his way across Thailand with no sandals and ripped clothes. "We always had to be alert, we slept in tunnels, hid in the forests and did our best to make it to Malaysia," Thang told Newsweek.
Two-and-half weeks and 740 miles later, he was reunited with his family in Ampang Jaya, Malaysia. He says he was one of the lucky ones—for some, the journey took several months.
Two years later, his family got the necessary documentation and settled in Lewisville, a suburb in the Dallas-Fort Worth metroplex. It is home to more than 4,000 people from Chin state and he attends Lewisville High School, where is among many Chin students who are thriving academically.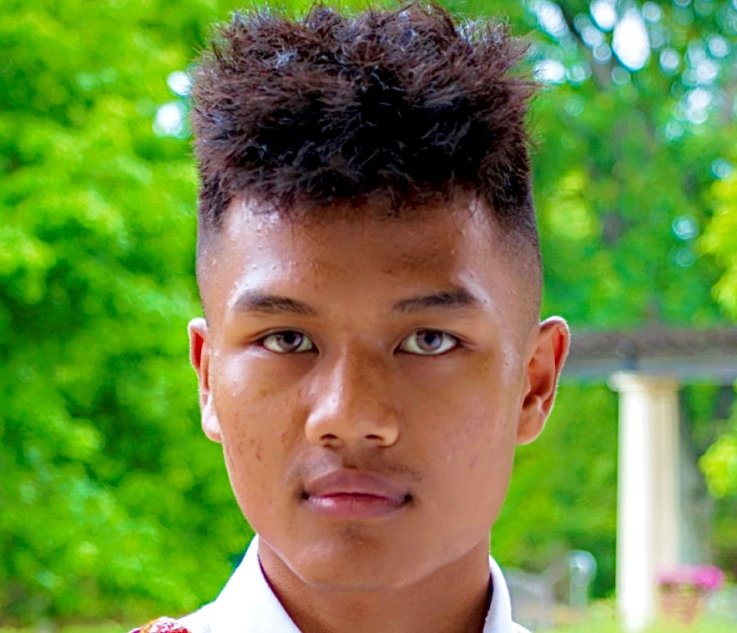 Sang Thang, now 19, left Chin state in Myanmar when he was just 4. He lives in Lewisville, Texas.
Supplied
The Burmese community in the U.S. shared the optimism in their homeland when restrictions were eased by the military in 2010.
Suu Kyi's National League for Democracy stormed to victory in 2015 in the first democratic election in decades.
However, the military—known as the Tatmadaw and constitutionally guaranteed a quarter of the seats in the parliament—was always a government above the government. Its trigger finger twitched when the NLD won re-election with a landslide in November 2020.
In a scenario that became familiar to Americans the same month, cries of election fraud rang out from those who could not accept defeat, including the army-backed Union Solidarity and Development Party.
On February 1 this year, the Tatmadaw launched a putsch. A year-long state of emergency was declared and the military commander-in-chief, Min Aung Hlaing, assumed power. That month, civil society organization CIVICUS placed Myanmar on its list of countries that have seen a rapid decline in freedoms.
Syu Kii, the 75-year-old whose reputation as an icon of democracy has been dented in recent years because of the persecution of the Rohingya minority, is now back under house arrest and faces a raft of charges.
"It was devastating," Thang said of the coup. He found out last week that his aunt and uncle had fled deep into the jungle after soldiers menaced their village. They tried to bring his grandparents, but the older couple did not want to go because their age would only slow them down.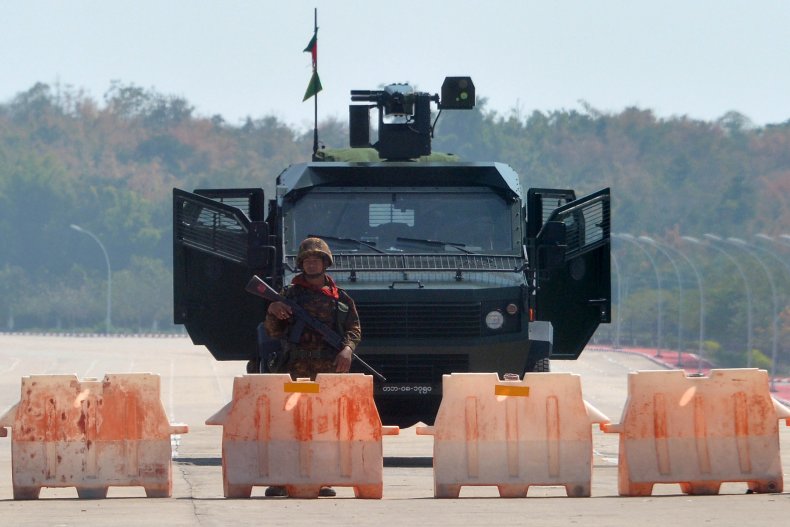 "We are really afraid, we can only do so much from afar. We send them as much money as we can, we try talking to them, we are so limited to what we can do," he said.
That includes trying to raise funds and support for the Chin National Army and the Civil Disobedience Movement, made up of citizens from the country's many ethnic groups who are resisting the junta's government, the State Administration Council.
"The people of Myanmar have suffered deeply from this military coup. There are a lot of people, normal people, who lack food and shelter due to the military," Thang added.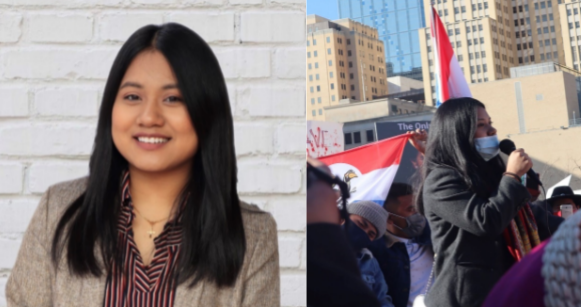 Par Hniang, from Chin state, is pictured at a rally in Dallas.
Supplied
The junta has unleashed water cannon, rubber bullets and live ammunition against its own citizens as it tries to suppress the largest protests since the 2007 monk-led Saffron Revolution.
Last week, troops stormed into the Chin town of Mindat, where a local militia group is putting up a tough resistance.
Nationwide, more than 800 people have been killed in the violence since February, including dozens of children, according to the Assistance Association for Political Prisoners activist group. Around 4,000 people have been arrested.
Myra Dahgaypaw, director of the U.S. Campaign for Burma, which is based in Washington, D.C., told Newsweek: "When they got here from Burma, refugees carried with them the brutality they had to endure. Now what is going on is still brutalizing them again in a way that it is not over for them.
"The understanding of the suffering at the hands of the Burmese military is not just one ethnic group—or one part of the country or one minority."
Dahgaypaw, who comes from the persecuted Karen group in the east of the country, added: "Everyone is suffering at the hands of one perpetrator. They realize that we need a unified voice to fight the junta."
When Par Hniang came from Chin state to Lewisville in November 2007, also via Malaysia, her English was so scanty that she did not know the words "boy" and "girl," only finding out the difference when asked to join a line at school.
Now 20 and in her second year at the University of North Texas, Hniang will never forget the day in her hometown of Zephai when an airplane trail above spurred her family to wonder what life would be like away from persecution.
"We were all hoping that the country would continue to improve," she told Newsweek.
"Now, we are all just in shock, it kind of felt like our hopes were being crushed," added Hniang. She is a member of the Chin Youth Organization of Dallas, which has held fundraising events and taken part in local protests.
The Chin community is doing what it can to help. Donations via churches and from students at Lewisville High School, as well as fundraisers in which traditional food is cooked and sold, all play a part.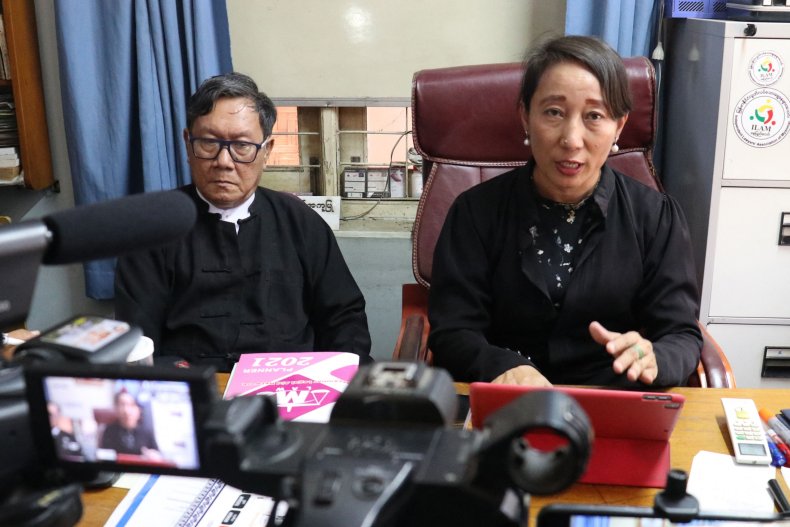 "We are trying to continue to fundraise for the Chin National Front and Chin National Army. We are hoping that people will join in helping our country.
"Even right now we are trying to help the militia fighting against the Myanmar military," Hniang said. "We are hoping they will be safe, we hope other countries will recognize them, we are hoping that people will join in helping our country."
Aside from both having single stars on their flags, Texas and Myanmar seem to have little in common. But their connections have flourished since Laura Bush—former first lady both of the U.S. and of Texas—championed the NLD and democracy in the country.
Bush visited a refugee camp for the Karen ethnic group in 2008 and lobbied lawmakers—and ever since the state has thrown open its arms.
Between 2008 and 2014, around 16,700 Myanmar refugees came into Texas, with communities settling in Richardson and Irving in the Dallas–Fort Worth metroplex.
February's coup was one of its first major foreign policy challenges for the Biden administration. The State Department, which Newsweek has contacted for comment, imposed sanctions on the State Administration Council and officials tied to Myanmar's armed forces, but the refugee community in the U.S. wants it to go further.
Last Saturday, a group gathered outside the country's embassy in Washington, D.C. and proceeded to the White House, to show solidarity with the shadow National Unity Government set up by Myanmar lawmakers.
Meanwhile, a Facebook community of the Burmese ethnic groups in the Dallas Fort-Worth area keeps people apprised of the violence and hardship back home, and appreciative of what they have now.
"When I first heard about the violence, I couldn't help but think about how God has been so good to me and my family as we have been able to speak out, have a voice and, most importantly, be in a place where we can live as we please," said Sheba Sung, 18, who arrived in the U.S. in 2015 from Hakha, the capital of Chin state, and also attends Lewisville High School.
"I just thought about how blessed I am, but at the same time I do feel some sense of guilt because I know there are a lot of people in my country who cannot enjoy even a fraction of the privileges that I enjoy," she told Newsweek.
"It's just a bittersweet time."