Myanmar Crisis: As Army Claims Discovery of 'Mass Hindu Grave,' U.N. Seeks Aid for Traumatized Rohingya
Muslim refugees seeking shelter in Bangladesh from "unimaginable horrors" in Myanmar face enormous hardship and risk a dramatic deterioration in circumstances unless aid is stepped up, the head of the U.N. refugee agency said on Monday.
The warning came as Myanmar government forces searched for bodies of Hindu villagers who authorities suspect were killed by Muslim insurgents last month, at the beginning of a wave of violence that has sent 436,000 Muslim Rohingya fleeing to neighboring Bangladesh.
The violence in western Myanmar's Rakhine State and the refugee exodus is the biggest crisis the government of Nobel laureate Aung San Suu Kyi has faced since it came to power last year as part of a transition from nearly 50 years of military rule.
It has also threatened to drive a wedge in the Association of South East Asian Nations (ASEAN), with Muslim-majority Malaysia disavowing a statement on the Myanmar situation from the bloc's chairman, the Philippines, as misrepresenting "the reality."
Read more: Why Myanmar hates the Rohingya
U.N. High Commissioner of Refugees Filippo Grandi told a news conference in Bangladesh that "solutions to this crisis lie with Myanmar."
But until then, the world had to help the "deeply traumatized" refugees facing enormous hardship, whom he had met on a weekend visit to camps in southeast Bangladesh.
"They had seen villages burned down, families shot or hacked to death, women and girls brutalized," Grandi said. He called for aid to be "rapidly stepped up" and thanked Bangladesh for keeping its border open.
Buddhist-majority Myanmar regards the Rohingya Muslims as illegal immigrants from Bangladesh. Fighting between Muslim insurgents and government forces has flared periodically for decades.
The latest violence began on August 25 when militants from a little-known group, the Arakan Rohingya Salvation Army (ARSA), attacked about 30 police posts and an army camp.
The United Nations has described a sweeping military response as ethnic cleansing, with refugees and rights groups accusing Myanmar forces and Buddhist vigilantes of violence and arson aimed at driving Rohingya out.
Doctors treating some of the Rohingya Muslims who have fled to Bangladesh from Myanmar in recent weeks have seen dozens of women with injuries consistent with violent sexual attacks, U.N. clinicians and other health workers said.
The medics' accounts, backed in some cases by medical notes reviewed by Reuters, lend weight to repeated allegations, ranging from molestation to gang rape, leveled by women from the stateless minority group against Myanmar's armed forces.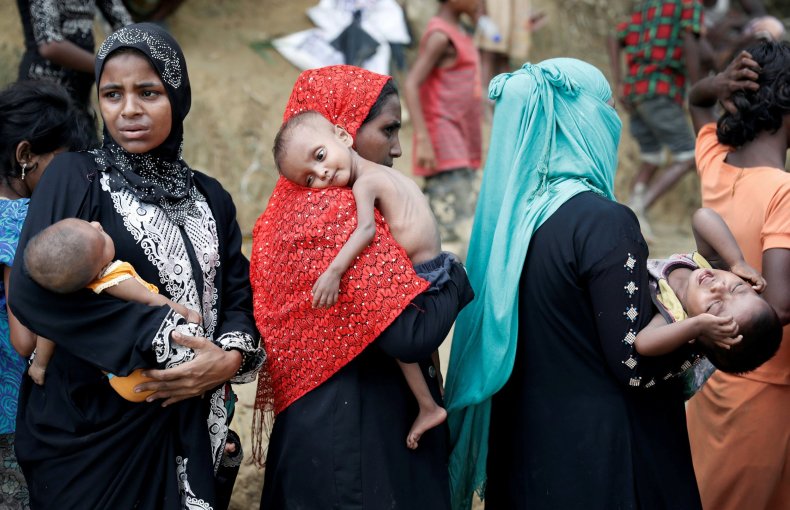 Myanmar officials have mostly dismissed such allegations as militant propaganda designed to defame its military, which they say is engaged in legitimate counterinsurgency operations and under orders to protect civilians.
Zaw Htay, spokesman for Myanmar's de facto leader Aung San Suu Kyi, said the authorities would investigate any allegations brought to them. "Those rape victim women should come to us," he said. "We will give full security to them. We will investigate and we will take action."
Suu Kyi herself has not commented on the numerous allegations of sexual assault committed by the military against Rohingya women made public since late last year.
The United States has said the Myanmar action was disproportionate and has called for an end to the violence.
Myanmar rejects accusations of ethnic cleansing, saying it is fighting terrorists. It has said more than 400 people have been killed, most of them insurgents.
Members of Myanmar's small Hindu minority appear to have been caught in the middle.
Some have fled to Bangladesh, complaining of violence against them by soldiers or Buddhist vigilantes. Others have complained of being attacked by the insurgents on suspicion of being government spies.
Myanmar said on Monday the bodies of 28 Hindus had been found outside a village in the north of Rakhine State and authorities were looking for more.
The initial search was mounted after a refugee in Bangladesh contacted a Hindu community leader in Myanmar to say about 300 ARSA militants had marched about 100 people out of the village on August 25 and killed them, the government said.
Access to the area by journalists as well as human rights workers and aid workers is largely restricted and Reuters could not independently verify the report.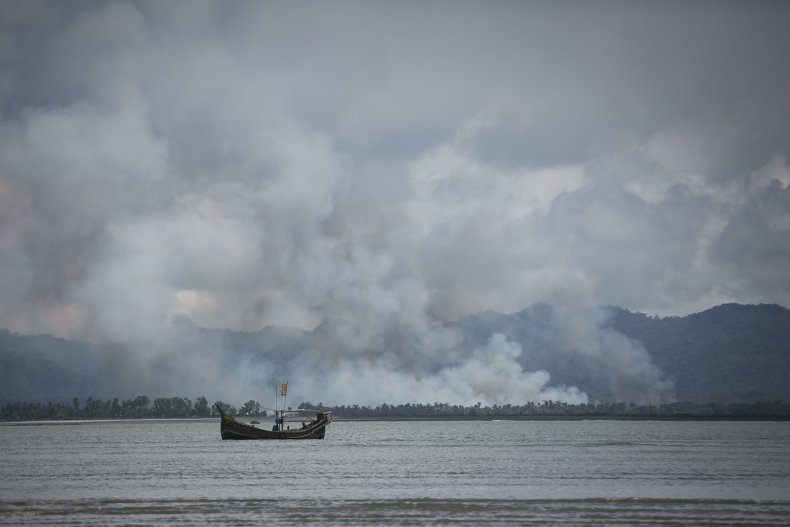 An ARSA spokesman dismissed the accusation that the group had killed the Hindus, saying Buddhist nationalists were trying to divide Hindus and Muslims.
"ARSA has internationally pledged not to target civilians and that remains unchanged, no matter what," the spokesman, who is based in a neighboring country and identified himself only as Abdullah, told Reuters through a messaging service.
In a public display of discord within ASEAN, of which Myanmar is a member, Malaysia disassociated itself from a statement issued by group chair the Philippines as it misrepresented the situation and did not identify the Rohingya as one of the affected communities.
Myanmar objects to the term Rohingya, saying the Muslims of Rakhine State are not a distinct ethnic group.
This month, Malaysia summoned Myanmar's ambassador to express displeasure over the violence in Myanmar. It also expressed its grave concern over atrocities.