Myanmar Elections: Opposition Party NLD Looks Set for Victory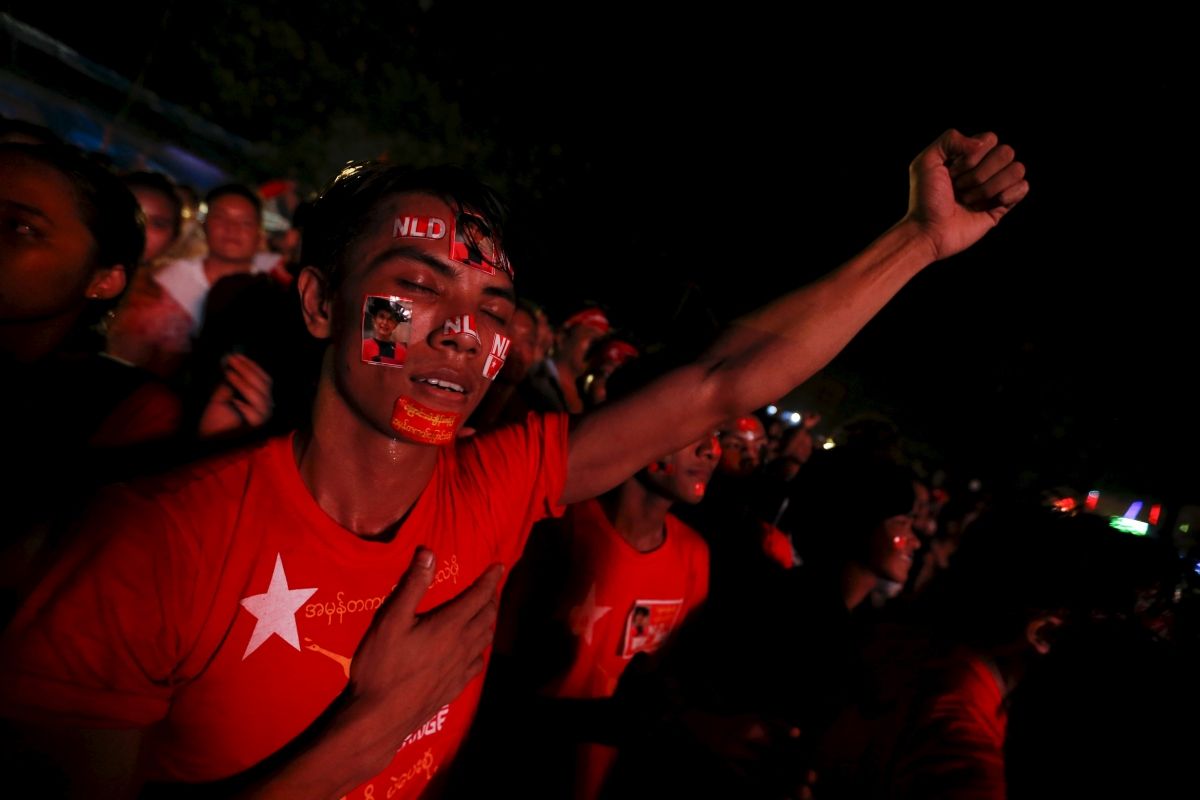 Myanmar's electoral commission has announced that the country's opposition party, the National League for Democracy (NLD), led by the Nobel Peace Prize laureate Aung San Suu Kyi, is leading in nearly all of the districts where vote counting has finished.
In an interview with the BBC, Suu Kyi, who spent 15 years under house arrest for attempting to bring democracy to her country, said the NLD had won a parliamentary majority. She added that the historic elections, the country's first democratic ones in 25 years, were not free but were "largely fair."
Suu Kyi's comments came after the NLD's spokesman, Win Htein accused the election commission of intentionally delaying the results, calling the body "crooked." Despite the allegations and though the full results won't be released for a few days, the NLD looks to have won decisively. On Tuesday, the election commission announced that the NLD had won 78 of the 88 seats declared so far in Myanmar's 440-strong lower house also known as the House of Representatives. It also took 97 of the 107 declared regional parliamentary seats. Htay Oo, the chairman of Myanmar's ruling party, the Union Solidarity and Development Party acknowledged heavy losses on Monday.
The NLD must gain 67 percent of the vote to win a parliamentary majority, a high threshold because 25 percent of parliamentary seats are given to unelected military officials. On Monday, the NLD announced that it believed it had won 70 percent of the vote. Suu Kyi has since revised this figure upwards, telling the BBC her party has secured 75 percent of the vote.
Despite her success, Suu Kyi is constitutionally barred from becoming president because she has foreign children by her late British husband. Nonetheless she has insisted that she will lead Myanmar in a role that is above that of president, although it is not yet clear how this will happen. Clause 58 of the country's constitution states that "The President of the Republic of the Union of Myanmar takes precedence over all other persons."
About 30 million people were eligible to vote in Sunday's elections though hundreds of thousands of people, including the country's persecuted Rohingya Muslims, were disenfranchised. An estimated 80 percent of the electorate turned out to vote and many of the NLD's voters have been celebrating in the streets of Myanmar's largest city, Yangon, since Monday, when the results first began to be announced.