Myanmar Junta Declares Satellite Dishes Illegal, Seizes Them From Homes and Businesses
The Myanmar military has begun confiscating satellite dishes from citizens' homes and businesses, adding to a severe information blackout that is targeting the use of internet services and news access across the country.
In the town of Laputta and areas in the Irrawaddy Delta southwest of Yangon, local governments announced that it is now illegal to use satellite dishes and told citizens that they must turn them in to the police. Authorities were seen raiding shops and confiscating dishes from businesses selling them, according to the Associated Press.
The latest move is part of a growing attempt by the junta to block citizens from accessing social media, mobile phones and news services.
Since the February 1 coup that ousted the elected government of Aung San Suu Kyi, the Myanmar military has worked to silence independent media and crush protest movements with violent force. At least 598 protesters and bystanders have been killed by security forces since the takeover.
For more reporting from Newsweek's Nicole Fallert, see below:
In response to the tech blackout, Facebook announced it will be providing new safety features for its users in Myanmar.
The tech giant's move comes as a threat of civil war looms in Myanmar after hundreds of protesters have been killed and thousands more detained since the military coup on February 1. The military, known as the Tatmadaw, has not been able to quash continued public defiance but is taking extreme measures to crack down on efforts to oppose its rules.
Facebook's measures will help users in Myanmar keep non-friends from accessing their profiles, so that non-friends cannot enlarge, share or download full-size profile and cover photos and see any posts on a person's timeline. The social media platform also banned members of the Tatmadaw and is blocking ads linked to the military.
Facebook is one of a number of international companies combatting growing control measures by the Tatmadaw. Norwegian telecom company Telenor, a major carrier in Myanmar, said it could no longer provide services.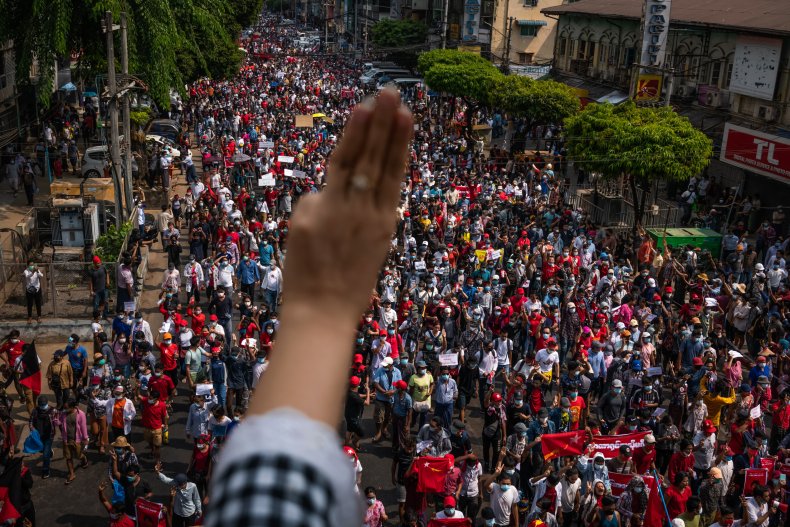 For more reporting from the Associated Press, see below:
Thursday's protests in Myanmar included ones in Launglone township, in the south of the country, where villagers sang songs and lit candles before dawn and then marched down rural roads, and in the city of Dawei, also in the south, where engineers, teachers, students and others joined in their latest demonstration.
Despite eight killings in Dawei by security forces, opponents of the junta have continued to protest on the streets, avoiding confrontations by varying the starting times and breaking into smaller groups.
On Wednesday, security forces stormed the town of Kalay in northwestern Myanmar where some residents had used homemade hunting rifles to form a self-defense force. Security forces killed at least 11 civilians and injured many others, local news reports said. The state-owned Global New Light of Myanmar newspaper reported Thursday that 18 people described as rioters with homemade weapons had been arrested but said nothing about civilian casualties.