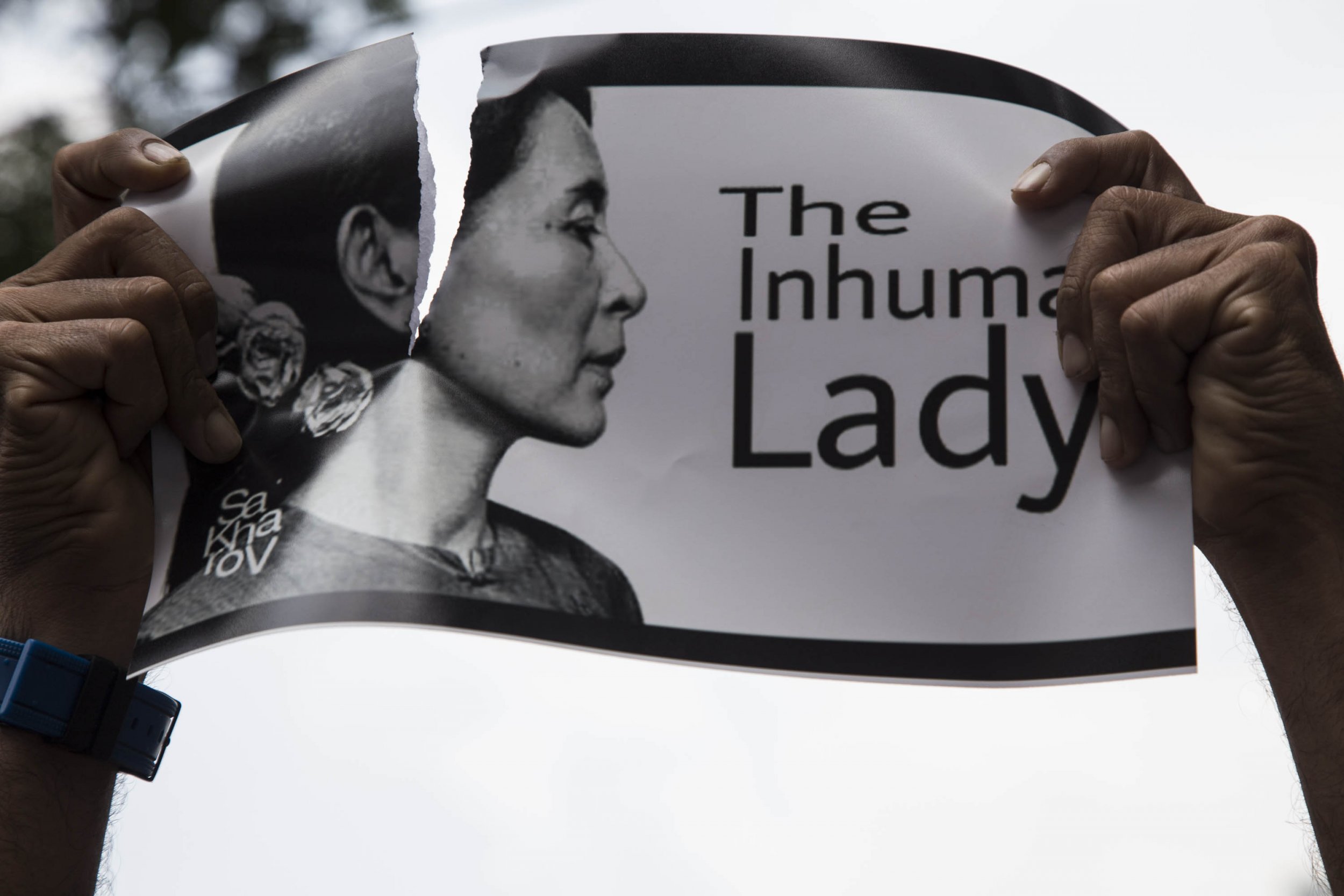 From one Nobel Peace Prize winner to another, Malala Yousafzai called on Myanmar's de facto leader Aung San Suu Kyi to condemn the ongoing abuses against Rohingya Muslims.
Tens of thousands of Rohingya have fled Myanmar's Rakhine state following a surge in violence towards the long-persecuted minority, many of them heading towards neighbouring Bangladesh. Nearly 90,000 have left Myanmar over the past 10 days, according to the U.N.
"Every time I see the news, my heart breaks at the suffering of the Rohingya Muslims in Myanmar" Malala wrote on Twitter on Sunday, calling for an end to the violence and solidarity with the refugees.
"Stop the violence. Today we have seen pictures of small children killed by Myanmar's security forces. These children attacked no one, but still their homes were burned to the ground," she wrote.
"Over the last several years, I have repeatedly condemned this tragic and shameful treatment. I am still waiting for my fellow Nobel Laureate Aung San Suu Kyi to do the same."
A Muslim insurgent group, the Arakan Rohingya Salvation Army (ARSA), carried out a coordinated attack on 30 police posts and an army base on August 25, resulting in the death of 71 people, at least 59 militants and 12 soldiers, according to government and army sources quoted in Reuters.
Even before the attack, tensions were ramping up in the Rakhine state, with the U.N. noting "increasing reports of incidents affecting the local population" early in August.
The Rohingya, a minority of 1.1 million people that holds no citizenship rights neither in Myanmar nor in Bangladesh, were being "indiscriminately killed and injured by military gunfire, even while fleeing," the U.N. claimed on Thursday, as Bangladeshi authorities recovered the bodies of 20 Rohingya—nine women and 11 children—who drowned after their boat sank in the Naf River marking the border between Myanmar and Bangladesh.
Testimonies from Rohingya who managed to flee to the neighbouring countries report atrocities perpetrated by the Myanmar Army, Myanmar Police Force, Lon Tein ("security guards") riot police, and local armed-civilians. "Some people were beheaded, and many were cut. We were in the house hiding when [armed residents from a neighboring village] were beheading people. When we saw that, we just ran out the back of the house" a 27-year-old survivor from Chut Pyin village told the Bangladeshi-based NGO Fortify Rights.
Satellite imagery from Human Rights Watch showed hundreds of houses burned, as many as 700 in one village alone. The government denies responsibility, blaming the Muslim insurgents and claiming the villagers set fire to their own houses, but Human Rights Watch called for a U.N. investigation to assess human rights abuses in Rakhine state.
International pressure is mounting on Aung San Suu Kyi, Myanmar's ruling party leader—who won the Nobel Peace Prize in 1991 for her struggle for democracy and human rights in her country—to break her silence and condemn the abuses.
"Aung San Suu Kyi is rightly regarded as one of the most inspiring figures of our age, but the treatment of the Rohingya is alas besmirching the reputation of Burma," the British foreign minister, Boris Johnson, wrote in an official statement.
Turkish president Recep Tayyip Erdogan called it a "genocide" in a speech on Saturday while in Indonesia's capital of Jakarta, hundred of protesters rallied outside the Myanmar embassy on Saturday and Sunday demanding an end to the violence.
In October, following a previous attack by Muslim insurgents against the security forces, Myanmar waged a four-month military campaign in the Rakhine state during which an estimated 66,000 Rohingya Muslims fled to Bangladesh and thousands of civilians died. The U.N. denounced the government for its "devastating cruelty."
In April, Aung San Suu Kyi denied reports of ethnic cleansing and promised Rohingya would be safe it they came back to Myanmar.