Myanmar Military Coup Protesters Clash With Police in Videos, Photos
Protesters clashed with police in Myanmar on Tuesday in scenes that saw water cannons and rubber bullets used against the thousands who gathered to protest the recent coup in the country.
Footage from the streets in the capital of Naypyitaw showed police armed with automatic rifles, firing guns and using water cannons and rubber bullets in an attempt to disperse protesters.
One woman was left in a critical condition and is not expected to survive after being shot in the head with a bullet. Four others were taken to hospital with what doctors believe were wounds caused by rubber bullets, Reuters reported.
"She hasn't passed away yet, she's in the emergency unit, but it's 100 percent certain the injury is fatal," the doctor told the news agency. "According to the X-ray, it's a live bullet."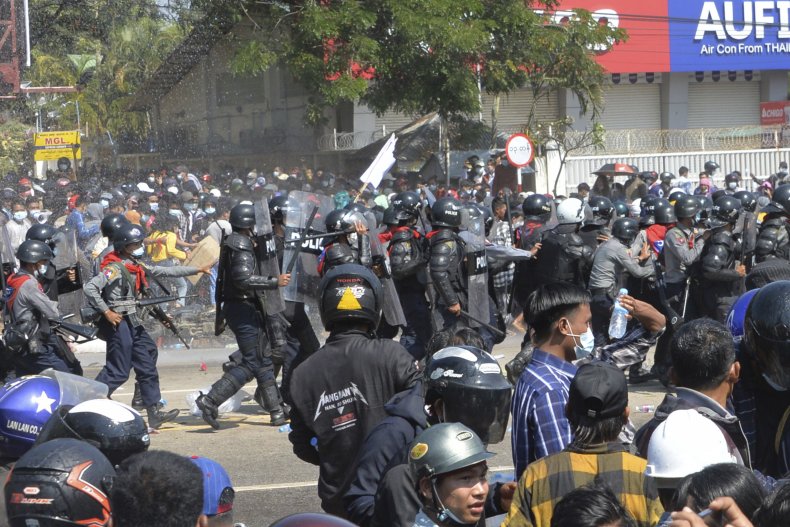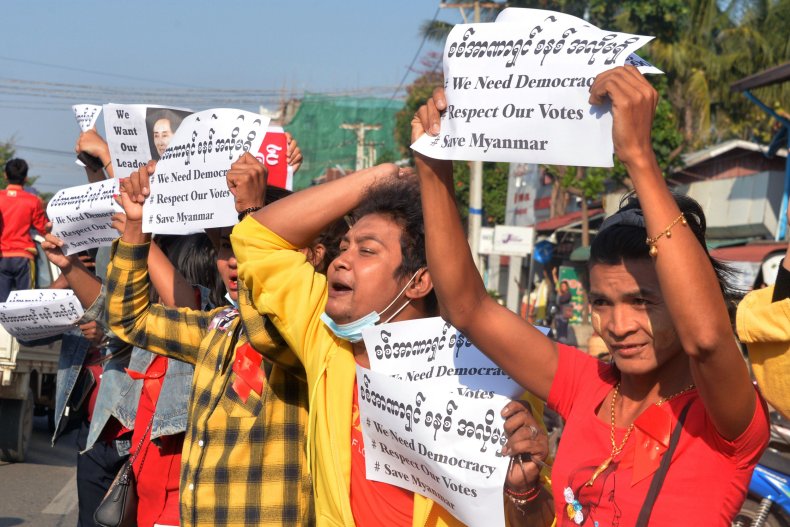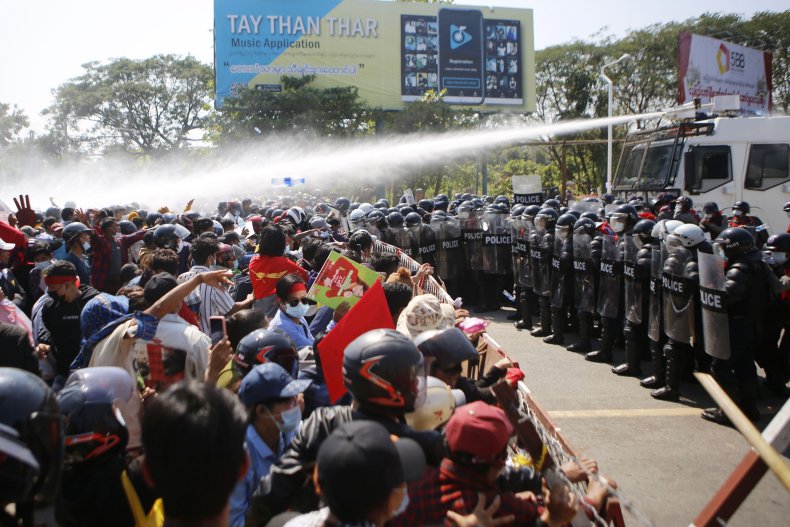 Another man was reportedly taken to hospital with a chest wound, but was not in critical condition.
The police response is an escalation to previous methods which were mostly limited to using water cannons to disperse crowds, but now include rubber bullets and live rounds mostly fired into the air as warning shots.
Footage posted on social media showed dozens of police riot squad members standing in front of armed vehicles as protesters - many of whom were holding up signs demanding democracy - were shot with a water cannon.
Tens of thousands have taken to the streets in cities and towns across the Southeast Asian nation in what has been the largest demonstrations in Myanmar for more than a decade.
Protesters have voiced their opposition to the military takeover of the government which saw a military coup oust the elected government of veteran democracy campaigner, Aung San Suu Kyi, on February 1.
Suu Kyi's National League for Democracy (NLD) party won a landslide victory in the November 2020 elections but its transition to democracy was brought to a halt by the coup that ousted her government as it was preparing to begin its second term.
Military leaders, who hold 25 percent of parliamentary seats per the national constitution, have cited election fraud as justification for its takeover. The electoral commission has dismissed accusations of fraud.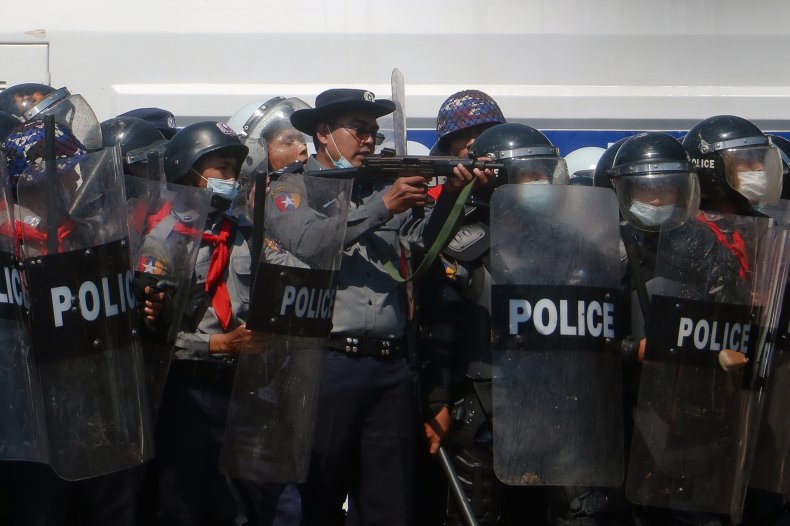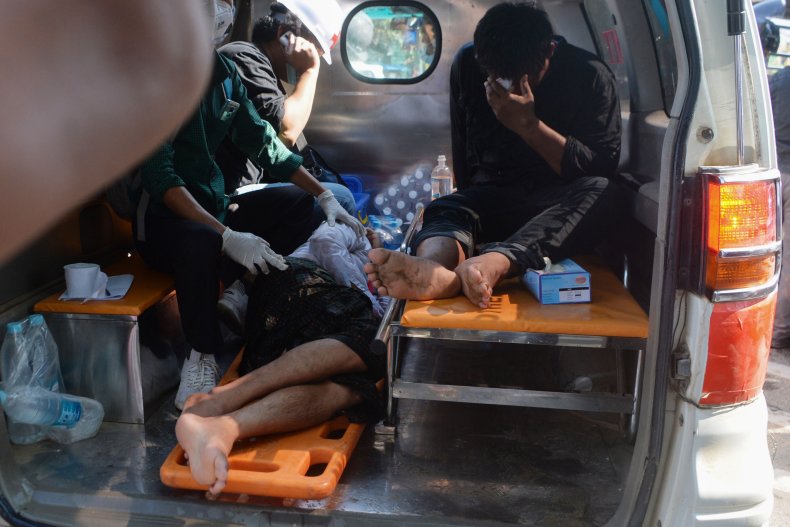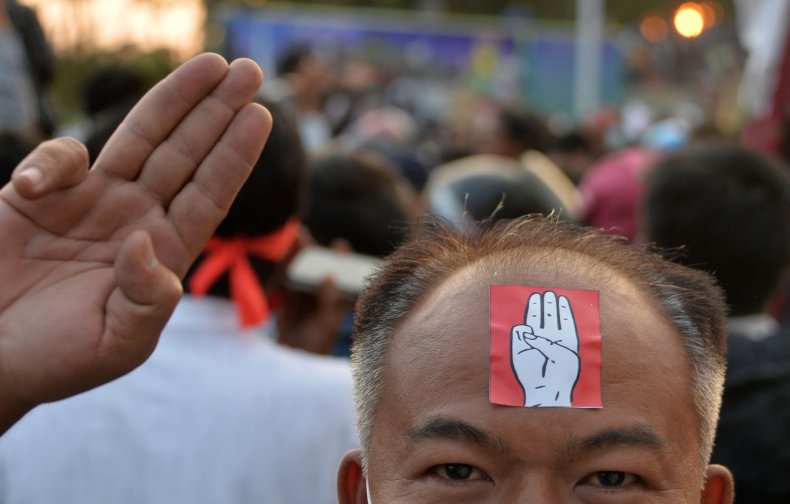 The Myanmar military, known as the Tatmadaw, said power has now been transferred to Commander in Chief Min Aung Hlaing as Suu Kyi remains detained along with President Win Myint and other senior officials.
The junta leader made promises on Monday to eventually hold a new election in his first address since seizing power.
Min Aung Hlaing said the junta would form a "true and disciplined democracy," different from previous eras of military rule, which brought years of isolation and poverty.
"We will have a multiparty election and we will hand the power to the one who wins," he said.
A state of emergency of one year has been announced, after which the military said power would return to civilian leaders via fresh elections, though experts have expressed skepticism this will happen.
Kyi has called on her supporters to protest against the coup. "The actions of the military are actions to put the country back under a dictatorship," the NLD said in a statement signed with Kyi's name. "I urge people not to accept this, to respond and wholeheartedly to protest against the coup by the military."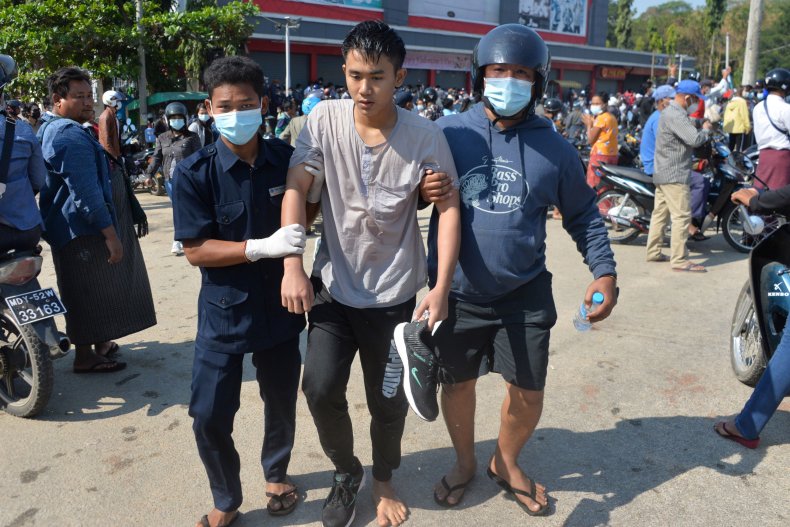 Western governments have widely condemned the coup, including threats from the U.S. to issue sanctions against Myanmar.
Secretary of State Antony Blinken issued a statement late on Sunday calling on military leaders "to release all government officials and civil society leaders and respect the will of the people of Burma as expressed in democratic elections on November 8."
He added: "The United States stands with the people of Burma in their aspirations for democracy, freedom, peace, and development. The military must reverse these actions immediately."
White House Press Secretary Jen Psaki issued her own statement on Sunday warning the Biden administration will "take action" if the military does not reverse course.
President Joe Biden has since condemned the military coup and called the takeover "a direct assault on the country's transition to democracy and the rule of law."
The Philippines also issued a statement on Tuesday, calling for "complete restoration of the status quo."
New Zealand has suspended all high-level political and military contact, ensured aid does not benefit the military and imposed a travel ban on its leaders.
The U.N. Security Council has called for the release of Suu Kyi and others.
Large protests kicked off in Yangon and Mandalay, Myanmar's two largest cities, last weekend. Demonstrations also occurred in smaller regions of the country.