Myanmar Sentences Journalists Who Covered Rohingya Massacre to Seven Years in Jail
Human Rights Watch said the jailing of two journalists in Myanmar who had investigated abuses of Rohingya Muslims showed how the country had returned to the levels of repression it last suffered under the brutal rule of the military junta.
Reuters journalists Wa Lone, 32, and Kyaw Soe Oo, 28, were sentenced to seven years in prison for breaking the Official Secrets Act. They were investigating a massacre of the persecuted Muslim minority in the country. The journalists were looking into a September 2017 attack in a village in northern Rakhine state.
The United Nations has described the military operations by Myanmar that forced 700,000 Rohingya to flee to Bangladesh as a form of "ethnic cleansing."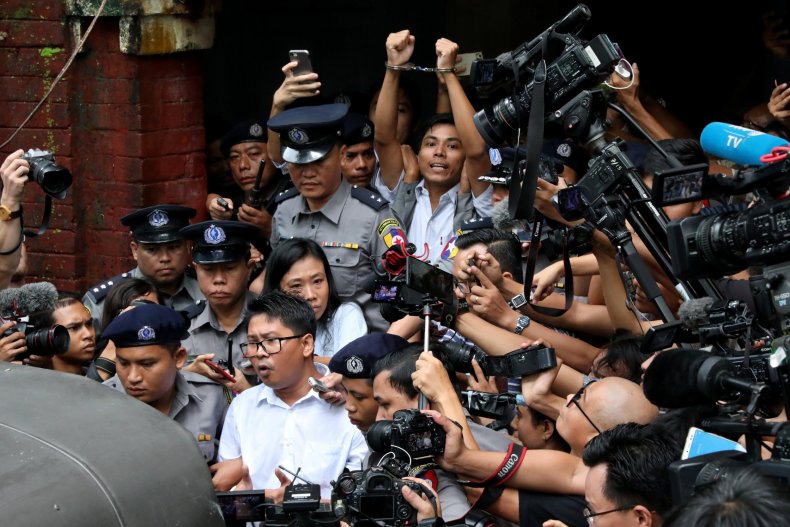 In a statement to Newsweek, Human Rights Watch Asia Director Brad Adams said: "These sentences mark a new low for press freedom and further backsliding on rights under Aung San Suu Kyi's government.
"These convictions won't hide the horrors against the Rohingya from the world, they merely reveal the precarious state of free speech in the country and the urgent need for international action to free these journalists," he added.
Shawn Crispin, from the Committee to Protect Journalists, said in a statement: "The process that resulted in their convictions was a travesty of justice and will cast Myanmar as an anti-democratic pariah as long as they are wrongfully held behind bars. We call on Myanmar's civilian authorities to immediately release the journalists."
After the verdict by the court in Yangon was handed down, Kyaw said: "We didn't do anything wrong. We're not exactly shocked by the verdict."
Than Zaw Maung, a lawyer for the reporters, said: "This is disappointing [and a blow] to democracy, rule of law and press freedom," reported CNN.
Knut Ostby, United Nations Resident and Humanitarian Coordinator in Myanmar, tweeted: "A free press is essential for peace, justice and human rights for all. We are disappointed by today's court decision.
Reuters Editor-in-Chief Stephen Adler said the verdict "must be corrected by the Myanmar government as a matter of urgency," reported CNN.
Both journalists told the court that two police officers, whom they had not previously met, gave them papers relating to their investigation during a meeting in a restaurant. They were arrested soon after that meeting, on December 12.
The Myanmar Police Force announced that the journalists were arrested for "illegally obtaining and possessing government documents." Human Rights Watch said that witness accounts point to a case of entrapment, and the journalists were held incommunicado for two weeks, during which time they were interrogated and deprived of sleep.
The case was seen as a test of freedom in the country, which had previously endured years of repression under a military junta.
This case in particular, and the treatment of the Muslim minority in general, have led to condemnation of the Southeast Asian country's de facto leader, Aung San Suu Kyi.
Myanmar denied claims of atrocities made by thousands of refugees against its security forces and said it undertook a legitimate counterinsurgency operation against Rohingya fighters.