Tens of thousands of Americans took to Twitter on Monday to share why they're voting for Senator Bernie Sanders in the 2020 presidential election, making the hashtag #MyBernieStory trend to the number one spot.
Earlier this morning, Sanders shared a newly launched social media campaign called #MyBernieStory on Twitter and asked his supporters to use the hashtag to explain how his presidency would change their lives. "This campaign is not just about me. It's about us. Together we will defeat Trump and transform the country," the senator tweeted. "Download the BERN app and record a #MyBernieStory to tell us why you're part of this movement!"
With tens of thousands of people participating by either uploading a video or writing support for Sanders (or both), the hashtag quickly rose to become the number one trending topic in America later in the afternoon.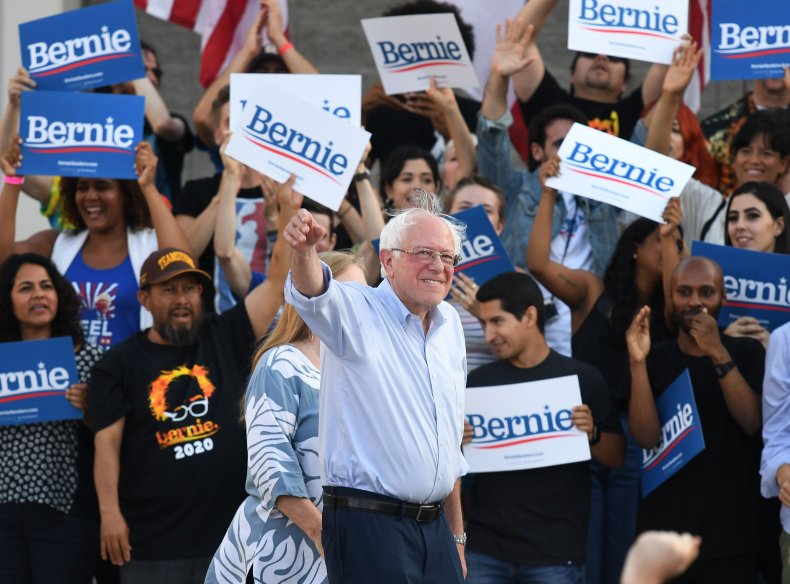 Sanders' campaign manager Faiz Shakir on Monday thanked supporters for making the social media campaign go viral in a tweet, before detailing his own Sanders story.
"I have this wonderful privilege and honor of traveling with Bernie Sanders often and I see how hard he works, he goes all over the country within the span of five days," Shakir said. "It occurs to me the reason why he keeps pushing is because he gives a damn. He's doing it for all of us, he's doing it for all of our values. He believes so strongly that we have massive injustices in society that we have to deal with head on."
The Democratic political adviser goes on to share his three core reasons for supporting Sanders. "Number one he's got a track record of consistency. Many of the issues that are biggest in our societies, he's been fighting for his entire life and that track record matters," Shakir explained. "Number two think about who he fights against in society... He is taking on corporate greed in our society and he won't finch when he's in the Oval Office."
"Number three is how he fights, how he build movements, movements have been very successful," he concluded.
Meanwhile, other supporters pointed to Sanders' policies while some praised his voting record.
"#MyBernieStory is pretty simple. I'm Gay. I'm a Type 1 Diabetic. I'm Poor. Bernie has been fighting for my rights since before I was even born. That's why I'm with him," Twitter user @adammanross wrote.
"#MyBernieStory I was on the train in Brooklyn at 5:30am in the morning and it was PACKED. Every car. Every seat was taken. Just everyday people going to work. And I asked myself which presidential candidate cares most about the people on this train? Easy. @BernieSanders," writer and civil rights activist Shaun King tweeted.
"When I graduated in 2011, I owed $137,000 in student loans. Today I have $175,000 even as I continue making monthly payments. I will never own a home, start a family, or live debt-free. @BernieSanders is the only person running who will cancel ALL student debt. #MyBernieStory," writer David Ian Robin tweeted.
"I support Bernie because he understands that healthcare is a human right and will fight so that every person has guaranteed healthcare," Twitter user @kayla_sloan wrote.
"Bernie lives and breathes solidarity. When someone hurts, he hurts. He's confronted bigotry, racism, and xenophobia his entire life. And this is why I am supporting @BernieSanders for President. This is #MyBernieStory," Twitter user @lodgepolepines wrote, alongside a video.
"I support @BernieSanders because he has been fighting for marginalized and oppressed communities for decades," Twitter user @j_52501 wrote, alongside a video.
"I support Bernie Sanders because in 2015 for the first time in my life I felt a candidate cared more about the people than the corporations. #MyBernieStory," Twitter user @rxVICTOR8 tweeted.
"I was in Afghanistan, spring of 2015, feeling hopeless for many reasons. Then a grumpy old guy from Vermont gave me hope that together we could change course, save the USA, & [the world]. After that deployment I was knocking on doors in Iowa & driving people to caucus. #MyBernieStory," Twitter user @SnoozeWalk wrote.
"#MyBernieStory is I am $70,000 in student debt. Without complete forgiveness they'll be "forgiven" in 20 years, and I will be taxed on the entire amount. It will be considered income. #CancelStudentDebt," Twitter user @DoxsieKatrina wrote.
Here are some more video stories below: