#MyNameIs Meme an Inadvertent Gift From GOP Senator to Biden/Harris Campaign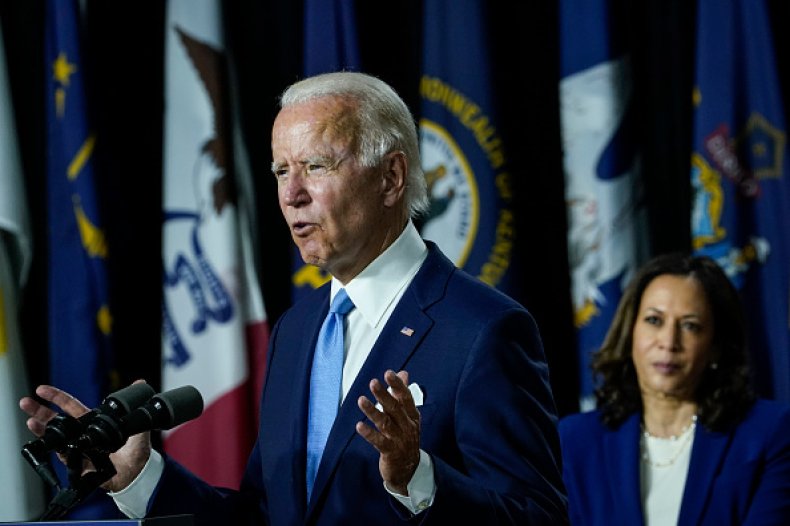 A Republican senator from Georgia openly mocked the name of Democratic vice presidential candidate Kamala Harris over the weekend, and it has come back to favor Democratic presidential candidate Joe Biden, Harris and other Democrats running for office.
Celebrities and many Democrats have posted their own versions of #MyNameIs, and it became a viral thread this weekend.
First, here's what happened in Georgia to spark this movement. GOP Sen. David Perdue at a recent rally in his state mocked Harris' first name. The mockery happened Friday in Macon, Georgia, during President Donald Trump's rally in the state to charge voters to go and vote red—for both him and Perdue.
Here's what Perdue said: "Kamala? Kamala? Kamala-mala-mala? I don't know. Whatever."
Perdue's Democratic opponent, Jon Ossoff, posted the video of Perdue doing this.
"My opponent, GOP Sen. David Perdue of anti-Semitic attack ad infamy, just mocked Sen. Harris' name as 'Kamala-mala-mala-whatever' at a Trump rally," Ossoff tweeted. "We are so much better than this."
This came the same day Ossoff also tweeted that he was leading Perdue in recent polls.
The Atlanta Journal-Constitution reported that Perdue's mockery led to an additional $2 million in fundraising for Ossoff.
However, the tweet set off a firestorm of retweets from folks of all backgrounds, particularly stating what their name means.
Daniel Dae Kim, who has more than a quarter of a million followers on Twitter, said his name means "respect," and that he intends to vote for Joe Biden for president now."
Actress Lea Thompson (of "Back to the Future" fame) said her name is spelled Hawaiian because her father was stationed at Pearl Harbor.
Former Olympic ice skater Michelle Kwan chimed in, saying "Michelle Wing Kwan & in Chinese pinyin it's pronounced Guan Ying Shan. It means beautiful, strong and smart. What's not beautiful, strong or smart is mocking ppl for their 'foreign sounding' names."
Meena Harris said she was named after just a Hindu goddess, and a "long line of strong women" in her family. Then there was Gautum Raghaven, who said his great grandmother's name was "Kamala."
Kamala Harris, who is a California senator, is the daughter of Shyamala Gopalan and Donald Harris. Her father is Jamaican and her mother is from India.
In 2010, Kamala Harris became the first female, and first Indian-American-Jamaican, attorney general in California. She won reelection in 2014, and won election into the U.S. Senate in 2016.
Ossoff said he has raised roughly $1.8 million by Sunday night because of the comments from Perdue.