MyPillow CEO Accuses Fox News of Suppressing Evidence of Election Fraud
MyPillow CEO Mike Lindell criticized Fox News on Tuesday, accusing them of suppressing evidence of election fraud, after the news network cut away from President Donald Trump speaking in Georgia to conduct an interview.
"Fox News does it again! We expect this from CNN and others...! Wonder why Fox keeps suppressing the evidence and election fraud!" Lindell, an ally of Trump, wrote in a tweet, responding to Jenn Pellegrino of One America News, who pointed out the network cutting away from Trump.
Lindell's comments were referring to a point during Fox News' Hannity on Monday night, where Trump was shown speaking to supporters in Dalton, Georgia, in an effort to help Republican incumbents Kelly Loeffler and David Perdue, one day prior to the Senate runoffs.
Prior to the network cutting away, Trump was speaking about the 2020 election and criticizing the results.
"You know I was leading in Pennsylvania by hundreds of thousands of votes, all of a sudden I was tied, I said 'what happened?'," Trump said during the rally just moments before Sean Hannity cut away from the president to speak with former House Speaker Newt Gingrich.
While the network was criticized by Lindell, as the show cut away from the president, Hannity said that he stood by Senators Ted Cruz and Josh Hawley for previously announcing that they would object to Congress' certification process for the 2020 election.
Newsweek reached out to Fox News for comment but did not receive a response in time for publication.
This is not the first time Lindell has been critical of Fox News and has made claims of widespread voter fraud following the results of the 2020 presidential election.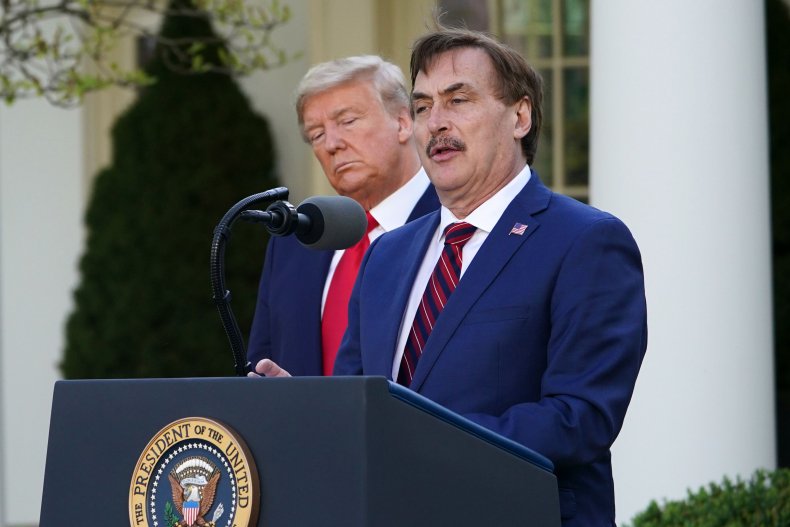 Fox News was the first news outlet to call Arizona for President-elect Joe Biden, which sparked criticism from many, including Lindell.
During a Stop the Steal rally in Washington D.C. on December 12, Lindell accused Fox News of working with Democrats to steal the election from Trump.
"They were going for everything. They were going to take everything we had," Lindell said during the rally. "Why do you think Fox declared Arizona with only 14 percent of the vote in? They already knew what they did! They were in on it!"
He added, "I'm serious, they had to be on it! They should all go to prison when they are found out."
A week prior to his comments at the D.C. rally, he appeared on Fox News and declared that Trump will be the president of the U.S. for "the next four years."
"I want the word to get out that Donald Trump will be our president for the next four years," Lindell said during an interview with the network.
Newsweek reached out to Lindell for comment but did not receive a response in time for publication.