MyPillow CEO Intended $50K Donation Be Used to 'Fund Election Fraud Litigation' Rather Than Kyle Rittenhouse's Bail
Mike Lindell, best known as the founder and CEO of Minnesota-based pillow manufacturer MyPillow, was last week apparently among a handful of public figures who supported fundraising efforts that led to Kyle Rittenhouse's release from custody last week.
However, the businessman released a subsequent statement saying the $50,000 donation he gave to Rittenhouse's cause was not meant for the 17-year-old Kenosha shooting suspect's bail fund. Instead, Lindell said, he intended to assist the organization sponsoring Rittenhouse's defense fundraiser in its unrelated pursuits, such as "election fraud litigation." Lindell is a supporter of Donald Trump and appeared at one of his re-election campaign rallies earlier this year.
Lindell's public relations representative, Michelle Lawless, reportedly issued the CEO's statement on Monday.
"I was hunting this weekend and came back to headlines about a recent donation. I want to clarify. I made a $50,000 donation to the general fund of The Fight Back Foundation Inc. to help fund election fraud litigation, among other things," his recent statement read, according to the Minnesota Reformer, a nonprofit news organization.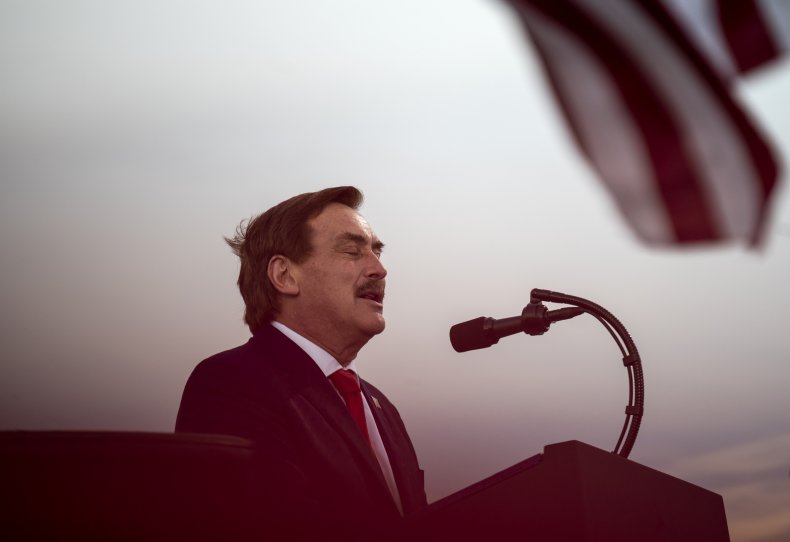 Lawless reportedly confirmed that Lindell did not aim to partially finance Rittenhouse's bail, but noted that he does not plan to rescind the donation regardless, according to the Minnesota Reformer. Newsweek reached out to Lawless but did not receive a reply in time for publication.
The Fight Back Foundation is a fundraising initiative created by Lin Wood and John Pierce, two attorneys representing Rittenhouse's defense, in late August. Donations collected through the foundation contributed to the teenager's $2 million bond, which he posted on Friday prior to his release from county jail. In addition to accepting donations expressly allocated to Rittenhouse's legal defense, the Fight Back Foundation also asks donors to give support to its general fund.
The foundation's website does not provide more detailed information about its general fund, or how it uses donations offered to that branch of fundraising. Wood, a vocal Twitter user and Trump advocate, often reiterates the sitting president's unsubstantiated claims about election fraud in posts to the social media platform. Some recent tweets encourage Wood's followers to "#FightBack" in favor of causes for which he advocates, or against those he does not.
Many of Wood's tweets focus on Rittenhouse, who currently faces charges for intentional homicide, reckless homicide and attempted intentional homicide, among others, in Wisconsin. The Illinois teenager, whose attorneys claim he acted in self-defense, fatally shot two protesters, Joseph Rosenbaum and Anthony Huber, and seriously injured a third, Gaige Grosskreutz, during demonstrations that erupted in Kenosha following Jacob Blake's police-involved death. Rittenhouse awaits an upcoming trial in Wisconsin.
Wood thanked those who contributed to the Fight Back Foundation's bail fund for Rittenhouse after his release from custody, recognizing actor Ricky Schroder and Lindell "for putting us over the top."
Newsweek reached out to the Fight Back Foundation for comment but did not receive a reply in time for publication.