MyPillow CEO Mike Lindell Announces He's Launching 'MyStore,' a Patriotic Rival to Amazon
MyPillow CEO Mike Lindell on Monday announced that he's launching "MyStore," an online marketplace for entrepreneurs that will rival Amazon, the largest global internet-based store.
Speaking on Steve Bannon's War Room: Pandemic, Lindell said, "I'm looking at another thing we're going to be launching, which is MyStore, which is a rival to Amazon."
Currently, a version of MyStore is on the MyPillow website, featuring a range of patriotic and miscellaneous products, including "Freedom Flags," "Freedom Coffee," "USA Flag Pole," and conservative books about former President Donald Trump.
Lindell boasted that his online store will include a range of products from "entrepreneurs and investors" in a video shared on the site.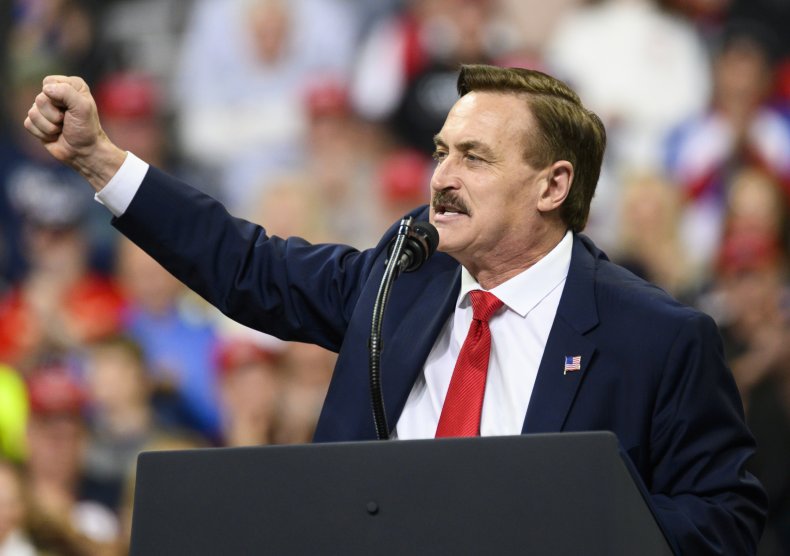 "For years entrepreneurs and inventors have come to me with products and ideas. They don't know how to market them and I haven't had the time to show them. And now today, I am proud to announce this platform called MyStore.com," he said in the clip. "I am going to put vetted products from great entrepreneurs on here, like you see a sampling of them here today, that are going to change this country."
He added: "We're finally going to be able to see these products and be able to get these great entrepreneurs, their great ideas, out to you, the public."
The section of MyStore on the MyPillow website appears to have been added over two years ago. In October 2019, Lindell promoted the platform at the Made In America 2019 event.
It is unclear how the new version of MyStore will differ from the existing. Newsweek reached out to MyPillow representatives for further information about the development of MyStore.
After being banned from Twitter for promoting inaccurate election theories, Lindell announced in early March that he will be launching a new social media platform called Frank, which he claims to have been working on for several years. The site is scheduled to launch April 20 after delays.
On Saturday, Lindell sent out an email promoting his upcoming conspiracy theory documentary, Absolute Interference, which will also be released April 20. Since Trump lost the White House to Joe Biden last year, Lindell has repeatedly promoted baseless claims that the 2020 election was stolen by the Democrats.
"Mike Lindell presents Absolute Interference," the promotional email for the new video said. "The sequel to Absolute Proof with new evidence foreign & domestic enemies used computers to hack the 2020 election." Absolute Proof was released this February.