Myrtle Beach Thong Policing Is Just the Most Recent Time a Woman Was Detained For Her Swimwear
Citing local ordinances against appearing nude on public beaches, police in Myrtle Beach, South Carolina handcuffed and detained aerial acrobat Sam Panda in response to her thong bikini. But while the specifics are always shifting, Panda's arrest is just the latest in a long history of social control enacted at the waterfront.
A video posted to Facebook by the aerialist on Sunday captures more than twenty minutes of the police encounter, in which officers handcuff and detain Panda before citing a local ordinance making it "unlawful for any person to appear in the nude on any public beach."
In accompanying posts to Facebook, Panda attributed the arrest to "some Karen," who she describes as having called the police because she "decided that my body was offensive to her."
While Panda's companion taped, the two officers awaited backup from a supervisor and debated the parameters of the public nudity ordinance, further citing her argumentative behavior as sufficient reason for continuing to hold her in handcuffs.
"You literally detained me for being in a thong?" Panda can be heard asking in the video.
"Yes, because of the way you're acting," a Myrtle Beach police officer who identified himself as Kyle Dick said.
Local regulations listed on the City of Myrtle Beach website disallow thong "style" bathing suits, but the specific public nudity statute cited by police in the video doesn't mention thongs, instead establishing a threshold of "a state of dress or undress so as to expose to the view of others specified anatomical areas." Those specific anatomical areas are "human male or female genitals, pubic area, pubic hair, buttocks, anus, vulva, or any portion of the female breast at or below the areola thereof."
But while a thong bikini could reasonably be seen as exposing buttocks, any survey of South Carolina beachgoers would find many buttocks more, including in locally sanctioned events like the Sun Fun Festival bikini contest, cancelled this year in response to the coronavirus pandemic.
In her Facebook posts, the veteran aeralist, who previously drew international headlines after breaking her neck in a 13-foot fall captured on video in 2017, called out the woman who first made the call to police.
"You have allowed a 105 pound woman to get rushed, aggressively grabbed, manhandled, and cuffed. You allowed two women to be slut shamed publicly on a beach for their bathing suits," Panda wrote. "And worst of all, you showed your daughter that her body is something she should be ashamed of and could be detained for. You showed her that a man can harm a woman over the way her body is viewed by other people."
But while the detention may have been prompted by a call to police, the capricious enforcement enabled by the conflict between letter of the law and prevailing swimwear fashion has a long history. Most of that history corresponds to the social expectations made of women, and the mandate legal authorities feel they have to impose them.
People primarily swam nude for millennia, but the rise of recreational swimming toward the end of the 18th century brought with it opportunities for enforcing fashion norms, which overwhelmingly manifested in the policing of women.
In Splash! 10,000 Years of Swimming Howard Means describes how swimming was more restrictive and limiting for women from the outset of modernity, with strictures that went beyond swimwear. Citing a 1776 travel guide, Means outlines how early beach resort town's like the U.K.'s Margate introduced measures like the "bathing machine": a private booth carted into the water by horses so that swimmers—primarily women—could wade privately into the water from behind an "umbrella of canvas," in keeping with "the British delicacy."
Bathing suits soon followed, with turn of the century apparel typically made of flannel and other heavy materials that didn't risk translucence. Bathing suits became more fully incorporated into larger fashion trends in the Victorian era, with swimwear equivalents to jackets, petticoats, bonnets and gloves created, then weighed down with lead sewn into the hem to keep them from bunching at the surface.
But as beachgoing grew in popularity and resorts phased out the enforced separation of men and women bathers, women began to challenge the prevailing conception of modesty, leading to aggressive law enforcement responses by the beginning of the 20th century.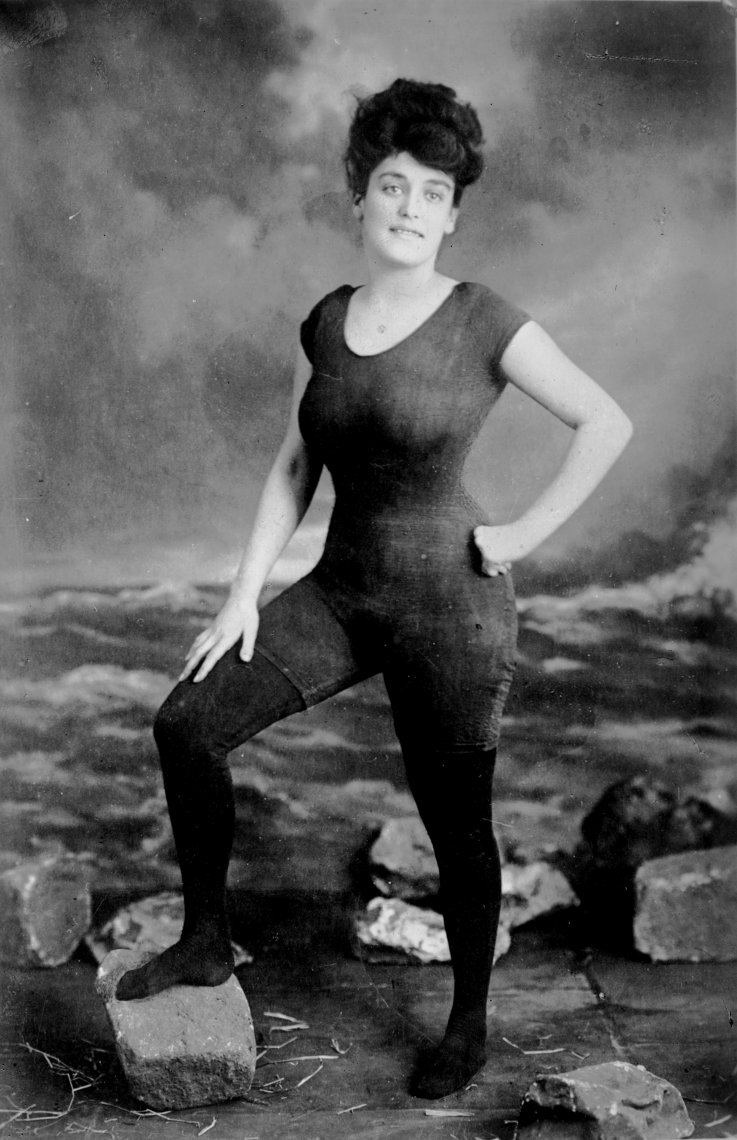 Annette Kellermann in a one-piece swimsuit designed for competitive swimming.
George Grantham Bain collection, Library of Congress / Public Domain
The turn was most embodied in Australian swimmer and silent film star Annette Kellermann, widely credited with popularizing the one-piece swimsuit. In 1907, after several attempts to swim the English Channel, Kellermann came to the United States and presented a touring "water ballet." She was arrested by police during an appearance on Revere Beach in Massachusetts and became a flashpoint for debate. Kellermann called for the more widespread toleration of one-piece tights or women's versions of the two-piece suits worn by men.
"The bathing girl of our popular beaches only a few seasons ago wore shoes, stockings and bloomers, skirts, corsets and a dinky little cap; all she needed was a pair of rubbers and an umbrella and she could have gone anywhere in any weather," Kellermann wrote in her 1918 book How to Swim. "Not only in matters of swimming but in all forms of activity woman's natural development is seriously restricted and impaired by social customs and costumes and all sorts of proprudish and Puritanical ideas. The girl child long before she is conscious of her sex, is continually reminded that she is a girl and therefore must forego many childhood activities."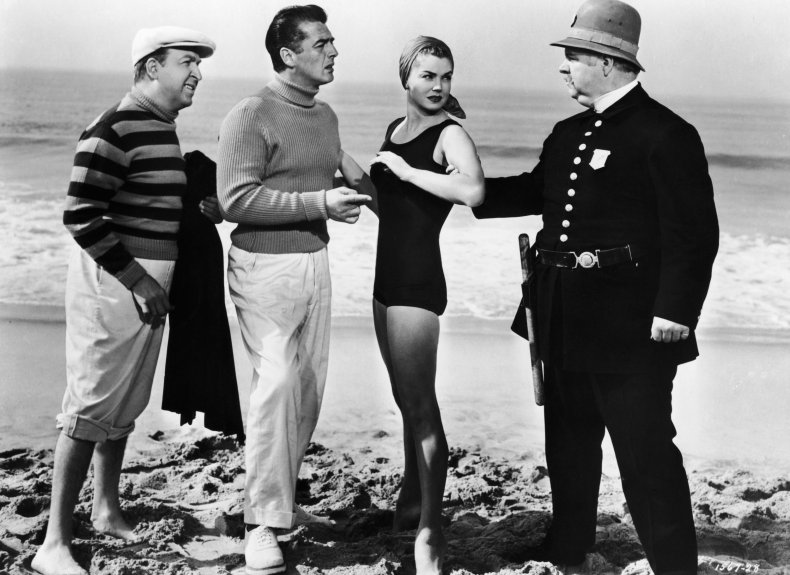 Subsequently, women's swimwear became a culture war issue, leading to rapidly shifting fashion and vicious reprisals. Swimwear monitoring "Sheriffettes" were deployed to New York City beaches. Police measuring hemlines (which were most often illegal if more than six inches above the knee) became a common sight on major city beaches, with mass arrests conducted before newspaper cameras.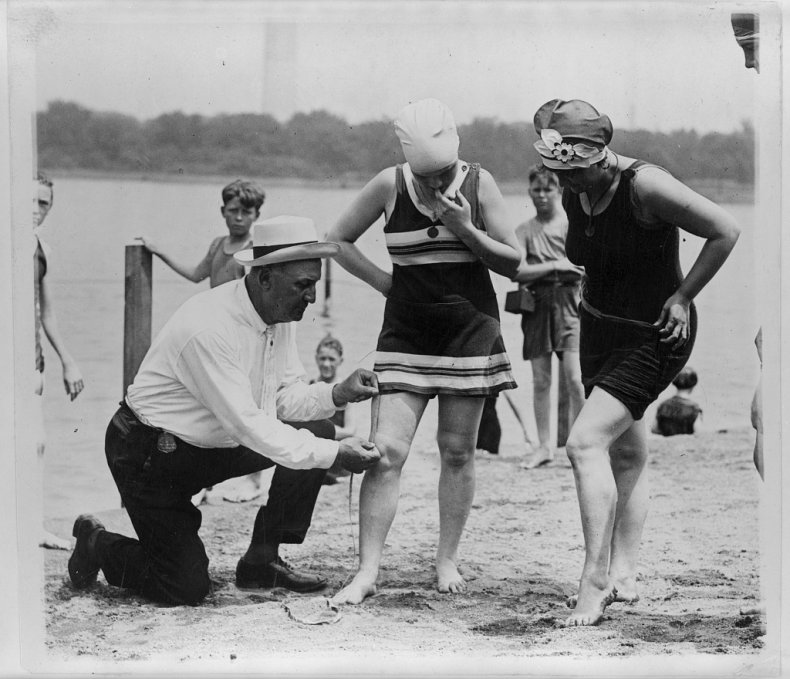 A 1915 article in the Santa Monica Bay Outlook urged stronger enforcement of an ordinance that didn't just target attire deemed inappropriate, but also bathers who strayed more than 20 feet from the high tide line in their swimwear, potentially endangering the eyes of "eastern visitors" "unaccustomed to seeing people on the streets clad only in bathing suits or lounging about on the beach with such freedom as now prevails."
On the East coast, a July 1919 issue of The Sun recorded nine women arrested at Brighton Beach in Brooklyn for "wearing bathing apparel that left little room for shrinkage."
"The nine young bathing beauties had no intention of being arrested when they set out from Manhattan yesterday morning to shimmy in the rollers of Brighton Beach in attire that was no hindrance to the shimmy muscles," the article describes.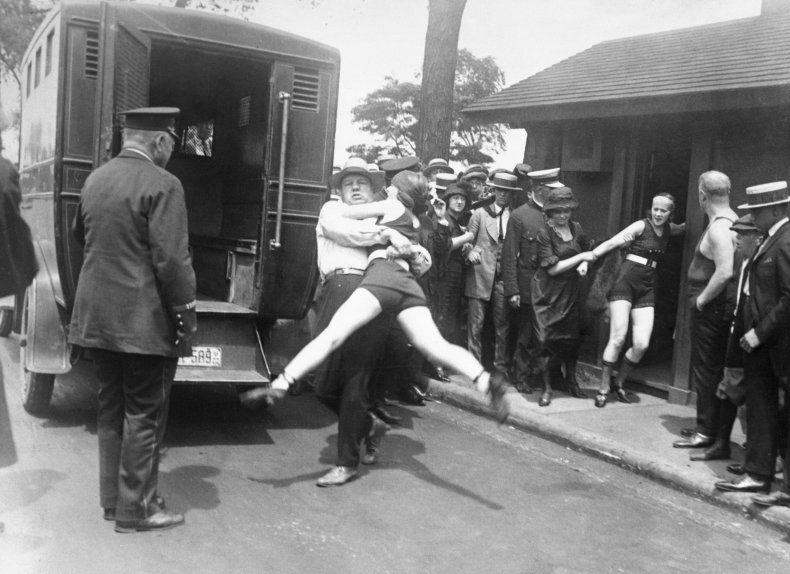 By the 1930s, the national furor over bathing suits largely died down, only to come roaring back decades later, when the recently invented bikini made appearances at the 1951 Miss World beauty pageant and at the Cannes Film Festival in 1953, this time worn by actor Brigitte Bardot.
As Panda's beach detainment suggests, law enforcement targeting women in swimwear hasn't gone away since. In 2013, Myrtle Beach arrested four women for wearing thong bikinis, subsequently charging one with indecent exposure.
But the policing of women under the auspices of subjective legal standards also takes on racialized dimensions via the selective application of enforcement.
In 2016, French police confronted a Muslim woman on a beach in Nice for wearing a headscarf, citing a local anti-"burkini" ordinance. The bans, which were passed in 15 French beachside cities, treated covering up as provocative. The targeting of Muslims motivating the ban was made clear in one ordinance, which made illegal clothing that "overtly manifests adherence to a religion," while specifically citing the 2016 Nice truck attack, which killed 86 people celebrating Bastille Day on the city's beachside promenade. The bans were subsequently overturned by a French court.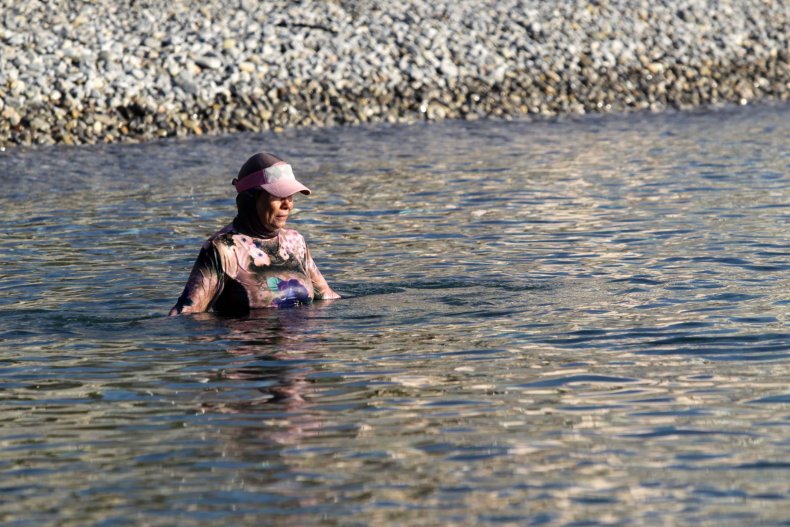 The evolution of laws and enforcement targeting women's swimwear suggests that the future will bring new ways for authorities to enforce a contingent social order. Whether the justification is religious strictures, anti-religious strictures or just old-fashioned prudery, the beach's status as a public good ensures its position as an ongoing site of conflict between women's self-presentation and the sense of social propriety loosely formed between law and custom.