Is This the MySpace of Fine Art?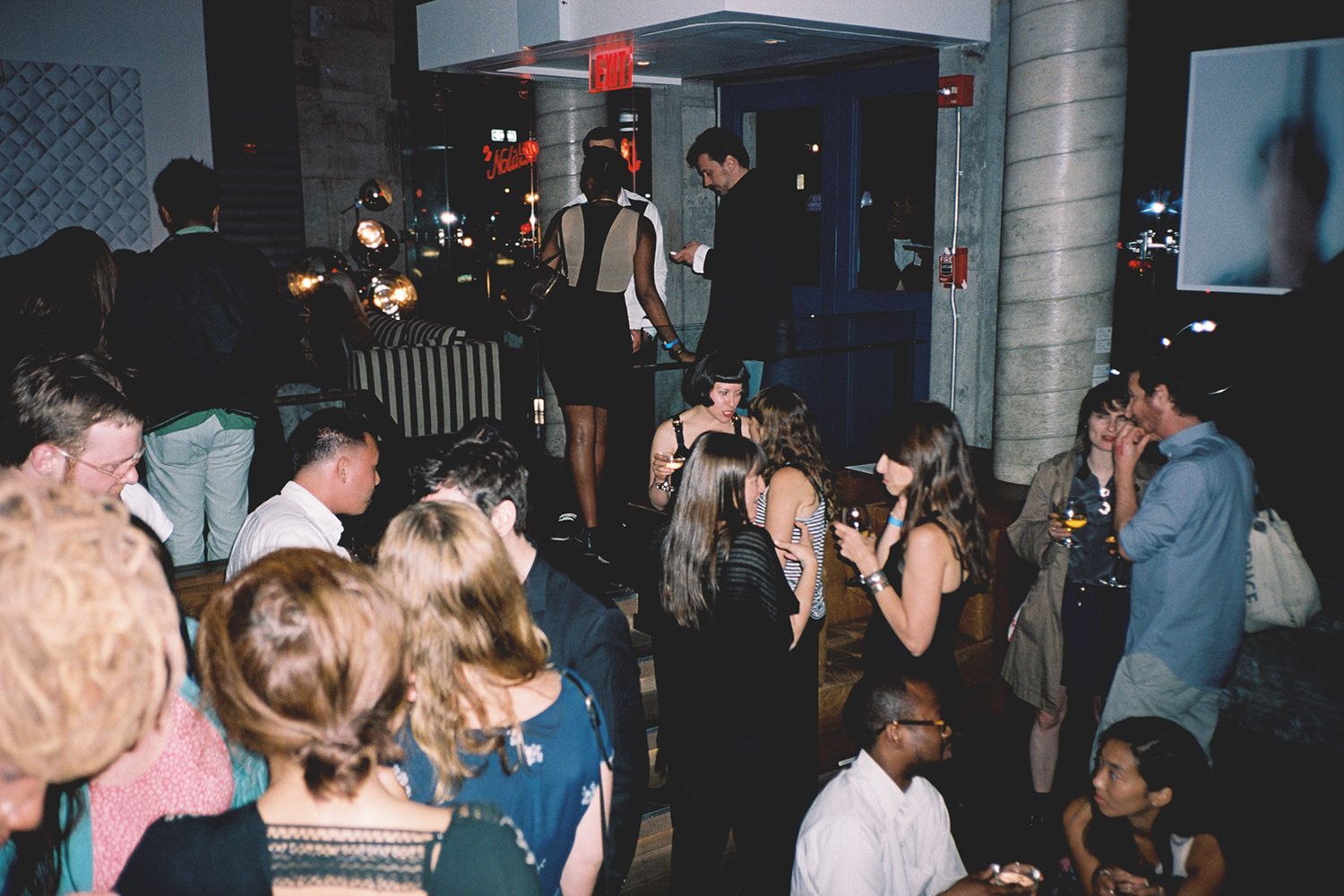 A pert blonde in a little black dress walks up to a 6-foot-tall mirrored box. She presses a flat, white switch. A light flashes within the rectangular prism and the one-way glass turns transparent upon illumination, revealing a man with a grey suit and slight scowl. He quickly swats at a flat, white switch inside his enclosure. The light goes out, and the man is obscured by the reflective panel once more. The woman giggles and flips the switch, repeating the process again and again as the man unsuccessfully tries to thwart her.
"I can't quite figure out if I like it or not, but it's really intriguing," the woman, Kim Ruszczyk, says of this performance artwork. "It's like being in high school and told not to pull the fire alarm."
A couple then approaches the box. "Press the button," the man says to his companion. She obliges. The stranger appears in the box, and the woman shrieks. "Oh shit, you asshole," the woman then shouts at her date, slapping his shoulder playfully.
Ruszczyk eyes their terrified reaction with a smile, observing: "Other people have very different feelings."
The boxed man, Oliver Warden, performs this "Untitled Box 2.0" on a recent Thursday at the Nolitan Hotel, to celebrate an art show opening there. The show, "Curated by Nolita," spans eight floors and is comprised of 32 artworks. While such a whimsical performance might be expected as part of a kick-off for an art show in the Nolitan – the hotel is located in Manhattan's Nolita (North of Little Italy), home of the sartorially hip– the exhibition, which runs through August, reflects a sharp departure from the traditional gallery-based business model.
"Curated by Nolita," is organized by ART:I:CURATE, a London-based startup that seeks to democratize the art world, according to Nur El Shami, company co-creator, through its website and live events. On the ART:I:CURATE site, collectors and artists create profiles – think Myspace, but for visual artists rather than musicians – and can buy and sell work. ART:I:CURATE members can also give their digital mark of approval with a Facebook-esque "like" button. In addition, ART:I:CURATE organizes exhibitions in non-gallery settings including apartments, warehouses and hotels, such as the Nolitan.
The art is not selected by a gallerist. Instead, ART:I:CURATE invites artists to exhibit based upon the interest they generate on the website. Interest is measured by the number of "likes," as well as how many inquiries ART:I:CURATE receives about an artist's work. Exhibitions might emphasize the community in which they're based as well. The "Curated by Nolita" artworks, for example, are selected by ART:I:CURATE users who live and work in the neighborhood. These curators have also been photographed and interviewed for the ART:I:CURATE blog.
So far some 10,000 people have signed up for ART:I:CURATE since it launched last June. While anyone can create a profile, artists must submit a portfolio and be approved before displaying their wares. Right now, there are 120 artists participating in ART:I:CURATE, from 38 different countries. By eschewing the top-down gallery format, El Shami says, ART:I:CURATE helps emerging artists break into the marketplace and interest collectors turned off by the art world's exclusivity.
"We want to get away from the typical, white cube gallery," El Shami tells Newsweek. "It doesn't really enable you to experience art." El Shami sums up the hypothesis behind ART:I:CURATE: "What happens if you mix Change.org with Wikipedia, and apply that to the art world?"
At first, the "Curated by Nolita" launch does not appear to support El Shami's idea. The dozens of Downtown cool kids at the Nolitan that night, dressed to the normcore nines, could make one feel out of place anywhere, let alone a venue where one would want to enjoy art. But the atmosphere is friendly, even welcoming: The patrons' conversations were unpretentious and artists are happy to talk about their work, not exasperated as they often are at these events.
Yan Gi Cheng, who is showing mixed media works featuring geometric shapes painted atop old encyclopedia pages in "Curated by Nolita," says that ART:I:CURATE provided an uncommon sense of community.
"I like the inclusiveness of it. It's not a bureaucratic process," says Cheng, who originally studied fashion design. "The platform allows people who are not traditionally affiliated with curating art the opportunity to curate art. Normally, one person decides which artists get shown in exhibitions."
Shay Lam, who selected Cheng's work, voices similar sentiments.
"I hate going to galleries because I hate people telling me what's really art," he says. ART:I:CURATE is different, he explains, because "it's not some guy with a really, really complicated degree" dictating what he should buy.
The inclusiveness seems to extend into the relationship between artist and curator: upon meeting Cheng and Lam quickly go from pleasantries to chatting more freely. As it turns out, they have a lot in common: Both are graduates of Central St. Martins, the famed arts college in London and have some shared acquaintances – as well as a mutual frustration with fabric patterns.
There is some over-thinking about art at the opening party, though. Two bespectacled men deeply contemplate a photograph of a naked woman sitting on a stone, who is positioned her back to the camera. They comment in earnest: "I wish it had a higher contrast" and "The starkness is working."
But the laid-back atmosphere emboldens others to make less technical commentary without fear of reprisal, such as the woman who freely says of the same portrait: "I like her ass on the rock."