Mysteries Persist Despite Shahzad's Times Square Guilty Plea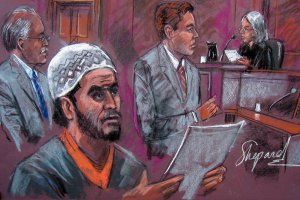 Although he spent more than half an hour laying out his story before a federal court in New York on Monday as he said he was pleading guilty to 10 charges relating to his failed May 1 attempt to set off a car bomb in Times Square, Faisal Shahzad left some important questions unanswered. Exactly how did he hook up with the acknowledged sponsors of the attack, the Pakistani Taliban, formally known as the Tehrik-e-Taliban (TTP)? Who imbued him with such a burning hatred of America that he set out to seek terrorist training only weeks after being sworn in as a U.S. citizen? And how is it, if he was trained by one of the world's most deadly terrorist groups, that he built a bomb according to most experts was so poorly designed and assembled that it would never have gone off under any circumstances?
According to an official transcript of Monday's plea hearing, Shahzad offered only fragmentary clues on these issues. He said, for example, that he decided to go to his native Pakistan for possible terrorist training in early 2009, not long after gaining U.S. citizenship—and thus an American passport: "I left U.S. for good and I went to Pakistan to stay there for a while, and was trying to figure out a way to get to the Taliban." If, as some people have suggested, he had been a "sleeper agent" planted long ago by the TTP, he would presumably have known how to find them. His words suggest further that he was radicalized while studying, working, and living in the United States, but his court statements did not elaborate on the process that led him to join the jihad. U.S. prosecutors and investigators have not released any detailed account of how he turned against his adopted country. But a senior U.S. law enforcement official, asking for anonymity when discussing sensitive information, says authorities are still examining whether Shahzad might have been radicalized by a Pakistani roommate he had in Connecticut at the University of Bridgeport, where Shahzad earned both a B.A. and M.B.A. The roommate is believed to have returned to Pakistan some time ago, the official says, leaving the question open whether investigators have been able to locate him, let alone question him.
(Shahzad's statement that he had to "figure out a way to get to the Taliban" also implies that it wasn't too easy for him to hook up with the TTP. As the case of five Northern Virginia men currently detained in Pakistan demonstrates, militants in Pakistan can be suspicious of people with American backgrounds who show up at their doorstep volunteering to become Islamic holy warriors. In the case of the Northern Virginia five, a Pakistani police report alleged that the men were rejected by militants at two radical madrassas where they showed up seeking to join the jihad.)
Shahzad told the court that when he finally connected with the TTP in Pakistan's tribal badlands, he got what he thought was an extensive course in bombmaking. "I was given a bomb training … how to detonate a bomb, how to put a fuse, how many different types of bombs you can make." But the lessons didn't take long. "My training was five days," he said. When Shahzad returned to America and set out to built his car bomb, he designed it badly and bought components that almost guaranteed that it wouldn't work, according to several U.S. law enforcement and counterterrorism officials. The fireworks he bought to serve as the bomb's initial detonators were relatively harmless firecrackers, a law-enforcement official says, and the fertilizer Shahzad bought to serve as the bomb's main charge was not the explosive kind that was used in the 1995 Oklahoma City bombing.
The incompetence of Shahzad's bombmaking attempt has led some investigators to theorize that the TTP distrusted him too much to let him meet any of the group's notoriously skilled explosives trainers. And yet he testified on Monday that after his return to America, his TTP contacts twice sent him thousands of dollars in cash to help finance his plot, suggesting that they did place confidence in him. After Shahzad's arrest, three Pakistanis living in the United States were seized in connection with those cash transfers, and they are now facing immigration charges, law enforcement officials tell Declassified, although they have not been charged with any actual crimes and likely had no knowledge of Shahzad's terror connections or his alleged plot. Investigators believe the Pakistanis are part of an informal international cash remittance system known as "hawala."
Officials say Shahzad has been talking to U.S. investigators ever since he was pulled off a flight that was about to leave New York for Dubai, two days after the failed attack. Nevertheless, both Shahzad and government officials have indicated that his guilty plea was not part of any plea bargain. At his sentencing, scheduled for this fall, officials say he's likely to receive the maximum, which would be multiple terms of life in prison. Counterterrorism officials say investigators are continuing to pursue other leads, particularly relating to his contacts in Pakistan. After Shahzad's arrest in New York, authorities in Pakistan picked up several alleged associates. But U.S. officials say they're not sure what has become of those detainees. Shahzad said that while he had no confederates in his own failed plot, he did not know whether his Pakistani Taliban friends "have any contacts here or if there was anybody else who was American and who was going to do what I wanted to do."