Mysterious 1,000-Year-Old 'Jars of the Dead' Discovered in Remote Forest by Archaeologists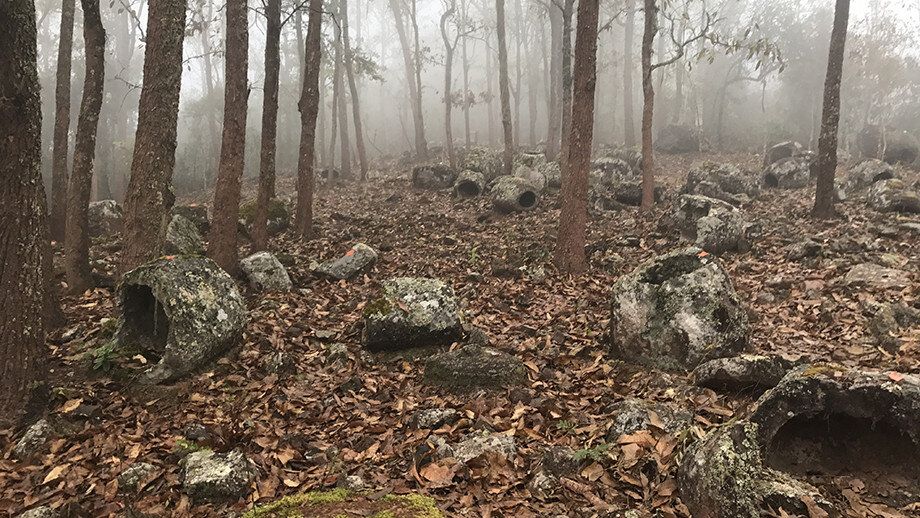 Researchers have uncovered 15 sites in the Southeast Asian country of Laos containing more than a hundred huge stone jars from around 1,000 years ago. The jars are thought to have once been used to store the dead.
Thousands of similar jars have been found throughout the valleys and foothills of the central Xiangkhoang Plateau, but their origins and purpose have long-puzzled archaeologists. One theory proposes that dead bodies were placed inside as part of a complex set of burial practices.
The latest find indicates that the jars were spread out over a wider area than previously thought, according to a team of archaeologists from the Australian National University (ANU). In total, they identified 137 individual jars deep in a remote and mountainous forested area with help from Laotian government officials.
"These new sites have really only been visited by the occasional tiger hunter. Now we've rediscovered them, we're hoping to build a clear picture about this culture and how it disposed of its dead," Nicholas Skopal, one of the ANU researchers, said in a statement.
Another member of the ANU team, Dougald O'Reilly, says the wider distribution could mean that the associated burial practices were also more common than experts had assumed.
"It's apparent the jars, some weighing several tons, were carved in quarries, and somehow transported, often several kilometers to their present locations," O'Reilly said. "But why these sites were chosen as the final resting place for the jars is still a mystery. On top of that we've got no evidence of occupation in this region."
Alongside the jars, the archaeologists also found beautifully carved discs, which may have acted as some kind of burial marker. Intriguingly, the side of the discs containing the elaborate carvings were all found facing downward. Among the carvings, the team identified concentric circles, human figures, creatures and pommels.
"Decorative carving is relatively rare at the jar sites and we don't know why some discs have animal imagery and others have geometric designs," O'Reilly said.
Furthermore, the sites were also littered with other artifacts, including ceramics, glass beads, iron tools, jewelry, cloth-making equipment and several miniature jars.
"Curiously we also found many miniature jars, which look just like the giant jars themselves but made of clay, so we'd love to know why these people represented the same jars in which they placed their dead, in miniature to be buried with their dead," O'Reilly said.
"We've seen similar megalithic jars in Assam in India and in Sulawesi in Indonesia so we'd like to investigate possible connections in prehistory between these disparate regions."