Mysterious Ancient Monument Revealed by Drought in Ireland
Imprints of a huge, prehistoric monument that has remained hidden for centuries have been discovered in a farmer's field in Ireland after being revealed by a drought. While the nature of the site is still shrouded in mystery, experts are already hailing the find as "exciting."
Anthony Murphy, an author, photographer and founder of Mythical Ireland—a website dedicated to the ancient myths and monuments of the island—uncovered the outline of a circular enclosure, or "henge", near the renowned UNESCO World Heritage Site of Brú na Bóinne (also known as the Boyne Valley), located around 30 miles north of the capital, Dublin.
He made the find in an area close to a previously known archaeological site—dubbed Site P—after being notified by University College Dublin (UCD) archaeologist Stephen Davis that it may be worth investigating.
The dry spell that Ireland has been experiencing in recent weeks was crucial to the identification of the henge, according to Murphy. He had read intriguing reports in some U.K. media outlets describing how new monuments were being discovered in Britain because of the drought there. So, hoping to find something, Murphy went out with his camera-equipped drone to image the fields near Site P, accompanied by a photographer friend, Ken Williams.
While the pair were flying their drones, a strange, circular shape appeared on Murphy's camera feed, which took them aback.
"We couldn't believe it to be honest," Murphy told Newsweek. "It soon became apparent that were looking at something very very exciting."
The images taken by the drone showed an enclosure made up of two main concentric rings—consisting of what looked like post holes—with a diameter of about 200 meters, which Murphy concluded was a henge-type monument.
Finding a previously unknown henge in this area makes the discovery especially significant, according to Murphy, because not only has the Boyne Valley been extensively studied but these types of monuments are relatively rare.
"I was aware of the possibility that previously unrecorded things might show up, but I didn't think they'd show up in the Boyne Valley because it's been under intense scrutiny for the past few decades by archaeologists," he said.
The monument has likely never been seen before because the archaeological features are buried beneath the surface where crops are growing, according to Murphy.
"Only because of the drought has it become visible," he said.
"What happens in a drought is that whatever residual trace amounts of water are left on the soil lodge themselves to a greater extent in the archaeological features [which have rotted away over time] than the surrounding soil," he said. "Therefore, the crop that is growing out of the archaeological features has a slightly better water supply as a result."
Because of this, the crop directly above the remnants of the ancient structure is slightly greener and healthier looking than the adjacent crop. This contrast produces an "image" of the long-vanished monument, which can be seen from above.
At present, it is unclear how old the henge is, but Murphy said it likely dates from some time between 3,150 B.C. and 2,500 B.C. during the late Neolithic period. The henge's function is even more uncertain.
"Henge monuments are designed to be inclusive, involving some sort of open-air gathering, ceremony or ritual," Murphy said. "What that entails, we can only speculate."
"Was it, like Stonehenge, possibly aligned to some solar event, like a solstice, sunrise or sunset? We don't really know."
Murphy notes that it is unlikely further investigations will take place any time soon at the site because the land belongs to a private working farm. Furthermore, once the current crop is harvested—something that is expected to happen within the next few weeks—the imprint of the ancient monument will disappear forever.
"This thing will be completely invisible again," Murphy said.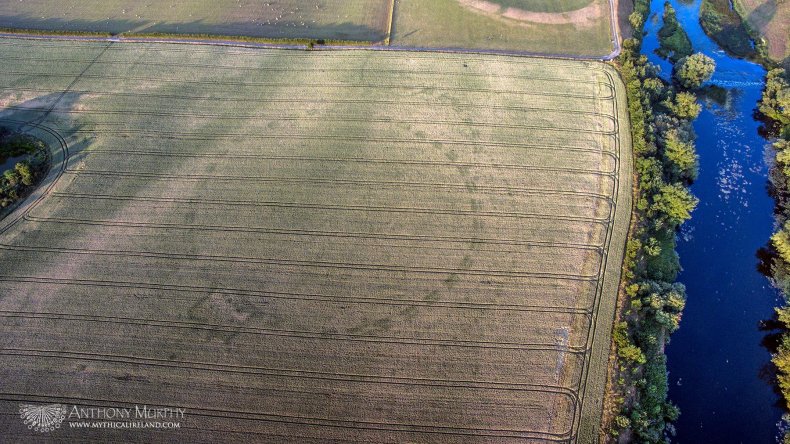 Nevertheless, archaeologists are now examining the drone images, which are detailed enough that they could reveal important insights into the monument.
In a comment provided to Newsweek, Davis, from UCD's School of Archaeology, noted the magnitude of the discovery saying that the site had some "unique features".
"The most extraordinary and unexpected—as well as inexplicable—part of the find is the segmented nature of the ditch," he said. "It appears to be a closely-spaced double ditch but with causeways—sections that were not dug."
"In some early Neolithic enclosures we see that. These are known as 'causewayed enclosures'. But so far as I am aware this is entirely new for a henge-type monument. When I first saw the image, I thought 'causewayed enclosure' but it is far too regular and has other features which are very typically late Neolithic."
Ireland's department of cultural heritage described the finding as a "wonderful discovery" which adds to the "magical Brú na Bóinne archaeological landscape."
The Brú na Bóinne Complex consists of three main prehistoric sites: Newgrange, Knowth and Dowth, which are all situated on the banks of the River Boyne in the northeast of Ireland.
"This is Europe's largest and most important concentration of prehistoric megalithic art," according to UNESCO. "The monuments there had social, economic, religious and funerary functions."