Mysterious 'Anomaly' Causes Vega Rocket Carrying UAE Satellite to Fail Two Minutes Into Launch
The launch of a European Vega rocket from a spaceport in French Guiana on South America's northeast coast failed due to a "major anomaly." It is currently unclear what the cause was, according to officials.
The rocket—jointly developed by the European Space Agency (ESA) and Italian Space Agency—was carrying a United Arab Emirates (UAE) imaging satellite as its payload. The payload has now been lost, Space News reported.
The 30 meter, four-stage rocket lifted off from the Kourou-based spaceport at 9:53 p.m. EDT on July 10. However, around two minutes into the flight, the rocket began deviating from its designated route during the second stage engine burn, before crashing into the Atlantic Ocean.
"Approximately two minutes after the Vega launcher's lift-off from the spaceport in French Guiana, a launcher anomaly occurred shortly after ignition of the Zefiro 23 second stage—leading to the premature end of the mission," read a statement provided to Newsweek by an Arianespace spokesperson. "Data analyses are in progress to clarify the reasons for this failure. An independent inquiry commission will be set up."
During a live online broadcast of the launch, Luce Fabreguettes, Arianespace's Executive Vice President Missions, Operations & Purchasing, said a "major anomaly" had led to the loss of the mission.
"On behalf of Arianespace, I wish to express my deepest apologies to our customers for the loss of their payload," she said.
The Airbus-built Falcon Eye 1 satellite—which weighed about 2,650 pounds—was designed to provide imagery for the UAE Armed Forces, as well as for commercial purposes, from an orbit of about 380 miles above the Earth.
It was the first of two satellites from the UAE set to launch this year. However, it is likely that the launch of the second—dubbed Falcon Eye 2—will be moved as a result of the incident.
The latest launch—which cost around $35 million—was the fifteenth for the Vega rocket since it began operations seven years ago, but the first time one has failed.
The launch system—which began development in 1998—is designed to carry small payloads weighing between around 650 and 5,500 pounds into low-Earth or polar orbit (one in which a satellite pass above both of the planet's poles).
The rocket is named after the brightest star in the constellation Lyra, which is located around 25 light-years from the sun.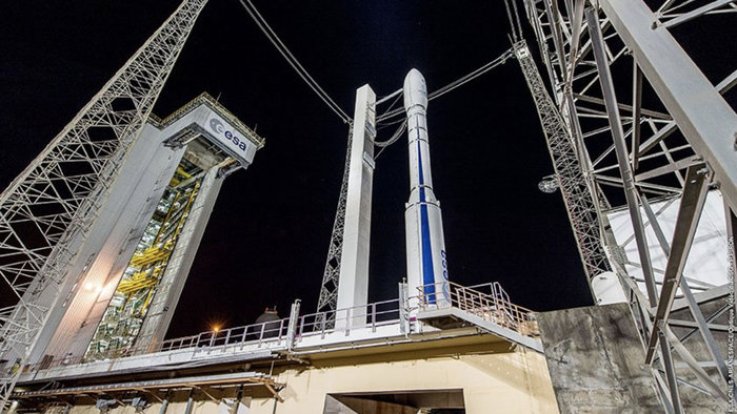 Mysterious 'Anomaly' Causes Vega Rocket Carrying UAE Satellite to Fail Two Minutes Into Launch | Tech & Science