Mysterious Explosions Rock Russia as Fire Breaks Out in Belgorod
Another mysterious fire broke out in Russia's Belgorod province in the early hours of Wednesday, the third in the region since April 1.
According to a post by local Belgorod officials on VK, Russia's equivalent of Facebook, residents woke up to the sound of explosions and alerted authorities about smoke rising from the area of the village of Dubovoye at around 5 a.m. on Wednesday morning.
Rescue units and firefighters were sent to the scene, which local official Vladimir Pertsev reported to be an open area of about 860 square feet, where dry grass was burning.
It is the latest in a series of mysterious fires that have broken out in Russia since the beginning of the invasion of Ukraine, including two in the Belgorod Oblast, a region that's only 20 miles from the Ukrainian border, near Kharkiv.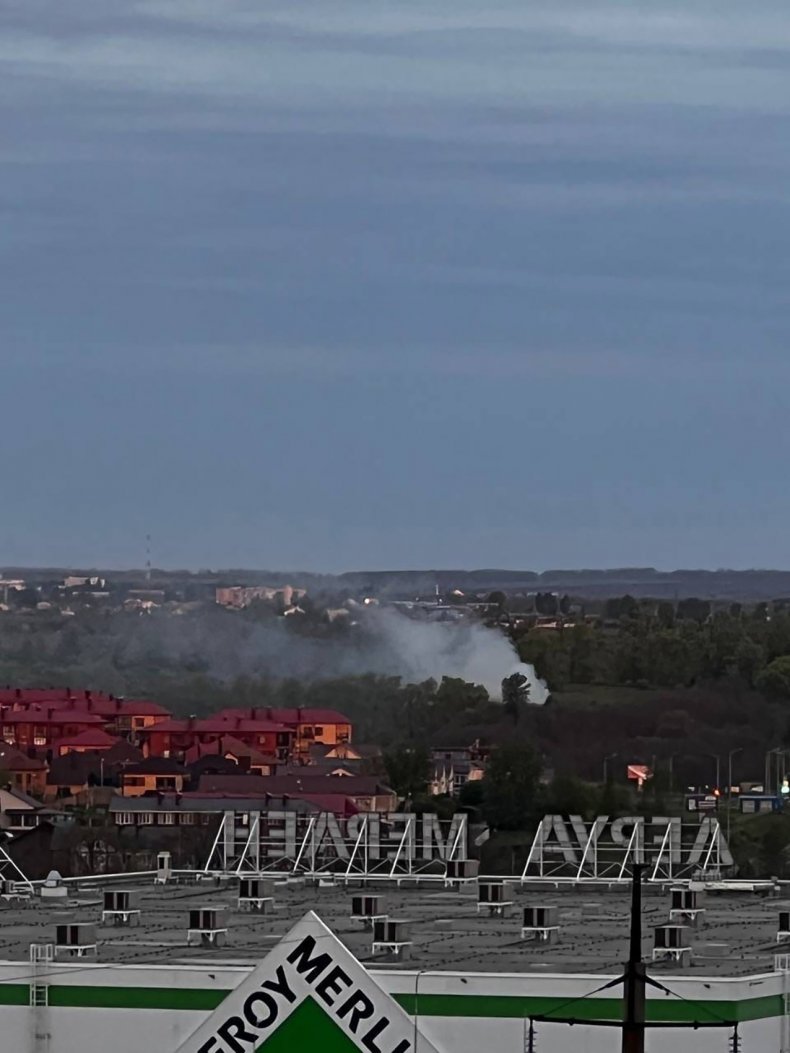 According to Belgorod Oblast authorities, the fire extended to an area about one and a quarter miles from the Russian village of Dubovoye.
Images from the fire show a big plume of thick, gray smoke rising from an open, grassy area surrounded by trees.
The new fire was not mentioned by Belgorod regional governor Vyacheslav Gladkov on his Telegram channel, but Belgorod region officials say the incident was confirmed by the Ministry of Civil Defense, Emergencies and Disaster Relief.
The source of the fire was not identified by authorities, nor the extent of any damage. Newsweek reached out to the Ministry of Civil Defense, Emergencies and Disaster Relief for more information.
A Twitter user based in Russia, Arsen Chichikin, wrote in the early hours of Wednesday that he could hear an explosion from where he was located, in the village of Smorodino, some 9 miles from the city of Belgorod. He said the launch of two air defense missiles followed a couple of minutes after the explosion.
His claims could not be verified by Newsweek and were not confirmed by authorities.
Two other mysterious fires were reported in the region in April. The first blaze broke out on April 1 at an oil depot in Belgorod, as confirmed by local authorities. Two staff members were injured, and residents of the area surrounding the oil depot had to be evacuated.
The cause of the fire was not reported by authorities, although Belgorod's regional governor, Gladkov, blamed the blaze on Ukrainian helicopters. Ukrainian authorities have not responded to the claims.
Another fire in the region was reported on April 27 at an ammunition depot in the village of Staraya Nelidovka. The incident was confirmed by Russian news agency TASS, which said the blaze was promptly extinguished by officials. The source of the fire was not identified.