A mysterious, glowing fireball streaked across the night sky above the remote Australian outback early Monday morning.
Miners working in the Pilbara region spotted the strange object—which illuminated the clouds as it flew past—around 1 a.m. local time, with the glow lasting for so long that many were able to capture the event on their phones.
Experts say that the object was probably not a piece of spacecraft debris falling to Earth, but rather a "fireball," which is a very bright meteor.
Meteors, colloquially known as shooting stars, are the streaks of light that we see in the sky when fragments of space rocks—asteroids or meteoroids—enter the Earth's atmosphere.
"We don't think it's space debris, it just does't seem to be consistent with some of the other footage that we've seen of that debris burning up in the atmosphere. But it does seem to be consistent with that of a fireball," Renae Sayers, from the Space, Science and Technology Centre at Curtin University, Australia, told 7News Melbourne.
Speaking to ABC News, she said: "What we tend to see—when objects like space debris, or if it's a satellite burning up—what we tend to see is sort of like crackles and sparks. This is due to the fact that there is stuff burning up—so you've got solar panels going all over the place, you've got hunks of metal moving around as it's burning up through our atmosphere. [But] this is quite a clean shot—it was quite a strong line, we didn't see too much fragmentation. It's absolutely stunning."
The Pilbara region lies in the state of Western Australia, which covers the western portion of the country. Sightings were also reported as far away as the states of Northern Territory and South Australia, according to Glen Nagle from the Canberra Deep Space Communication Complex.
"It was really a spectacular observation," he told ABC. "People have captured something very special here."
According to Nagle, the intense, greenish color of the fireball suggests that the object is mostly made up of iron.
It is currently not clear what happened to the object, but if it was natural in origin and fell to Earth in the remote Pilbara outback, finding the space rock would be almost impossible because there is significant amounts of iron in the region's rocks.
Fragments of asteroids or meteoroids that survive the passage through the Earth's atmosphere and strike the planet's surface are known as meteorites, around 60,000 of which have been recovered from around the world.
"These are basically rocks that are older than the Earth, and pre-date having planets in the solar system," Ellie Samson, project manager of the Desert Fireball Network that aims to track fireball events in Australia, told ABC. "So we can use those to figure out how our solar system formed, possibly how Earth formed, and maybe even where life came from on Earth."
But Sayers thinks that the videos captured by the miners may show a "grazing fireball" event, where a space rock enters the Earth's atmosphere before shooting back out into space again.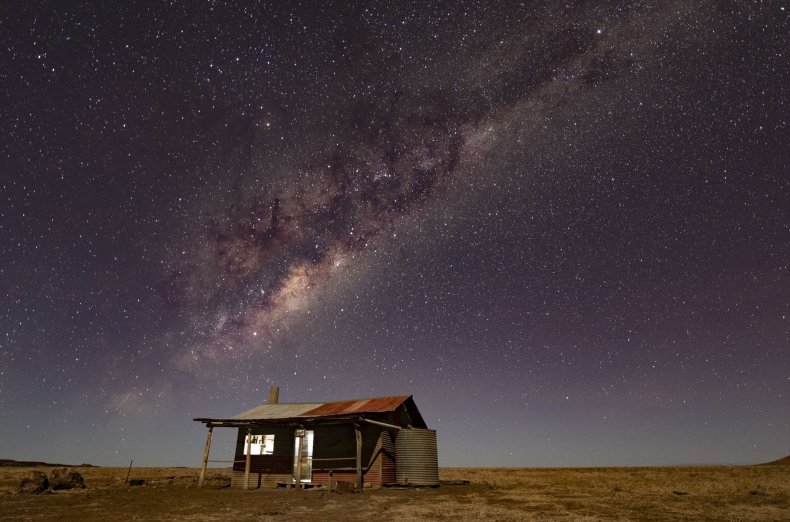 "The reason why this is really interesting and the jury is out with our scientists, is that earlier this year we shared a paper of a grazing fireball that actually entered our atmosphere, burned 1,300 kilometers [800 miles] across the Australian sky and kicked back out into interstellar space, and that's what this looked like as well," Sayers said.
According to the American Meteor Society, thousands of meteors of fireball magnitude occur every day in the Earth's atmosphere. However, the majority of these go unseen because they occur over oceans and uninhabited regions, or are masked by daylight.
Around 100 tonnes of natural space debris enters the Earth's atmosphere every day, according to Nagle.
"Most of it is falling over unpopulated areas, or over oceans, and during the day when you are not going to actually see them. But these sorts of things do happen quite commonly. Most of them are quite small pieces but they do look very spectacular in the sky," he said.